April 26-May 2, 2006
home | metro silicon valley index | silicon valley restaurants | review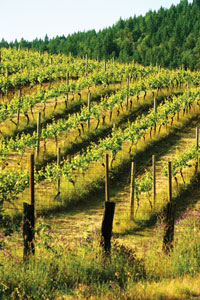 Stomp the World, I Want to Get Off
HERE'S THE THING about getaways: you have to get away while the getting's good. That can sometimes mean a day trip, or an overnight, or if the stars are aligned and the moon is in the seventh house, maybe—maybe—a whole weekend.
So the question becomes: Is there a getaway plan that can fulfill all of those possible scenarios? "Yeah, right," says you. "Maybe this supposed getaway will also involve a flying unicorn that will fly me there!"
Well, first of all, no unicorn is going to want to fly you anywhere with that attitude, we'll tell you that right now. Second, there is indeed such a place, and it's called wine country. It's got culture, it's got natural beauty and it's got lots and lots of drinking. That's the whole point, in fact! Now that's a getaway!
The thing about wine country is: you're soaking in it. Its right out your back door. However, we don't know about yours, but we don't consider our back door much of a getaway, so we thought we'd guide you out of Silicon Valley, at least. Still, whether you want to go near or far, we've got you covered. With our guide, you can drive over the hill to find the best stops in the Santa Cruz Mountains. Or you can high-tail it up north, where we've run down every locality you could possibly want to plant yourself, as well as every winery you'll want to make a stop at. It's a grand tour of all points soused. And for something offbeat, we've even thrown in a hot springs spot that can be found among the vineyards.
One more thing about wine country—it also has designated drivers. Not to go all After School Special on you, but hey, we want you to come back.
Then again, how can we miss you if you won't leave? Let the grape escape begin ...
---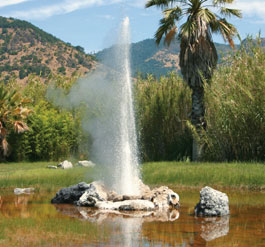 Bottled at the Source: Calistoga isn't just about the water, but the water is pretty freakin' cool.
Where The Bleep Is Wine Country?
We all know Napa and its surrounding areas are considered the crown jewel of California's wine country, and make for a great weekend getaway. But how much do you really know about where to find your northern varietal paradise? Check out our comprehensive guide to all the getaway spots, both fact and fikshun.
By Tessa Brunton, Gretchen Giles and R. V. Scheide
MARIN COUNTY
Fairfax
Fact The pace of the town is slow, the atmosphere weird, and the residents fight to keep it that way. Fairfax was named after Lord Charles Snowden Fairfax, a baron from Scotland, who was noted as "charming when he was sober, magnificent when he was drunk." Watch the downtown Parkade, which turns from bus stop and car park into a soapbox during controversial political events (both national and local), where protesters hold candlelight vigils or enlighten the downtown traffic with huge signs. Wander up from Peri Park to the baseball field, where local artists have painted elaborate murals, and you can find the Marin Alliance for Medical Marijuana. This cannabis club is still in possession of its distribution permit despite being sued by the federal government.
Fikshun Have some extra guests at your party? Mysterious visitors at wedding receptions and graduation parties at Deer Park Villa aroused suspicion until locals discovered that the reception area is in fact built on an ancient Indian burial ground.—T.B.
Larkspur/Corte Madera
Fact Watch the road while driving in Larkspur and Corte Madera. Due to the close proximity of the DMV, these two towns are subject to a continuous flow of prospective drivers on driving tests navigating the suburban streets. Not to worry. Work off your road rage in Larkspur's excellent local dive, the Silver Peso, named after the treasure-hunting exploits of original owner Chester Wolmack. Wolmack retrieved a large number of silver pesos dumped during a Japanese invasion in Manila Bay in the Philippines during the battles of World War II.
Fikshun The prison escape in Woody Allen's Take the Money and Run, in which a fake gun carved out of soap is used as a weapon, was inspired by Thomas Brown's escape attempt from nearby San Quentin Prison in 1919.—T.B.
Marin City
Fact Tucked between hillside and highway, Marin City is rarely explored by outsiders and tourists, though it lies a short distance from popular downtown Sausalito. Originating as a housing settlement for shipbuilders during World War II, Marin City remains unincorporated and isolated from county norms. According to the 2000 Census, only 3 percent of Marin County's total population is African American, while approximately 60 percent of the Marin City population is. While in nearby Sausalito a mere 3 percent of the population lives below the poverty line, in Marin City that number is 28 percent.
Fikshun At the flea market originally based in Marin City, one vendor allegedly tried to sell his late mother's ear preserved in a jam jar.—T.B.
Mill Valley
Fact A summer day in the alarmingly picturesque town of Mill Valley often resembles the fictional utopia in Thornton Wilder's play Our Town. But beyond mere pristine parks and friendly locals, Mill Valley is abuzz with morning yoga students and Spandex-clad bikers breaking to sip coffee on their midmorning ride. This city is destined for weirder things, though. On Star Trek: The Next Generation, Mill Valley is the location of the 602 Club, an Earth bar for intergalactic explorers in the 22nd century.
Fikshun Steve Klein, author of little-known self-help book Life's Losers: How It Takes a Village to Break a Child, was born and raised in Mill Valley.—T.B.
Novato
Fact Though previously described by Marinites as the "poor relation" of the county, Novato now fits in neatly with its neighbors, enduring open-space debates and wrestling with sudden population growth and urban development. Yet Novato still enjoys the comforts of its less-than-stellar reputation. While the rest of Marin's outdoor community revolves around the foggy fire trails of Mt. Tamalpais, Novato nature lovers explore their own Mt. Burdell, a climb equally beautiful—and less crowded.
Fikshun Given the low bodices and high bawdiness of the players, there are roughly 12 conceptions a year resulting from the Heart of the Forest Renaissance Faire. The babies are always named either Punch or Judy, depending on gender.—T.B.
Ross/Kentfield
Fact When exes Brad Pitt and Jennifer Aniston were house-hunting in Northern California, they set local schoolgirls abuzz by investigating the Ross/Kentfield area for a suitable abode. And why not? The gorgeous back roads lined with Victorians and mansions are far from ostentatious, and the area remains one of the most desirable locations in Marin County. Other celebrities, such as Sean Penn and Robin Wright Penn, have already made this community their home. Blasé locals are fairly numb to such celebrity sightings; after all, this is the land of the lotus eaters. In fact, beautiful downtown Ross was used by Francis Ford Coppola in The Godfather to convey the image of the perfect American small town. But the cost of living in the perfect small American town is high. The Marin Independent Journal recently reported that the new median single-family home price in Marin has risen to $925,000—no doubt due to high real estate prices in areas such as Ross and Kentfield.
Fikshun The Ross Vigilantes Against Mountain Bikers Society (RVAMBS), tired of watching bikers pee in their yards and run stop signs, armed themselves with paintball guns last year and took potshots at passing cyclists from their second-story windows. Their maids helped them reload.—T.B.
San Rafael
Fact The bustling political and social center of Marin, the city of San Rafael originally grew around Mission San Rafael Archangel, the first sanitarium in California, which was named after St. Raphael, the angel of bodily healing. Now the white stucco mission sits blocks from the prestigious Smith Rafael Film Center and the Falkirk Cultural Center. Even after the funky downtown atmosphere of San Rafael has evaporated into upscale stores, the young and restless often congregate on Fourth Street at bars and cafes to mingle and flirt. However, a few blocks south of the cheerful downtown the atmosphere of San Rafael changes entirely. There, instead of handbag stores and salons, immigrant day laborers wait for work at busy intersections in a ghetto of convenience stores, car dealerships and apartment buildings. In this part of the city, it's fun to catch a game at the seedy bowling alley and visit the storage units near the Richmond Bridge where local bands have late-night practice in rented storage units.
Fikshun According to some conspiracy theorists, the unique layout of Frank Lloyd Wright's Marin Civic Center is no accident of genius. Aerial maps prove that, similar to crop circles, the Marin Civic Center layout actually provides landing instructions to an alien race due to invade in the next 10 years.—T.B.
San Anselmo
Fact Settling down in the San Anselmo park at dusk with popcorn, sodas and candy on a Saturday night, locals can enjoy an evening film, as well as the fruits of their labor: a beautiful town. The pleasant atmosphere of San Anselmo has been carefully cultivated with antique shops and bakeries. Community events such as art festivals and the summer-long film nights offered in the park are frequent. While the downtown area is cluttered with small shops and those busy with the hustle of noontime errands, the quiet San Francisco Theological Seminary resides on a nearby hillside, originally founded to train Presbyterian clergy. Practically next door to it lies the Montgomery Chapel, where wedding parties appear seasonally with the coming of springtime blossoms.
Fikshun San Anselmo was named after St. Anselm, the Patron Saint of Mysterious Death.—T.B.
Sausalito
Fact Beautiful seaside Sausalito began with a land grant in 1838 from the Mexican government to an enterprising man named William Richardson, who had absolutely no intention of building the town that was since established on his land. Though Sausalito is now home to a cozy houseboat community and a touristy downtown, Richardson originally planned to use Sausalito's location to build a port enabling him to control the entire San Francisco Bay. However, he died without realizing his dream due to the untimely arrival of the '49ers, who stole his cattle, ruined his land and broke him financially. Eventually, Richardson's Rancho del Sausalito developed into a town with a seedy reputation for gambling and prostitution. After Sausalito survived the building of the Golden Gate Bridge without adverse effects, the town faced another challenge when, after the attack on Pearl Harbor in 1941, the government chose Sausalito as an emergency shipyard in which to build merchant ships.
Fikshun Jack London, author of Call of the Wild and White Fang, was a Sausalito resident notorious for complaining about the local packs of stray dogs. In fact, London pioneered the first leash laws in this area.—T.B.
Tiburon
Fact In Tiburon, tidy sidewalks and pretty views charm the tourists and commuters who travel through the town to the Angel Island Ferry. Tiburon is a town that has managed to preserve much of its historical heritage, despite a series of fires in 1921 that burned most of the main street. Perhaps this is because the majority of people living in Tiburon have oodles of dough. According to the 2000 Census, the median income for a household in Tiburon was $106,000 per year. Thus, the clean streets and high-end boutiques make Tiburon a playground for the affluent, although the town began as a railroad depot and flourished through three cod-fishing plants, an oyster farm and a ship salvaging yard. Residents of Tiburon have worked hard for their modern ideal community by fighting developers and eventually purchasing nearby tidelands, creating Richardson Bay Wildlife Sanctuary.
Fikshun A booming underground porn ring rivaling that of San Fernando Valley was discovered in Tiburon in 1999. The majority of participants turned out to be residents struggling with mortgage payments on their seafront property. —T.B.
West Marin
Fact A collection of towns set in expansive open space compose the San Geronimo Valley, a world where Bambi coexists peacefully with the locals—as long as he stays out of their vegetable gardens. To the outsider, San Geronimo Valley looks biblical in its perfection: gorgeous backyard gardens, happy children gone feral in the summer woods and poolside families with popsicles at the Woodacre Improvement Club. But West Marin, known for nurturing progressive community-oriented programs and home to several spiritual centers, has a wild streak as well. On the Fourth of July, the Bolinas beach explodes with illegal fireworks and rowdy crowds, and eccentric isolationists seeking refuge in these forest communities tend to gravitate westward. This environment is probably why many musicians have picked West Marin as their home throughout the years. Play some Grateful Dead, Van Morrison or Janis Joplin as you drive through the valley during sunset, and it all begins to make sense.
Fikshun Addicted to more than the West Marin lifestyle, Jerry Garcia died while staying in a drug treatment center in San Geronimo. Oh, wait. That's true. OK, how about this: In 1983, a kindergarten teacher was arrested climbing out of her classroom's window in order to avoid the sheriffs who were investigating her for selling psilocybin mushrooms from the school. Dang! That's true, too. OK, OK: In 2004, a Lagunitas resident, Ms. Butterfly Raspberry McClean, sneaked out to the polls and voted for George W. Bush secretly, while her husband was meditating. Gotcha!—T.B.
NAPA COUNTY
American Canyon
Fact The gateway to Napa Valley wine county via Highway 29, American Canyon proudly proclaims itself to be business-friendly, but that doesn't mean just any business. Many residents continue to resist the construction of a Wal-Mart Superstore in their city.
Fikshun Locals were bummed when Evel Knievel canceled a planned motorcycle jump after discovering that the canyon was more akin to an arroyo.—R.V.S.
Calistoga
Fact Spa, anyone? "Taking the waters" they used to call it in the old days, and Calistoga's name was synonymous with the practice worldwide. Still is, in fact. Today, the city's ubiquitous health and wellness establishments are complemented by a gauntlet of fine restaurants.
Fikshun Calistoga, the seltzer water of the same name, is actually bottled in France!—R.V.S.
Napa
Fact One of the first valleys in California to be settled by farmers, Napa's famed rootstock was initially provided by Catholic priests from San Rafael and Sonoma. Prone to flooding, Napa has long struggled to attract the attention that such neighbors as Calistoga and St. Helena more easily draw (mostly seeking waters of a different sort than are found in floods). Now considered one of the premier wine-growing regions in the world, Napa still struggles with its cred. Long a blue-collar town, Napa serves the white-collar folks who shop and dine and drive through there, gradually coming into its own in the last few decades with the refurbishment of its waterfront and downtown area, the de rigueur addition of a nearby outlet mall and the establishment of the most-marvelous COPIA complex.
Fikshun The Asian cabbage named for this city was the initial object of early efforts by Irish immigrants turned vintners in the 1830s. The results were watery and often thrown out the back door, where they stank up the compost pile. Neighboring priests finally took pity on Napans and ponied up some vines.—G.G.
St. Helena/Yountville
Fact
These neighboring towns, one incorporated, the other not, cater to visitors and residents alike with unique shops and leafy, tidy residential areas. Originally named Sebastopol, Yountville was founded by one George Yount, the first U.S. farmer to establish a working ranch in the area. Upon his death, residents renamed the town in his honor. A town of some 3,000 people, almost half of Yountville's residents reside in the Veteran's Home of California. Both St. Helena and Yountville boast world-class dining of the kind that makes Manhattanites drool and Parisians shiver.
Fikshun
George Yount was tragically killed during the Great Sebastopol Wars of the 1850s. Mounted precariously on Indian ponies, drum-beating warriors from Sonoma County's western reaches poured over what is now the Mark West Springs Road to combat Yount and his trembling men outside of Calistoga. Undermanned and overfed, Yount refused to search for his inner goddess or swear allegiance to Whole Foodstuffs (shortened to Whole Foods in the 20th century) and so was slain on the spot.—G.G.
SONOMA COUNTY
Bodega Bay
Fact Like a newborn who is never formally named and simply called "Baby" until the day she enters kindergarten, Bodega Bay began its English-monikered life simply as "Bay." Inevitably founded as part of a Mexican land grant, Bay was linked inextricably to the sawmills of nearby Bodega. Eventually, one town split sorrowfully from the other, one adding Bodega to its Bay and becoming a spot for crab pots and slow-driving tourists; the other to be immortalized for both church and casino.
Fikshun Actually, as anyone with even a smattering of Spanish knows, Bodega—the whole damned place, from church to bay—was overrun for more than a hundred years by hard-drinking lovers of mariachi, warm beer, blue-bottle flies and filthy loos.—G.G.
Cloverdale
Fact It may be the fastest-growing city in Sonoma County and an "extension of the county's suburban way of life," as the local daily recently put it, but you can still ride a horse through downtown Cloverdale and not cause much of a commotion. In fact, at the Dante, one of the North Bay's most notorious dive bars, the hitching posts are still intact.
Fikshun Lifelong inhabitants of this bucolic North County burg, known as Cloverdaleans, subsist entirely on a diet of grape skins and redwood bark.—R.V.S.
Cotati
Fact In Cotati's heyday, places like the Cotati Cabaret and the Inn of the Beginning defined the North Bay's independent musical spirit. Alas, that was then, and today we're consigned to kicking back in Rafa's Mexican Restaurant during happy hour and imagining how it all must have been. What the hey. Things could be a heck of a lot worse.
Fikshun The town missed its chance at pop immortality when, during their final recording sessions in 1964, the Beach Boys scrubbed "Hottie From Cotati" off their destined-to-be-classic album All Summer Long.—R.V.S.
Forestville
Fact Contrary to popular belief, Forestville is named not for the magnificent redwoods surrounding this small burg in the Russian River's lower reach, but for A. J. Forrester, who owned a saloon in the area when the town was founded in 1869.
Fikshun The legendary Bigfoot retired here in 1993 and is occasionally seen enjoying a round of golf during Lazy Bear weekend in nearby Guerneville.—R.V.S.
Guerneville
Fact Even when the fur flies, as it did earlier this year in a dispute over the sale of used fur coats, the resort community of Guerneville prides itself on diversity. First settled by Russian fur trappers in the early 19th century, Guerneville's since gone on to become the No. 1 tourist destination for Northern California's LGBT community.
Fikshun Guerneville means "big bottom" in Russian.—R.V.S.
Healdsburg
Fact The Rancho Sotoyome Mexican land grant spanned the Healdsburg area, once, of course, the home of a happy and prosperous Pomo Indian nation (this story takes place long before slot machines were invented). The Gold Rush brought the usual troublemakers, scrabblers controlled in part by trapper Cyrus Alexander, who has since had a valley and an upscale restaurant named in his honor. Land has always been gold in these here hills, and '49er squatters living on what was the Fitch family's ranch erupted into warfare in 1857, fighting the so-called Westside Road Wars and aiming to wrest land from each other. The winner of this small civil skirmish was none other than Ohio businessman Harmon Heald. Establishing his burg by laying out the plaza that is still enjoyed today, as well as a post office and a main store, Heald sold town lots to eager residents for just $15 a pop. And thus a tourist mecca was born.
Fikshun Land lots in Healdsburg are still only $15. You just have to know whom to ask.—G.G.
Glen Ellen
Fact Jack London.
Fikshun Julie London.—G.G.
Graton
Fact It's long been lore in these offices that all roads lead to Graton. When confined solely to the pleasures of restaurant dining and darts, this theory remains taut. It slackens, however, when discussion turns to which roads might lead to ballet, theater, cinema, clothes shopping, bookstores, groceries, city water and sewer facilities. But such off-the-beaten solitude is among Graton's charms. As is the food.
Fikshun Graton lost its rabid 2000 bid to become the county seat due to demographic scandal. The Red Coats ain't coming, they're already here—in Graton. As former Santa Rosa Mayor Janet Condron was heard to mutter after the county seat scuffle was decided in her favor, "Too many bloody English, man."—G.G.
Monte Rio
Fact The tiny Russian River resort town of Monte Rio is the only place in the North Bay where seeing a Pink Elephant doesn't necessarily mean you're drunk. Of course, considering that the Pink Elephant is one of the North Bay's pre-eminent dive bars, it doesn't necessarily mean you're sober, either.
Fikshun In 1942, late nuclear physicist Dr. Edward Teller designed the hydrogen bomb on the back of a cocktail napkin after an evening of inspired drinking at the Pink.—R.V.S.
Petaluma
Fact Once the butter and eggs capital of the world as well as the game-hunting mecca of the North Bay due to the transport ease of its river, Petaluma now attracts many fur-disdaining vegans. Split firmly down the middle by the Berlin Wall-like border of Highway 101, Petaluma suffers from a distinct schizophrenia: those who live on the west side of town are generally prosperous and carry a whiff of funk; those on the east side of town have to work for a living. Known for its antique shopping and picturesque air, the west side of Petaluma has been featured in countless movies; the east side, merely in covert video footage. But Petalumans soldier on, sometimes even saying hello to each other on the streets.
Fikshun The west side of Petaluma did not recently secede from the east side in order to become the newest northernmost city in Marin. Really. It didn't.—G.G.
Rohnert Park
Fact Rohnert Park, known as Sonoma County's "friendly city," may also be its smartest—at least when classes at Sonoma State University are in session. Incorporated in 1962, the city grew up around the university, which still forms the nucleus of this sprawling community of 42,000.
Fikshun In 1981, a team of urban explorers set out in search of downtown Rohnert Park. They have yet to return. —R.V.S.
Santa Rosa
Fact The hub of Sonoma County with a population just over 150,000, Santa Rosa suffers from an identity crisis thanks to its sprawling layout. While there is no real sense of place here, the downtown area, particular near Railroad Square and Fourth Street, is slowly but surely re-establishing its own unique sense of style and charm.
Fikshun The town burned down in 1897, and a new city was subsequently erected on top of the scorched husk. Underground tours of the old city, now known as Sub Rosa, are conducted entirely in secret.—R.V.S.
Sebastopol
Fact Gateway to the West County, the Russian River, the Sonoma Coast beaches and the redwoods, Sebastopol is known as the Berkeley of the North for its liberal politics and enlightened populace. The origins of the town's name involve the Russian city of Sevastopol, an 1850s fistfight of legendary proportions and reportage from the Crimean War, a poetic collusion that could have perhaps resulted in something easier to spell. Sebastopudlians are justly proud of their apple-raising heritage, their inner gods and goddesses and their Whole Foods franchise. Located on the edge of the Laguna de Santa Rosa, Sebastopol also boasts a world-class ice cream store and one of the best live theater groups in the tricounty area.
Fikshun Ernest Hemingway wrote his six-word tone poem "For Sale: Baby Shoes, Never Used" while vacationing in a wood shed on painter Hassel Smith's orchard property. The shoes were briskly snapped up the next week through a free ad in the Russian River Times.—G.G.
Sonoma
Fact It's hard to get more Sonoma than in the city of Sonoma, hemmed in as it is by vineyards and pastureland. The city (and the county) takes its name from a Native American word meaning "valley of the moon."
Fikshun The city receives a nickel every time the word "Sonoma" is used in a brand name.—R.V.S.
Windsor
Fact Sonoma County's newest city, Windsor boasts a swank and accessible new town center, a stunning green and many excellent restaurants and vibrant wineries. During the summer months, Windsor truly comes alive with community spirit, hosting outdoor film screenings, live music, a hopping farmers market and free Shakespeare performances. Known originally as "Poor Man's Flat," the median household income now hovers in the $64,000 range according to the last census. Note to the lovelorn: this fine government document also reveals that there are almost twice as many never-married men residing in Windsor as there are never-married women.
Fikshun Eager to continue the family name but possibly somewhat confused, Prince Charles is known to have consulted several matchmakers in Windsor before marrying Camilla. Many homes there are still draped in black crepe.—G.G.
Send a letter to the editor about this story.