April 26-May 2, 2006
home | metro silicon valley index | silicon valley restaurants | review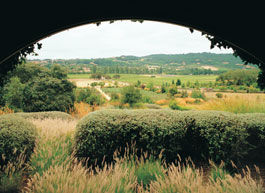 Lavender Fields Forever: Matanzas Creek Winery is known for its lush surroundings as much as for its critically acclaimed wines.
Find Wine
So you made it to wine country. Now what? Here's where we pull out all the stops.
Wine for Beginners
Bacchus & Venus Tasting Room
A trendy place for beginners and tourists. Very beautiful and convenient, with an excellent collection of wines. Also has art and a gorgeous bay view. Great place to learn the basics. 769 Bridgeway, Sausalito. Open daily, 11am-7pm. Tasting fees vary according to flights. 415.331.2001.
Chateau St. Jean Winery
Take the educational tour and sample both reserve and premier wines. On acres of vineyard with gardens and gourmet food. 8555 Sonoma Hwy, Kenwood. Open daily, 10am-5pm. Wine Tour 101 classes occur daily at 11am and 3pm; no reservation needed. $15 for the tour; $5 for regular wine tasting. 707.833.4134.
Ravenswood Winery The winery's motto is "No wimpy wines," and it makes strong, much-praised zinfandels. Knowledgeable tasting staff and newcomer-friendly. Look for their weekend barbecues and live music. A great place to learn that wine is supposed to be fun. 18701 Gehricke Rd, Sonoma. Open daily, 10am-5pm. 707.933.2332.
Old School
Foppiano Vineyards
Over 100 years old, Foppiano produces wines that can be described as simple but delicious. 12707 Old Redwood Hwy, Healdsburg. Open daily, 10am-4:30pm. No tasting fee. 707.433.7272.
Martinelli Winery
Unrelated to the cider empire, this winery had been here since the 1800s making mediocre wines. Only in the 1980s, after hiring a consultant, did Martinelli begin to make A-list wines. Still a funky red-barn establishment at heart. 3360 River Rd, Windsor. Open daily, 10am-5pm. No tasting fee. 707.525.0570.
Michel-Schlumberger
Highly recommended, appointment-only winery. With a roaring fireside on a rainy day, Michel-Schlumberger is a cozy winery. The family has been making wine in France for 400 years. Well-known for chardonnay. 4155 Wine Creek Rd, Healdsburg. 707.433.7427.
Seghesio Family Winery
Once banal and overproduced, Seghesio now offers an education in delicious Italian varietals, many of them brought directly from Italy. Much-improved product with excellent zinfandel and 2002 cortina. Plus, there's a great donut shop nearby. 14730 Grove St, Healdsburg. Open daily, 10am-5pm. No tasting fee. 707.433.3579.
Trefethen Winery
Owner Janet Trefethen is working to establish Trefethen as the 14th subappelation in Oak Valley, ensuring a distinctive taste specific to the territory. Some critics claim Trefethen's heyday was in the '60s, but the winery proves them wrong with dependable, delicious wines. Trefethen is one of the oldest wineries in Napa. 1160 Oak Knoll Ave, Napa. Open daily, 11:30am-4:30pm. Estate tasting, $10; reserve, $20. 707.255.7700.
V. Sattui
Though crowded and a regular stop on the tourist circuit, V. Sattui remains charming in the Italian style. With no distribution except via the Internet, V. Sattui wines can only be purchased at the winery. 1111 White Lane, St. Helena. Open daily, 9am-6pm. No tasting fee. 707.963.7774.
Windsor Vineyards
Windsor Vineyards is the oldest and largest mail-order company for wines. The company specializes in custom labels and corporate and wedding personalization. Founded by local legend Rodney Strong. 72 Main St, Tiburon. Open daily. Sunday-Thursday, 10am-6pm; Friday-Saturday, 10am-7pm. 800.214.9463.
Mom & Pop
August Briggs Winery
A pleasantly small winery with award-winning wines. August Briggs' tasting room is a white barn lit by skylights and often staffed by the owner's wife and mother. Once a roving wine consultant, August Briggs has now settled down to turn his considerable skill to his own wines. 333 Silverado Trail, Calistoga. Open Thursday-Sunday, 11:30am-4:30pm. No tasting fee. 707.942.5854.
Casa Nuestra Winery
Endearingly offbeat, with a dedicated staff and a collection of goats and dogs roaming freely. Nestled among corporate wineries (a David among Goliaths), with only six employees and an annual production of 1,500 cases, Casa Nuestra has charm to spare. 3451 Silverado Trail N, St. Helena. Open daily, 10am-5pm. $5 tasting fee. 707.963.5783.
Murphy-Goode Winery
Expect a heavenly tasting experience at this three-family collective, with friendly, knowledgeable staff and good wine. Value is a premium. Be sure to try the Brenda Block Cabernet and Fumé Blanc. 4001 Hwy 128, Geyserville. Open daily, 10:30am-4pm. Regular tastings are free. 707.431.7644.
Passalacqua Winery
Family-run with a roaring fire in the hearth on rainy winter days. Passalacqua boasts good reds and chardonnay as well as a fun wine-aroma kit to train your senses to identify common wine smells. Large deck, garden and vineyard. 3805 Lambert Bridge Rd, Healdsburg. Open daily, 10am-5pm. No tasting fee. 707.433.5575.
Sausal Winery
Simple, rural, without corporate cross-promotions and pretense. Good zinfandel and nice local cats. 7370 Hwy 128, Healdsburg. Open daily, 10am-4pm. Regular tastings are free. 707.433.5136.
Summers
Celebrated and locally owned winery with award-winning wine. Excellent merlot and that rarest of beasts, charbono. Small tasting room and friendly staff. 1171 Tubbs Lane, Calistoga. Open daily, 10am- 4:30pm. No tasting fee. 707.942.5508.
Suncé Winery
An amateur winery turned professional, SuncÈ's wine has won awards in both categories. Informal and family-run, it is rich with rustic charm and owned by a Croatian doctor of psychology. 1839 Olivet Rd, Santa Rosa. Open daily, 10:30am-5pm. No tasting fee. 707.526.9463.
Thumbprint Cellars
Lounge on overstuffed furniture in a small tasting room staffed by owners Erica and Scott Lindstrom-Dake. The Lindstrom-Dakes started Thumbprint in their garage, and recommend vegetarian food parings with their wine. 36 North St, Healdsburg. No tasting fee. Open daily, 11am-6pm. 707.433.2393.
Unti Vineyards
Very friendly and casual with an emphasis on young Italian-style wines. Yum. 4202 Dry Creek Rd, Healdsburg. By appointment only. No tasting fee. 707.433.5590.
Vincent Arroyo Winery
Small, tasting room is essentially a barn with a table near some barrels, but very friendly, with good wines. 2361 Greenwood Ave, Calistoga. Open daily, 10am-4:30pm. No tasting fee. 707.942.6995.
Earth Friendly
Benziger Winery
A nontraditional, organic, biodynamically farmed winery. Don't miss the daily 45-minute tram ride replete with a tour of the vineyard, wildlife sanctuaries and caves. The excellent selection of wines serves as testament to the benefits of the earth-friendly approach to winemaking. 1883 London Ranch Rd, Glen Ellen. Open daily, 10am-5pm. Tram tours, $10. Biodynamic tasting, $10; regular tasting, $5. 888.490.2739.
Field Stone Winery
Popular with hikers and bikers passing through, Field Stone Winery is an idyllic 85-acre visit to nature. It was also one of the first underground wine cellars, carved into the hill in the 1970s. 10075 Hwy 128, Healdsburg. Open daily, 10am-5pm. No tasting fee. 707.433.7266.
Preston Vineyards
Preston Vineyards is considered one of the better wineries in Sonoma because of its excellent product. Try the mouvedre and sangiovese. Limited picnicking facilities, organic vegetables and homemade bread for sale. Plan to arrive on Sundays, when the bread is fresh and the Italian-style jug wine, Guadagni, is flowing. 9282 West Dry Creek Rd, Healdsburg. Open daily, 11am-4:30pm. Tasting fee, $3. 707.433.3372.
Quivira Vineyards
Quivira was named after a mythical golden city by owners Henry and Holly Wendt, the founders of pharmaceutical company SmithKline. Using biodynamic techniques in their vineyards, the Wendts are also dedicated to restoring their local watershed (going so far as to name one varietal after the area salmon) and operate the entire winery on solar power. Good staff, cozy tasting room, excellent handcrafted zins. Look for the Wendt's amazing collection of antique maps. Picnicking available. 4900 W. Dry Creek Rd, Healdsburg. Open daily, 11am-5pm. Tastings free; picnicking available. 1.800.292.8339.
Ridge Vineyards Lytton Springs
The resident winemaker at Ridge Vineyards, Paul Draper, is one of the Top 5 winemakers nationwide. The wines are fabulous and tend to inspire devotion in drinkers. The tasting room has an environmentally conscious structure. 650 Lytton Springs Rd, Healdsburg. Open daily, 11am-4pm. Regular tastings are free; $15 for Monte Bello Tastings (so worth it!). 707.433.7721.
Sparkling Conversations
Gloria Ferrer Winery
Part of the international Freixenet wine empire, Gloria Ferrer's owner Jose Ferrer comes from a family that has an extensive history of winemaking; in Spain, his family has been in this business since the 13th century. Huge vineyard, beautiful views and more wine per flute than most places. Explore the champagne caves on a guided tour. 23555 Carneros Hwy, Sonoma. Open daily, 10am-5pm. Cave tours at noon, 2pm and 4pm. Call ahead. $4-$10 tasting fee. 707.996.7256.
J Vineyards & Winery
Wine tastings are served with carefully paired food selections. The posh bubble room is open weekends. The sparkling wine is not to be missed. This is a regular hangout for other tasting-room employees. 111447 Old Redwood Hwy, Healdsburg. Wine Center, open daily, 10am-5pm; Bubble Room, open Friday-Sunday only, 11am-4:30pm. $35 for the all-bubbly flight. 707.431.3646.
Korbel Champagne Cellars
Putting out 1.5 million cases a year, Korbel Champagne Cellars is one of the largest wineries in the country. A large, ivy-covered winery with a huge tasting room, fun staff, excellent deli and hourly tours, Korbel is a perfect stop on the way to a Russian River picnic. 13250 River Rd, near Rio Nido. Open daily, 10am-5pm daily. No tasting fee. 707.824.7316.
Picnic in Paradise
Clos du Bois
With picnicking area, friendly staff and knickknacks galore, Clos Du Bois is a hidden treasure in Calistoga. Features Jerry Garcia's wine. 19410 Geyserville Ave, Geyserville. Open daily, 10am-4:30pm. 800.222.3189.
Gundlach Bundschu Winery
A fun, casual winery with enjoyable wines. Gundlach Bundschu is famous for a publicity stunt in the '80s when owner Jim Bundschu preformed a mock hold-up on a Napa-bound wine-tasting train filled with journalists, giving them samples of his Sonoma wine. Thus began a Sonoma vs. Napa wine feud. Plays and Mozart performed on the grounds in the summer. 2000 Denmark St, Sonoma. Open daily, 10am-5pm. 707.938.5277.
Hop Kiln Winery
Both pleasant and rural, Hop Kiln has an extremely popular crisp white wine (Thousand Flowers) which sells out every year, as well as a great '02 Zinfandel Primitivo Vineyards. The grounds are gorgeous, with ponds, a garden and animals as well as plenty of food right on the Russian River. 6050 West Side Rd, Healdsburg. Open daily, 10am-5pm. Regular tastings are free. 707.433.6491.
Historically Compelling
Chateau Souverain
In a fairy-tale setting complete with a castle and friendly, attentive staff, Chateau Souverain has excellent white wines and an in-house restaurant. 400 Souverain Rd, Geyserville. Open daily, 10am-5pm. $5 tasting fee. 888.80.WINES.
Iron Horse Vineyards & Winery
Despite the rustic tasting room, Iron Horse produces wine for the elite. In fact, Ronald Reagan commissioned wine from Iron Horse for the historic summit meetings with Gorbachev that led to the end of the Cold War. Near a farm with fresh, local preserves. 209786 Ross Station Rd, Sebastopol. Open daily, 10am-3:30pm. Tasting fee, $5. 707.887.1507.
Ledson Winery
Ledson has delicious merlot and resides in a starter castle. Originally designed as a family home, Ledson was converted into a winery after good grapes grew in the front yard. 7335 Sonoma Hwy, Kenwood. Open daily, 10am-5pm. $5 tasting fee. 707.537.3810.
Russian Hill Winery
Russian Hill Vineyards is set in a Georgian manor resembling Tara from Gone With the Wind and offers a fantastic view. Simple tasting room, strong pinots and syrah. 4525 Slusser Rd, Windsor. Open Thursday-Monday, 10am-5pm. No tasting fee. 707.575.9428.
St. Francis Winery
Simple but cozy, St. Francis Winery was inspired by the monk St. Francis and styled as a California mission, complete with a bell tower. Beautiful views from the tasting room. 100 Pythian Rd, Santa Rosa. Open daily, 10am-5pm. $5 tasting fee; $10 reserve tasting; $20 reserve tasting with food pairing. 800.543.7713.
Simi Winery
Pioneered female winemaking by hiring the first female winemaker in the industry. A very popular winery, and therefore crowded. The tasting room is mediocre but the wine is fantastic and worth the wait. Excellent chardonnay, sauvignon blanc and cabernet sauvignon. 16275 Healdsburg Ave, Healdsburg. Open daily, 10am-5pm. $5 tasting fee. 707.473.3213.
Celebrity Wattage
Niebaum-Coppola
Check out filmmaker Francis Ford Coppola's cinematic memorabilia, his Zoetrope zine and Sofia, the Blanc de Blanc in a can made for his daughter during her coming of age. Despite the celebrity hype, the wine is award-winning. 1991 St. Helena Hwy, Rutherford. Open daily, 10am-5pm. 707.968.1100.
PlumpJack Winery
At San Francisco Mayor Gavin Newsom's winery, the cab is a must-drink, and the small tasting room is hidden in a huge chateau. Newsom hired some of the best winemakers to improve his wine and built PlumpJack on the success of predecessor Villa Mt. Eden Winery. 20 Oakville Cross Rd, Oakville. Open daily, 10am-4pm. $5 tasting fee. 707.945.1220.
Toad Hollow
A humorous, frog-themed tasting room owned by Robin Williams' brother Todd Williams and Rodney Strong. Refreshing and fun. Try the Eye of the Toad Dry Pinot Noir RosÈ. 409-A Healdsburg Ave, Healdsburg. Open daily, 10:30am to 5:30(ish)pm. 707.431.8667.
Gardener's Delight
Ferrari-Carano
A tranquil winery far afield with excellent white wines, a huge garden and a small cellar tasting room. The fumé blanc sets the bar on this varietal. 8761 Dry Creek Rd, Healdsburg. Tasting room open 10am-5pm. No tasting fee. 707.433.6700.
Kendall-Jackson
Kendall-Jackson features amazing gardens and produces the popular wines gracing most American tables. Garden features include heirloom tomatoes (look for the annual festival in August) and a sensory patch that helps visitors learn the scent-notes of wine. 5007 Fulton Rd, Fulton. Open daily, 10am-5pm. Tasting fees, $2-$10. 707.571.8100.
Matanzas Creek Winery
Matanzas Creek Winery features a peaceful tasting room overlooking its famed acres of lavender. In addition to rave-review wines, Matanzas naturally specializes in lavender products of all kinds. 6097 Bennett Valley Rd, Santa Rosa. Open daily, 10am-4:30pm. Tasting fee, $5. 707.528.6464.
Paradise Ridge Winery
Paradise Ridge is a hot spot for weddings because it has a gorgeous, provocative sculpture garden with annually changing exhibits set amid a pygmy forest. Once a utopian commune at the turn of the century, Paradise Ridge was founded by a Japanese immigrant of the Samurai class, one of the first eight people to smuggle himself out of Japan. Stay for sunset Wednesday evenings April through October. 4545 Thomas Lake Harris Dr, Santa Rosa. Open daily, 11am-5:30pm. No tasting fee. 707.528.9463.
Grapes & Gourmet
(Also see J Vineyards & Winery, above)
Mayo Family Winery
Excellent place to pair food with wine, as tastings are matched with specific food items. Seven tiny courses and excellent wine for $20. 9200 Sonoma Hwy, Kenwood. 707.833.5504.
Viansa Winery
Large and filled with cross-promotional products, a deli and a pseudo-Italian marketplace. Viansa can feel overwhelming with not enough emphasis on wine tasting, but there's plenty of food. Has patio, wetlands preservation area and olive tree grove. 25200 Arnold Dr, Sonoma. Open daily, 10am-5pm. 707.935.4700.
Art & Vine
Clos Pegase Winery
Practically an art museum, Clos Pegase showcases plenty of sculpture, painting and architecture. Impressive premises, good red wines and near a petrified forest. Sadly, tasters are limited to tasting either white or red, so choose well. 1060 Dunaweal Lane, Calistoga. Open daily, 10:30am-5pm. Tastings, $5-$25. 1.800.366.8583.
Hall Winery
Owned by Craig and Kathryn Hall, who specialize in aggressively "beefy" wines of the type favored by Robert Parker. The reds are extremely popular and the tasting room features several pieces from the Halls' generous private art collection. 401 St. Helena Hwy S, St Helena. Open daily, 10am-5:30pm. $10 tasting fee. 866.667.HALL.
Hess Collection
Pleasant winery with an outstanding, world-class art gallery. Look for work by Francis Bacon, Frank Stella and other international art-world stars. The grounds, too, are lovely. 4411 Redwood Rd, Napa. Open daily, 10am-4pm. Tasting fee, $5-$10. 707.255.1144.
Mumm Cuvée Napa
Pretty with an interesting, albeit somewhat difficult-to-find collection of photography that changes exhibition regularly. Outdoor seating overlooking the vineyards. Features champagne and wine with a good blanc de noir. Their champagne on reserve is inspiring. Also near high-end Oakville Grocery with good cheese. 8445 Silverado Trail, Rutherford. Open daily, 10am-5pm. $5-$12 tasting fee. 707.967.7700.
Rosenblum Cellars
Funky and offbeat with Native American art, rave-review zinfandels and friendly, low-key staff. Founder Kent Rosenblum is a veterinarian who still works with animals, despite his winery's success. 250 Center St, Healdsburg. Open daily, 10am-5pm daily. No tasting fee. 707.431.1169.
St. Supéry
Expect to find the tasting room extremely crowded with an often-harassed staff, but St. SupÈry features an interesting art gallery with changing exhibitions. The famed Dean & Deluca high-end grocery store, stocked with excellent everything, is nearby. See the art, grab a bottle and go. 8440 St Helena Hwy, Rutherford. Open 10am-5pm. $10 tasting fee. 800.942.0809.
Stryker Sonoma Vineyards
An architectural award-winner, this off-the-beaten-path winery features beautiful views and spectacular wine, the best of which are the reds. A gem! 5110 Hwy 128, Geyserville. Open 10:30am-5pm, Thursday-Sunday, or by appointment. No tasting fee. 707.433.1944.
Like Nothing Else
Armida
Set atop a hill with a spectacular outdoor deck, Armida features an inventive wine-tasting theme featuring Heaven and Hell on select weekends. The wines are original and there are three mysterious geodesic domes on the property. 2201 Westside Rd, Healdsburg. Open daily, 11am-4pm. Regular tasting list is free; $2 for additional reserve tastings. 707.433.2222.
Darioush
Exotic locale, with giant columns and a Persian theme, Darioush features fantastic wine and is justly famous for its bordeaux. Owned by a traditional Iranian family and personalized with interesting details, such as an amphitheater. 4240 Silverado Trail, Napa. Open daily, 10:30am-5pm. Tasting fees, $5-$10. 707.257.2345.
Peju Province Vineyards
Oddly talented staff (tasting-room attendant Alan Arnople, or the "Yodelmeister," specializes in rapping and yodeling) and fantastic cabernet. 8466 St Helena Hwy, Rutherford. Open daily, 10am-6pm. $5 tasting fee. 707.963.3600.
Roshambo Winery
Young, unique and art-forward with a new spin on winery culture. Watch for notice of their fun, often themed parties as well as the annual Rock, Paper, Scissors tournament. 3000 Westside Rd, Healdsburg. Open daily, 10:30am-4:30pm. Tastings free; picnicking available. 707.431.2051 or 1.888.525.VINE.
Send a letter to the editor about this story.