06.17.09
home | metro silicon valley index | movies | current reviews | dvd review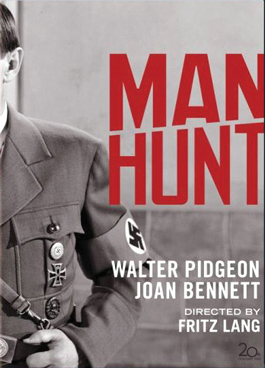 Man Hunt
One disc; 20th Century Fox; $14.98
By Richard von Busack
The proverb "a dog runs for his amusement, and a rabbit runs for his life" fits the difference between Alfred Hitchcock's The 39 Steps and Fritz Lang's first American espionage film, Man Hunt (1941). Hitchcock's exercises are gentleman's games. Lang, who created thrillers that are as every bit as thrilling as Hitchcock's, sensed the blood and panic underneath the rituals of spycraft. Adapted from Rogue Male, a ripping yarn by Geoffrey Household—once a household name in the world of manly thrillers—Man Hunt pits a breezy English big-game hunter against an omniscient Nazi with a glow-in-the-dark monocle. In the summer of 1939, during the last gasps of British appeasement, the hero, Capt. Alan Thorndyke (the Charlton Hestonish Walter Pidgeon), decides to go to the mountains of Bavaria to have a "sporting stalk" on Hitler, just to prove it could be done; getting Der Führer in his cross-hairs, he pulls the trigger; the cylinder clicks, since it wouldn't be necessary to actually kill his quarry, once Thorndyke proved to himself it could be done. He is captured, and the extenuating lunatic-British-sportsman explanation doesn't impress the Gestapo, especially Maj. Quive-Smith (George Sanders); after torturing the Englander, they throw him off a cliff to his certain demise. This is not enough to kill Thorndyke; he escapes back to London, with the help of a cabin boy on the qui vive, Roddy McDowall, making his debut. He arrives in a London riddled with Nazi collaborators and German assassins; John Carradine, described as "a walking corpse," is one of them. Thorndyke is sheltered by Joan Bennett, as a gold-hearted dockside tart with a rickety Cockney accent. While the Englishman calls her "my dear child" once too much for the sake of romance, the pursuit continues in a milieu of wet black streets and all-seeing eyes. You'll see where they got important bits for Dr. No and Goldfinger during the pursuit; Lang's monumentally confident use of black-and-white symbols—a gleaming silver arrow-shaped brooch, a wounded man's dangling feet drawing rails in a carpet, a clutching hand spreading out against a map—gives viewers exactly the satisfaction they get from the best comic-strip art. The fight scenes, with their ahead-of-their-time brutality, wouldn't be touched by Hitchcock until Torn Curtain. Sanders is of course as rich as chocolate; he is the ultimate my-dear-chap-spouting German officer who eventually snarls his agenda: "Today Europe, tomorrow the world!" Extras include commentary by Patrick McGilligan (author of the definitive Lang bio, Fritz Lang: The Nature of the Beast), coming attractions and a beautiful and instructive artwork gallery of images that Lang wanted for the film.
Click Here to Talk About Movies at Metro's New Blog
Send a letter to the editor about this story.