07.02.08
home | metro silicon valley index | features | silicon valley | feature story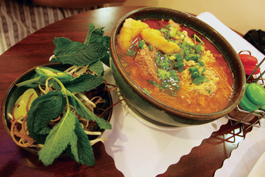 Photograph by Felipe Buitrago
CAFE PALOMA: Bun rieu (crab, fish, pork and rice noodles)
By Any Other Name
In all the controversy over the naming of Little Saigon, what got lost was the neighborhood itself
By Stett Holbrook
IF THERE'S an upside to the furor over the naming of Story Road's Vietnamese business district, it's that virtually everybody in Silicon Valley now knows San Jose has a Vietnamese business district.
Except for those who live or work near the mile-long stretch of roadway, I'd be willing to bet that before the Little Saigon controversy blew up, few non-Vietnamese in Silicon Valley had any idea that San Jose had a thriving enclave of Vietnamese-American-owned businesses second in size only to Little Saigon in Orange County. But thanks to the uproar created by opponents to San Jose Councilmember Madison Nguyen's proposal to designate the area Saigon Business District instead of Little Saigon, the Story Road neighborhood is now on the map, so to speak. And for me the restaurants are the main attraction, the quality and quantity of which deserve much wider recognition. While other streets like Tully Road, Senter Road and Capitol Avenue have excellent Vietnamese restaurants, they can't match the density of good eats on this part of Story Road.Promoting the area to people otherwise unfamiliar with it was the reason Councilwoman Nguyen came up with the proposal to name the south San Jose district in the first place.
"Designating this area as Vietnamese Business District or other name designation would recognize and market the location to tourists, entrepreneurs and people living in San Jose," she wrote in her original memorandum to the city's Rules and Open Government Committee last June. "That wasn't reported in any of the newspapers," she says now.The naming of the retail district degenerated into a brawl that included rowdy protests, calls for Nguyen to resign and even a hunger strike. San Jose's Vietnamese community is not monolithic so internal disputes and arguments are natural, but the Little Saigon controversy was the first time a political brawl broke out in such a public way. Angry crowds packed City Council meetings demanding the area be named Little Saigon. Many Little Saigon supporters criticized Nguyen for what they said was the imperious, closed-door way she handled the naming proposal, calling her a liar and a communist, the worst possible epithet in a community that fled communist rule (Nguyen's background is no different; she fled with her family when she was 4). In the end, a weary City Council punted and agreed to allow the erection of a privately funded sign on Story Road. The agreement doesn't stipulate what the sign will say, but will leave it up the community to decide. Meanwhile, there's a campaign to recall Nguyen, California's first Vietnamese-American elected official.
What Are We Fighting For?
But in an unexpected way, the nasty fight accomplished what Nguyen sought to do by raising the profile of the area among non-Vietnamese. Now that the controversy has quieted down, it's a good time to take a look at what makes the area unique, because there's more to it than an argument over what to call it.
The strip of Story Road between Highway 101 and Lucretia Avenue is far from beautiful. There are no ornate archways or banners that announce your arrival. It's a land of asphalt and concrete populated with minimalls, shopping centers, a Wal-Mart and the locus of all things Vietnamese, Grand Century Mall. Virtually every parking lot seems to be filled to capacity. There are jewelry stores, travel agencies, dentists, nail salons, grocery stores and lots and lots of Vietnamese restaurants as well as a few non-Vietnamese businesses.
It's a thriving, bustling area, but it was a different place just a few years ago. Story Road's emergence as a Vietnamese business district is a new phenomenon. Back in 1967 when Bob Kieve bought the bunkerlike radio station KLIV on the corner of Lucretia and Story, the area was just orchards and dusty vacant land.
"It was dramatically different than it is today," he recalls. "It was barren."
Little by little it changed and businesses moved in. But it's only in the past eight years or so that the area has emerged as a retail district dominated by businesses catering to San Jose's 80,000-strong Vietnamese community."It's really amazing what's happened to this neighborhood," says Kieve. "I see it as a small miracle."
The transformation of the Story Road neighborhood began when real estate developer L.T. Tang bought an old Price Club building on the corner of Story Road and McLaughlin Avenue.
"This area was very bad," he says, "very run down."
In spite of his friends' skepticism, he gutted the old store and turned it into an upscale mall with businesses that catered to San Jose's Vietnamese population, jewelry stores, formal wear boutiques and a fantastic array of restaurants unmatched in the Bay Area. Today, it's become a destination for Silicon Valley's Vietnamese. Twin lions and a fountain mark the entrance. The mall opened in 2000 and Tang named it Grand Century Mall in honor of its turn-of-the-century debut.
"It's become trendy," says Councilmember Nguyen as she dug into a plate of delicious grilled baby back spare ribs at the mall's Café Paloma. "It's the place to be and be seen."
While Tang admits he's not much of a cook, he says he personally decides what restaurants will serve in order to create a variety of restaurants.
"I tell them what to sell and what to name their businesses," he says. Before Grand Century Mall opened, San Jose's Lion Plaza Mall on Tully Road was San Jose's premier shopping destination for local Vietnamese, but Grand Century Mall has claimed the throne. And once the mall took off, other Vietnamese-owned businesses started to pop up along Story Road."After I opened, everybody started moving in," says Tang, a claim backed up by many familiar with the area's growth."Since they built that, it has become the big attraction," says Van Le, a Little Saigon supporter who ran and lost in this month's primary for the District 8 City Council seat.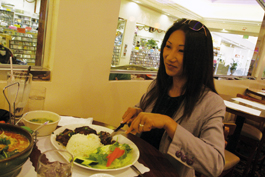 Photograph by Felipe Buitrago
UNOFFICIAL BUSINESS: San Jose City Councilwoman Madison Nguyen cuts into com be suon—grilled baby back ribs—at Café Paloma.
Return of Vietnam Town
Now, San Jose's Vietnamese district is poised to get even bigger. Tang's long-stalled Vietnam Town project is about to start construction again now that he has secured new financing. The outdoor, multibuilding retail development will be modeled after San Jose's Santana Row, but instead of leasing out retail spaces he's selling them, giving the Vietnamese community the pride of ownership he says they're looking for. (The mall isn't limited to Vietnamese, but the project's name ensures a heavy Vietnamese presence.)
Tang says he has committed buyers for more than 180 of Vietnam Town's 250 available spaces. The project, which Tang now hopes will be completed by next summer, will feature as many as 40 restaurants spread throughout the mall and will be sure to raise the area's profile as Northern California's premier Vietnamese shopping district.
Few non-Vietnamese venture into the area, but that could change as more people discover the great food. As for what the area ends up being called, Tang says whatever it is won't have much practical significance. Even if the business district is named Little Saigon, he believes most people will call it Grand Century Mall or Vietnam Town by default since that's where most people will go.
"The fighting was worthless. The name doesn't really matter."
Of course, Little Saigon supporters would beg to differ, arguing that the name is a source of pride and jab at Vietnam's communist government that changed the original city's name from Saigon to Ho Chi Minh City in 1975.
All This Controversy Is Making Me Hungry
But something that people on both sides of the naming fight agree on is that there's more to this area than the controversy. Spend a little time here and you'll quickly find the start attraction here is the food.
Few non-Vietnamese are going to travel to the Story Road neighborhood to buy earrings or get a root canal, but I bet they would come to eat. To find a greater variety of Vietnamese food in just a few short blocks you'd have to travel down south to Bolsa Avenue in Westminster, or west, way, way west to Vietnam.
Dan McCabe was one of the few non-Vietnamese faces in L'Amour des Baguettes recently, a Vietnamese deli and bakery. With his handlebar mustache, camouflage baseball hat and work boots, he looked a little out of place, but he appears to embracing the changes in the area."I grew up here, so I had to adapt," he said after ordering a bowl of grilled pork and rice noodles. "I used to ride dirt bikes around here and now I'm eating Asian food."Both sides of the Little Saigon controversy agree that the area's culinary appeal could help it grow into a tourist attraction. Who knows, maybe once a name for the area is decided, Nguyen and her critics can debate who makes the best bun bo hue and leave the political battles behind.For newcomers to Vietnamese food, the trick is knowing where to eat and what to order. Most people are familiar with the pho and you can definitely get a good bowl of the beef noodle soup here, but I sought out some of the other dishes the area has to offer.
Here then is a quick guide to some of Story Road's best Vietnamese restaurants.
Grand Century Mall
1111 Story Road
Grand Century Mall should be your first stop on any food foray into Story Road. The variety of restaurants under one roof makes it particularly fertile ground for culinary exploration. My favorite spot is the food court in the back of the mall. Here, nearly a dozen small restaurants each specialize in one to two dishes, like duck noodle soup, a turmeric-tinted colored crepe called banh xeo, grilled shrimp on sugar cane, fresh pressed sugar cane juice and exotic desserts where you choose from ingredients like tapioca, longan, tamarind, sweet red beans and other treats from the Vietnamese equivalent of a build-your-own-sundae bar.
"It's cheap and fast and you can browse around," said Le as we strolled through the food court. Here are some of my favorites from the food court and elsewhere in the mall:
Hanoi's Corners If you can get past the loud music and constant loop of Vietnamese talent shows on the flat-screen TV, this north Vietnamese restaurant serves some truly delicious food. Cha ca (grilled catfish cooked with dill and turmeric) is a classic dish from the north and it's great here. Also great is the gia cay nau mang, grilled, succulent pork cooked with fat pieces of galangal, bamboo shoots and tamarind. The aromatic feast is topped with chopped saw leaf, a tiny serrated herb with an intense, earthy flavor. Other winners here are the bun cha dong xuan (soupy, aromatic grilled pork served with vermicelli noodles) and ca tuyet chien xot (lightly fried sea bass filet served with a salty-spicy Hunan sauce).
Café Paloma Unlike most restaurants in Grand Century Mall that specialize in a few dishes or a particular region of Vietnam, Café Paloma's encyclopedic menu is all over the map, from bacon and eggs to grilled pork sandwiches to claypot catfish. The outdoor patio always seems filled with coffee-drinking men doing their best to keep American cigarette manufacturers in business.I took Madison Nguyen's advice and went for the bun rieu (crab, fish and pork in a light, brightly aromatic, shrimp paste broth with thin rice noodles). It was great. I sneaked a bite of her succulent com be suon (grilled baby spareribs over rice).
"This is one of the few restaurants that makes this dish," she said between bites. "There are others that make it, but not this good."
Dinh Cong Trang This small takeout counter seems to always have a crowd in front of it digging into their banh xeo (pronounced "bun say-oh"), rice flour pancakes tinted yellow by turmeric. The lacy, half-moon crepes are loaded with shrimp, pork and bean sprouts and accompanied with a forest of lettuce, basil, mint and other herbs. The idea is to tear off a piece of crepe and roll it up into a piece of lettuce, sprinkled with herbs and drizzle with the accompanying nuoc cham (fish sauce). It's Vietnamese fast food and it's great.
Nha Trang Nha Trang is another popular restaurant that specializes in spring rolls filled with pork patties, rice noodles, herbs and pieces of vegetarian egg rolls.
Thuan Phat Thuan Phat sells a simple but good roast pork banh mi for $2, a thin French roll sandwich packed with cucumbers, cilantro and jalapeños but not the typical shredded carrots.
Hien Khanh Dakao This food stall is the place for Vietnamese desserts. Choose from a salad bar's worth of hot and cold toppings for sweet rice and tapioca desserts including durian, jackfruit, longan, seaweed, tamarind and other sweet treats.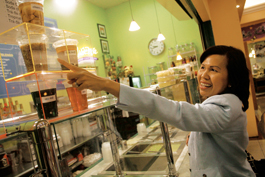 Photograph by Felipe Buitrago
ON POINT: Van Le surveys the desserts at Hien Khanh Dakao.
My Khe Quan Hue
960 Story Road, 408.920.9603
One of the few Story Road restaurants to specialize in central Vietnamese food—most restaurants serve southern-style Vietnamese food. The restaurant is named after a central Vietnamese town called My Khe (pronounced "me kay"). The food from the central city of Hue, once the royal capital of the country, and nearby hills is spicy, ornate and often labor-intensive.My Khe has only a dozen or so tables, and it's packed at lunch. Starters such as banh beo (tiny dishes of thick rice pudding dusted with shrimp powder and dried pork) and banh uot thit nuong (thick rice noodle rolls filled with grilled pork sausage, basil and lettuce) are good, but the best starter I tried was banh xeo.
But the dish on almost everyone's table was the noodle soup. The most well-known central Vietnamese noodle soup is bun bo hue, named after the city. At My Khe, the soup is loaded with beef, thinly sliced pork and cubed blood cakes. It's not as bad as it sounds—just take them out if you don't want them. The soup is not as spicy as other versions I've had but it has a deep and lively broth. The noodles themselves are spaghettilike and fresh and springy. The real star was the mi quang, an egg noodle soup made with wide noodles tinted turmeric yellow. The voluminous bowl is sprinkled with ground peanuts and fried shallots and filed with slices of mild fish cakes and pork. Like the noodles, the broth is yellow and has a clean, fresh flavor. A crispy rice cracker tops the whole thing. It's a great meal in a bowl.
Crawdaddy
779 Story Road, 408.286.2729
This is one of my favorite Vietnamese-owned businesses specializing in spicy, garlicky and buttery boiled crawfish and other Cajun specialties. Such places are popping up all over Silicon Valley. The Viet Cajun trend started in Houston and moved to Orange County before appearing here a few years ago. In addition to the freshness of the crawfish, what distinguishes one crawfish boil from the next is the sauce. Crawdaddy's crawfish is flown in from Louisiana (or, when not available, the Sacramento Delta) and served in plastic bags with a cayenne-spiked butter sauce. It was so good I almost took home the leftover dregs at the bottom.
Lee's Sandwiches
990 Story Road, 408.295.3402
A perfect amalgamation of American and Vietnamese food cultures under one roof. The restaurant's signature item is its banh mi sandwiches, thin baguettes filled with pickled carrots and daikon radish, onions, a few slices of jalapeños, cilantro and your choice of meat—barbecued pork, fried pork, shredded chicken, sardines, pâté and scores of other options. Lee's bakes its own bread each hour; crunchy, chewy, thin and a perfect conduit for the filling. Swiped with a quick smear of mayonnaise and sprinkled with salt and pepper, the banh mi are delicious and just different enough to break you out of your ham-and-cheese-on-white rut. Lee's also serves a number of American-style sandwiches (they call them "European" sandwiches) on baguettes or croissants. If you insist, you can get a salami and cheese or club sandwich. But you can get a regular old sandwich anywhere. For me, the real attraction is the banh mi.
What I love about Lee's besides its sandwiches is the array of multicultural side dishes and snacks piled on and under the counter. Right next to the candy bars, packs of gum and bags of potato chips are shrimp spring rolls, chewy pork buns and sticky, green-colored rice snacks. A hot box holds egg rolls, fried bananas and grilled-pork meatballs. Besides the standard soda pop selection, Lee sells fiendishly caffeinated iced coffee, milk teas and great fruit smoothies.
Bun Bo Hue An Nam
740 Story Road, 408.993.1211
The place for bun bo hue, central Vietnam's most beloved noodle soup. I like pho as much as the next guy, but Vietnamese cuisine has some other great noodle soups worth checking out. While the restaurant also serves pho, it's the spicy bowls of bun bo hue that are on everyone's table. In addition to thin slices of beef, the soup comes with fat, spaghettilike noodles, beef tendon (it's better than it sounds), pork sausage and blood cake. The latter is an acquired taste and easily removed if it's not your thing. If you like, the kitchen will add a few slices of ox penis at no extra charge. But don't let the exotic ingredients scare you. It's a great bowl of soup.
Pho Ga An Nam
740 Story Road, 408.993.1211
Located just a few storefronts away from Bun Bo Hue Nam, Pho Ga An Nam specializes in chicken noodle soup. When it opens for lunch there's typically a crowd bunched up at the door waiting to get in. If you're a chicken lover, this is your place. The restaurant serves 47 different chicken dishes—noodle soup, chicken over rice, egg noodle soup and other chicken-centric items. But I came for the restaurant's namesake dish. And so, it seemed, did everyone else. They all had their heads bowed over their soup, blissfully lifting spoon and chopsticks to their mouths as they inhaled the chickeny vapors.My bowl arrived in a pale yellow translucent broth with a cleaver-chopped leg and chunks of thigh. (Pho ga is generally available with breast or leg meat and with or without the skin.) The soup was showered with fresh chopped cilantro and cooked with thin slices of onion. The standard accompaniment of bean sprouts, basil leaves, lime wedge and jalapeño slices is served on a plate alongside the soup. For me, pho ga lives and dies on the strength of its broth, and An Nam's was clear and bright with fresh, nonoily chicken goodness, although the chicken itself was a bit chewy.
Tien Kiang
1678 Story Road, 408.254.0288
Tien Kiang is technically out of the Story Road Vietnamese district, being just east of Highway 101. But Van Le, former San Jose City Council candidate and Little Saigon supporter, steered me to this southern Vietnamese–style restaurant, and it's worth driving a few extra blocks for. The restaurant is actually the new location for a restaurant that used to be on Tully Road; it's a comfortable, upscale place.With Le's help. I ordered several stand-out dishes. Goi ga bap chuoi (steamed chicken and banana blossom salad) is a cool, refreshing salad made with an ginger fish sauce that really brought the plain chicken and crunchy banana blossoms to life. I was leery of being overpowered by fishiness with the bun mum Kien Giang (a soup of shrimp, fish and pork and vermicelli noodles in an anchovy broth), but the aroma was stronger than the flavor. A squeeze of lime really brought it altogether. It's a great warm weather dish. Best of all may have been the restaurant's signature mi tom can Kien Giang, giant prawns over egg noodles glazed with a spicy sweet and sour sauce that comes from the owner's mother.
L'Amour des Baguettes
1181 Story Road, 392.9898
One of the newest restaurants in the area. Vietnam was once occupied by the French. While the Vietnamese chased them out of the country, the French imparted a love for coffee, French bread and pastries among the Vietnamese. This bakery and deli keeps that affection alive with its extensive menu of pastries, fresh breads and cookies. I liked the generously filled barbecued pork banh mi sandwich made with fresh baked bread. L'Amour des Baguettes also has a specials board with several good noodle soups such as bun bo hue, hu tieu (made with a thin noodle and seafood) and mi quang, fish and pork soup from central Vietnam made with turmeric-tinted egg noodles that the lady working the front counter told me were good for my digestion.
Send a letter to the editor about this story.