07.02.08
home | metro silicon valley index | silicon valley restaurants | review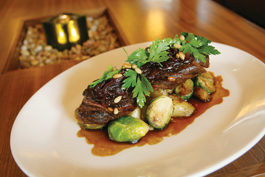 Photograph by Noelle Luchino
Sprouting Off: Dishes like this hanger steak with Brussels sprouts have Paragon's trademark flair.
Paragon of Virtue
San Jose fixture still a top option for downtown dining
By Stett Holbrook
MORE than anything else, the lack of a customer base in downtown San Jose has kept the restaurant scene in California's third largest city in a state of arrested development. That's a reason the new housing construction downtown is good news. Every time I look up at the 360 Residences project, the 23-story condo tower under construction at Market and San Salvador streets, I'm amazed by the building's progress as it pushes skyward. I'm hopeful that the luxury high rise and several others will usher in a downtown restaurant renaissance. All told, more than 5,000 housing units have recently been built downtown and another 4,500 are in the planning stage. That's a lot of new diners.
Sure, there is a steakhouse for every conventioneer who wanders into town and more than our share of bland chain restaurants that cater to the corporate crowd, but downtown San Jose doesn't have the diversity and quality of restaurants a city its size should. Hopefully restaurateurs will meet the new demand spurred by all those new residents with new and interesting places to eat.
In the meantime, one of the downtown's best options for urbane, moderately priced dining remains Paragon Restaurant and Bar, located in the hip Hotel Montgomery. I reviewed Paragon four years ago and came back recently to see how it was holding up. Yes, it's a chain, albeit a small one with just three other locations, but it continues to offer the kind of cool, big city sophistication that San Jose has in such short supply. When people ask me to recommend a downtown restaurant, Paragon is my go-to spot. It's not cutting edge or adventurous, but its menu of upscale American food, plush bar and lounge and groovy décor make it one of downtown's standouts.
Paragon's menu changes seasonally, but there are several dishes that I'm glad to see have become permanent fixtures. For me, chicken dishes are usually reserved for boring people who want to eat out what they eat at home, but Paragon's roasted chicken ($17.50) restores my affection for the much-abused bird. The skin of the half split chicken is tangy and beautifully crisped and reveals white and dark meat that is so flavorful and juicy you could wring it out. It's ladled with a delicious thyme jus that commingles with the sautéed spinach to great effect. The little crock of wonderfully creamy macaroni and cheese with the heavy lid of crispy baked cheese served on the side makes this a comfort food of the highest order.
Any self-respecting American restaurant has to do a burger well, and Paragon's ode the classic ($11), another menu mainstay, delivers. The half-pound, blue cheese–topped burger is plump and cooked to specs and served with house-made pickles on a light egg bun. The french fries served with the burger are superb, too. Tossed with garlic and rosemary, the long, thin fries are cooked a few extra seconds to make them wonderfully crisp and a tawny, buckskin brown. While they're good, there were so many it looked like they were deposited on the plate by a dump truck. There's no need for such a heavy load.
Seafood dishes are particularly good at Paragon. For lunch, I had a good mahi mahi sandwich ($13) topped with chipotle mayo and arugula. At dinner, the pan-fried Petrale sole ($18.50) was crisped with a sea of butter but the delicate white flesh and thicket of sautéed fresh beans and peas balanced things out.
Paragon has a good menu of appetizers and small plates that work well as starters or on their own as bar snacks. Tuna tartare ($10.50) is not a particularly innovative dish, but the glistening cubes of raw fish served in a cocktail glass with diced peppers and a ginger-lime vinaigrette still hit the spot. It's served with paper-thin taro chips and we used them to scoop up the last bits. Crab cakes ($10.50) are good but I would have preferred more crab and less cake, i.e., bread crumbs. Although it's probably too heavy as an appetizer given how generous the entrees are, the warm sausage and pesto flatbread ($11) makes for a great cocktail snack. With tomatoes and mozzarella cheese, it's basically a little pizza.
Most dessert menus in Silicon Valley are a wasteland of molten chocolate cake, crème brûlée, cheesecake and other yawnworthy regulars, but Paragon offers a refreshing change of pace. It's not that they were particularly inventive, but just executed with such delicious results. If you order just one dessert (all $8), make it the bread pudding. This dense, sticky, caramelized wonder is studded with pecans and is as buttery, sweet and gooey as they come. The boozy banana bourbon sauce makes it even more swoonworthy. Sweet Jesus, it's good. The coconut cream pie would have been another winner if the crust had been cooked a bit longer. But the creamy goodness of the filling was so good we just spooned it out, leaving the pasty crust behind. Service is generally good, but on one visit the crowded dining room meant long gaps between visits from our server. Paragon's comfortable lounge and outdoor patio are great places to meet for drinks and a bite to eat. Let's hope a new day is dawning for San Jose restaurants. For any restaurateur thinking of setting up shop, they'd be well served to check out Paragon to see a restaurant that's doing its part to elevate downtown dining.
---
Paragon Restaurant and Bar
Address: Address: 211 S. First St., San Jose
Phone: 408.282.8888
Hours: Hours: Lunch 11:30am-2:30pm Mon–Fri, dinner 5:30-10pm Mon–Thu 5:30–11pm Fri–Sat and 5:30–9pm Sun.
Cuisine: American
Price Range: $11–$23
Send a letter to the editor about this story.