07.02.08
home | metro silicon valley index | movies | current reviews | dvd review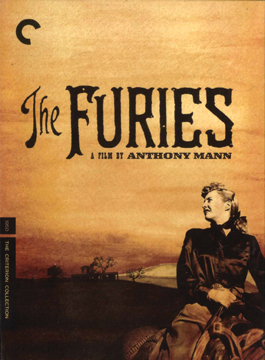 Oedipus Regina
A daughter loves her dad way too much in Anthony Mann's crazed psychological Western 'The Furies'
By Michael S. Gant
IT LOOKS like a Western—with dramatic, underlit clouds filling the skies and cattle roaming the range—but Anthony Mann's The Furies (1950, black & white) unfolds more like a Greek or Shakespearean tragedy. Walter Huston, in his last movie, plays T.C. Jeffords, a larger-than-life beef cattle baron who runs the vast Furies ranch in the New Mexico Territory as if he were a feudal lord, even printing his own money (a monetary hubris that proves his undoing). A loud, imperious yet charming patriarch, Jeffords is loved in all the wrong ways by his daughter, Vance (Barbara Stanwyck), a kind of female Oedipus, torn between passion for her father and, later, a desire to ruin him. Or is she a combo version of Cordelia and Goneril to Huston's King Lear, as Robin Wood suggests in his essay accompanying the film's new DVD release on Criterion? Still competing with the memory of her dead mother, whose room is kept untouched as a domestic shrine, Vance takes up with a local gambler (Wendell Corey, a receding presence in a part better suited to Robert Mitchum) just to test T.C.'s patience. Later, Vance must confront another usurper for her father's love: a refined, older gold-digger (Judith Anderson). Vance rids herself of this rival in the film's most famous scene, an unexpected outburst of violence with a pair of very long scissors.
Vance also harbors a lingering friendship (it's more than that, but the film isn't as explicit as Niven Busch's source novel) with Mexican Juan Herrera, played by dashing, mega-chinned Roland Gilbert—only two years older than Stanwyck, Roland achieved fame much earlier, in the silent era. The Herreras maintain a claim to live on the Furies that leads to the climax: an attack by T.C. and crew on the Herreras' high rocky redoubt, from which they tumble boulders at the interlopers. The finale to this sequence deeply and powerfully compromises the moral positions of the lead characters; unfortunately, the film limps to an unsatisfying conclusion that ignores all the psychological burdens piled up in the first 90 minutes.
Huston is a whirlwind as Jeffords, although his gusto finally proves wearying. Stanwyck, warming up for The Big Valley, gives one of her best performances—all tensile steel and channeled passion. As Juan's wild-haired sharp-shooting mother, veteran stage actress Blanche Yurka (Madame De Farge in the 1935 version of A Tale of Two Cities) chatters demonically; in a couple of epically staged deep-focus tableaux by cinematographer Victor Milner, she looks like a revolutionary from an Eisenstein film. Milner, who made well over 100 films in a remarkable career that ran from the silents to Cecil B. DeMille epics to Preston Sturges comedies, shoots most of the exteriors at dusk or later, so that the characters are often just shadows against the horizon; he and Mann frequently jam actors into the corner of the interior shots at Jeffords ranch house, which looks as oppressive as the mansion in The Magnificent Ambersons.
The film is not as fully realized as success as Mann's best noirs—Raw Deal, T-Men—which came just before it, or his exceptional Westerns with Jimmy Stewart—Winchester 73, Bend of the River, The Naked Spur and The Far Country—released just after. Novelist Busch, who wrote Duel in the Sun and Pursued, helped spur the psychological Western, of which The Furies is a peak example. The film also trail-blazes a path to the bezerker female-dominated Westerns to come, most notably Forty Guns, directed by Sam Fuller and starring Stanwyck, and the ultimate statement of a small genre: Johnny Guitar with Joan Crawford and Mercedes McCambridge butching it up over Sterling Hayden. This excellent Criterion package features the usual high-quality print, lots of extras (interviews with Mann and his daughter, Nina, plus an odd promotional interview with Huston from the early 1930s) and a paperback copy of Busch's novel.
THE FURIES; one disc; Criterion Collection, $29.95
Send a letter to the editor about this story.