07.02.08
home | metro silicon valley index | music & nightlife | band review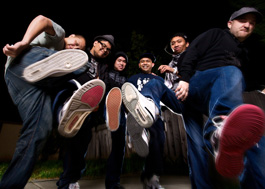 Photograph by Cathy Bauer
CRYING FROM THE KICKS: The Fingerbangerz can't stop, won't stop beating you down.
Constant Elevation
Fingerbangerz crew celebrate 10 years with gig as new permanent DJs for the Jabbawockeez dance crew
By David Ma
I WAS at San Jose's SOFA Fest years ago," says Cutso, one of the many DJs from the Fingerbangerz crew, "and even back then, I wanted us on that stage one day."His goal was attained at last month's 01 Fest when the Fingerbangerz headlined the main stage on South First Street, playing slick routines for curious onlookers, friends and followers. The performance showed their maturation, playing with a swagger that took years to build. Sure enough, they've been productive since they pictured on Metro's cover in 2003.
"Things have happened pretty fast for us since then," admits Squareweezy, laughing. "We're DJs who can actually mix and we provide a vibe you can't get anywhere else in San Jose."
What they offer are six DJs who complement each other's individual strengths and styles. "Goldenchyld is all of us rolled into one, he's like our representative," explains Cutso, rattling off how each member deepens the crew's chemistry. "Ngobility is all hustle, he's our businessman. Replay is our most productive producer, and G-Wrex is a smooth operator who's also our toughest critic. And Squareweezy's a showman; he's bad and is 100 percent attitude, or as we call it, 'bad-itude' [laughs]."
"Cutso covers all angles" chimes in Squareweezy. "He's our music historian and a very creative party rocker. Plus, he paid me to say these nice things about him [laughs]." In all seriousness, what underscores their success is, according to Cutso: "We're all dedicated DJs. First and foremost." But dedication wasn't always enough. Like most DJs, they were slowed by random setbacks and circumstances. Their 2003 debut, VI.R.US, didn't excel as they had hoped. The fascination for scratch records had waned by 2000, while the wave of digital downloads peaked, reducing overall music sales to this day. And as any independent artist can attest, money, and the lack thereof, is an enormous hurdle.
"We couldn't promote," says Goldenchyld, who had toured prior with renowned DJ Z-Trip. "We put all our money into pressing the CD. By the time we finished the album, we were like, good, we're done. Let's just let it loose."
As VI.R.US was left to build its own momentum, the crew reverted back to DJ basicsVI.R.US lunged into a niche market.
"We unknowingly made a dance album that choreographers were using," says Squareweezy, adding: "That was the last thing on our minds. We just wanted to put out material!"
"I was on YouTube one day and saw different crews dancing to our tracks," explains Cutso. "Then I saw the Jabbawockeez doing a routine to one of our songs! It was perfect! They moved to every click and pop in the music. It was the exact embodiment of our music."
The Jabbawockeez, a Southern California–based dance troupe, are the winners of MTV's wildly popular dance competition, "America's Best Dance Crew." As fate would have it, the growth of the Jabbawockeez coincided with the release of VI.R.US.
"The Jabs were just forming and wanted new music that had eclectic elements added. So VI.R.US was perfect," says Cutso who, along with Replay, is slated to tour with the Jabbawockeez later this year. "Now they want us as their permanent DJs. It made perfect sense."
This October will mark the 10-year founding of the Fingerbangerz. They're planning a rambunctious, live multimedia show with the Jabbawockeez, along with a new album yet to be named. They're riding a burst of activity lately, with their music appearing on BET and MTV, along with future gigs soundly secured.
THE FINGERBANGERZ perform with THE JABBERWOCKEEZ on Friday (July 4) at Vivid Nightclub, 8 S. First St., San Jose. Tickets online at www.brownpapertickets.com.
Send a letter to the editor about this story.