07.02.08
home | metro silicon valley index | the arts | stage | review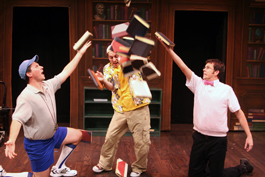 Photograph by Sandy Underwookd
WATCH OUT FOR FLYING BOOKS: Mick Orfe, Brent Tubbs and Michael Faulkner (from another production) juggle some big ideas in a hurry in "All the Great Books '(abridged).'
Crash Course
The cutups from Reduced Shakespeare boil down the classics for San Jose Rep
By Marianne Messina
THE JOKES are hokey, but they work; the audience is part of the show, and you get a diploma for sitting through it—that's if you sit somewhere near the front of the house at San Jose Repertory Theatre. What's not to love about the Reduced Shakespeare Company's latest tour-through with All the Great Books. Like The Complete Works of William Shakespeare (abridged), the well-known show by the same crew, All the Great Books (abridged) boasts of capsulizing and dispatching gobs of literature in a trice. This time, it's a syllabus of 86 select "great books," like Moby-Dick, War and Peace, To the Lighthouse, the Iliad and Odyssey (converged and dubbed "Idiodity"). Much of the humor comes from contextual conflations piled onto sight gags. Highbrow collides with low as lines from A Tale of Two Cities mix with snippets from soaps and films: "We have executed Jean Reno." "Who shot J.R?" The premise, such as it is, supposes the audience to be a bunch of "remedial students" who need this book-cram boot camp to graduate—and graduation is less than two hours away. Run by a literature professor (Austin Tichenor), a slacker student (Dustin Sullivan) and a coach (Reed Martin), boot camp starts with an ear-shattering whistle and Martin in gym shorts, sneakers and baseball cap pointing to a white board. While covering the literature, the group also references comedic genres, from vaudeville to sitcom; literary tropes, malapropism (Sullivan's forte) to double-entendres; and fads of literary critical theory, Freudian, Feminist, Marxist, multicultural. And then it spoofs them.
Thoroughly postmodern, the group ruptures its perfect, rapid-fire pacing of vaudevillian gags when Sullivan appears to forget his lines. "I guess because we wrote this thing we know where we're going," Reed chides him (Reed and Tichenor wrote and directed the show). "This thing has a flow," the still-struggling Sullivan tells the audience. "Not in the last few minutes it hasn't," quips Reed, glancing at his watch.
This is a well-oiled production. Its familiar, sophomoric opening is deceptively unpromising, as if the three performers have deliberately given themselves some resistance to work against. But they're geniuses at pulling people in and establishing rapport. Walking the fine line between inclusion and insult, they ask the audience to vocalize, toss back balls and fill out papers. In addition to pillaging pop culture, the Reduced crew endears the audience with local lore. A mock "Dating Game" features bachelorettes Jane Austen, George Eliot and Virginia Woolf, and the winner accompanies the bachelor on a "fun-filled vacation for two at the beautiful Winchester Mystery House." Just when the humor seems predictable, something will sneak up on you, like the way "T&A" becomes a punch line. Music and lighting remain mostly unobtrusive, which makes the red lighting for Hades, the Star Trek combat music for Odysseus' battle (dressed in Omega man costume) and the two-man Trojan horse tiptoeing in on Mancini's Pink Panther theme all the more effective. And the most you-had-to-be-there gag turns spotlights and voice-overs into characters for a hilarious rendering of the internal monologues from James Joyce's Ulysses.
ALL THE GREAT BOOK (ABRIDGED), performed by The Reduced Shakespeare Company and presented by San Jose Repertory Theatre, plays Tuesday at 7:30pm, Wednesday–Friday at 8pm, Saturday at 3 and 8pm and Sunday at 2pm (no show July 4, extra show at 7pm on July 20) through July 20 at the Rep, 101 Paseo de San Antonio, San Jose. Tickets are $15–$59. (408.367.7255)
Send a letter to the editor about this story.