07.02.08
home | metro silicon valley index | the arts | stage | review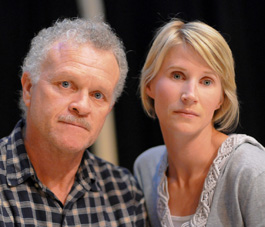 ON THE DOMESTIC FRONT: Tanya Dargel and Bill C. Jones must cope with the return of an injured war vet in Pear Avenue's new show.
The War At Home
Pear Avenue's 'Homeland Prayer' looks at the cost of war after the battles are over
By Marianne Messina
KEYWORDS: heartland, family, faith. Could be the latest political message from Barack Obama, but it's Homeland Prayer, Jeff Carter's new play at the Pear Avenue Theatre. The "heartland" locale is duly noted by sound designer Valerie Clear's Americana soundtrack between scenes. Danny (whom we never see) has just returned from an unnamed, present-day war, missing limbs and minus brain functions after being hit by a roadside bomb. Unfolding like an Arthur Miller play, the trajectory gradually uncovers and then exploits interpersonal tensions as it takes the family from bearing up to breaking down. While Danny's mother, Lynn (Mary Moore), serves baked cookies and homemade donuts to beat June Cleaver, her husband, Darden (Bill C. Jones), feeds the crows (compliments of Clear's sound design) that gather in his yard, much to Lynn's dismay. By way of unfinished conversations, we learn that there's something about Danny's wife, Kim (Tanya Dargel, tense and waiflike), that Lynn disapproves of; that Kim and Darden have some special connection; that Danny's sister, Julie (Alison Plott), and her husband, Brent (Jack Starr), need the love doctor.A pillar of Christian belief, Lynn constantly urges her family to pray together. Moore's sparse, quiet portrayal gives us a woman trying to will the world to rights: in terms of both family unity and Danny's recovery. Fittingly, Ron Gasparinetti's set design ensures that Lynn's domain, the kitchen, dominates all other locations. The hearth and center of family life, it stretches from one side of the stage to the other and relegates a bedroom or food court scene to small zones tucked in at either side of its ever-present wings.Lynn repeatedly vetoes her family's use of the normal pressure relief valves—extreme language, discussions about doubts, squabbling. And the cast telegraphs, with a lot of restraint, tight lips and tense exhalations, that the family has become a powder keg. This acting doesn't always feel naturalistic. Rather, constrained and expressionistic, it creates a kind of cardboard family, that is to say, one that doesn't hold up well under tragedy. Unfortunately, we never get to see the unstressed, pre-tragedy characters; Carter writes countless exchanges that end in apologies; and scene changes sink into sweet but melancholy music—in other words, the play's heaviness endures without modulation. It's hard to say whether these are deliberate choices or if they stem from a lack of choices. Darden could have humorous moments, what with his lame excuses for not praying with Lynn—"I was drinking water," "I was in the bathroom"—and cracks like "You can't take a step in this country without stepping over a hero." But Jones' Darden is not quipping; he's blindly batting away pain. Standup performances by Starr as the earnest brother-in-law and Plott as his appealing, somewhat self-absorbed wife add breadth to this look at coping strategies and at belief in the face of untenable outcomes. Despite its monochrome mood, the production parses an important national conversation in an engrossing way. Grief exerts a pressure, and in Darden's ultimate impulse for releasing that pressure, Homeland Prayer may be offering insight into America's response to 9/11.
HOMELAND PRAYER, a Pear Avenue Theatre production, plays Thursday–Saturday at 8pm and Sunday at 2pm through June 8 at the Pear, 1220 Pear Ave., Unit K, Mountain View. Tickets are $15–$30. (650.254.1148)
Send a letter to the editor about this story.