July 11-17, 2007
home | metro silicon valley index | columns | 5 things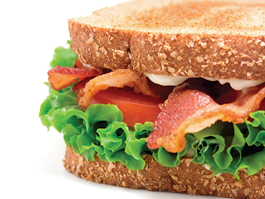 5 Things to Love
Great Sandwich Makers
By Stett Holbrook
A well-crafted sandwich is a perfect meal—bread, protein, vegetables—it's all there. Here are five top shops that make sandwiches from all over the world.
Back A Yard Caribbean American Grill The jerk chicken wrap sandwich is the closest you're going to come to Jamaica without leaving Silicon Valley. 1189 Willow Road, Menlo Park. 650.323.4244.
Chalateco The torta is the sandwich of choice here. The torta Cubana is enough for two. Various Silicon Valley locations including 2323 The Alameda, Santa Clara. 408.243.1357.
Fresh Baked Deli Classic deli. Fresh baked means they bake their own bread and roast their own meats. 152 N. Third St, San Jose. 408.298.9370.
Lee's Sandwiches Simple, cheap and delicious, the Vietnamese banh mi sandwich is the way to go here. Various Silicon Valley locations including 260 E. Santa Clara St, San Jose. 408.286.8808.
Specialty's Cafe and Bakery Beloved in San Francisco's financial district, the specialty sandwich maker has arrived in San Jose and plans to open stores in Santa Clara, San Mateo and Redwood Shores. 2580 N. First St, San Jose. 877.502.2837.
Send a letter to the editor about this story.