July 19-25, 2006
home | metro silicon valley index | movies | current reviews | essay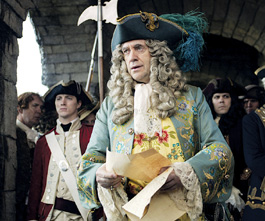 The Critics Have Spoken: Jonathan Pryce delivers his verdict on the latest pirate movie.
Critical Masses
Upon reading the 1,000,000th 'the critic is dead' posting in a blog
By Richard von Busack
EVERY WEEKEND, the box-office figures come out. Every weekend, the newscasters and bloggers crow, like the proverbial roosters taking credit for the sunrise. "By God," they say, "this country may be at war, the deficit is pushing $300 billion, but at least there's one thing we still know how to do, and that's produce expensive spectacles." The consumer, not having read Edward Jay Epstein's The Big Picture, doesn't realize that the studios are leisure arms of multinational corporations. So every Monday, it's another victory for those American trademarks we love, Warner Bros., Paramount, 20th Century-Fox and so on.
Part of the crowing, in blog after blog, is the inevitable conclusion: "Aha, and what of those critics who whined about how lousy the film was? How do they answer a $132 million opening weekend? If they can't respect the film, can't they at least respect the money?"
The summer has been full of such crowing. Anne Thompson in The Hollywood Reporter recounts the demise of the newspaper critic. Jeff Jarvis' blog Buzzmachine.com proclaims "The Critic Is Dead." One of Jarvis' correspondents claims that the box office on Pirates of the Caribbean: Dead Man's Chest proves that "the real critics have spoken," as opposed to the professional layabouts who hated the film.
Speak to these "real critics," and you hear a universal "Eh, not as good as the first one." If these real critics spoke with their money, they spoke before they saw the film, not after.
A rear-guard action against this perceived demise of the critic continues at Davekehr.com. Longtime newspaper writer David Kehr got dozens of postings commenting on Thompson's article on the demise of newspaper film critics, which rostered the pink-slipped and downsized: Michael Wilmington, Kevin Thomas of the Los Angeles Times (now freelance instead of staff) and Jami Bernard of the New York Daily News. Kehr, a veteran of the Daily News, added, "I imagine the 'exciting new vision' for film coverage will involve a lot less movie reviews and a lot more 'exclusive' profiles of movie stars, carefully assembled by underpaid freelance writers at grim, debasing junket round tables." Kehr's correspondents weigh in, for pages. Some want to shoot all the messengers. One "HerrDirektor" recalls how The New York Times' Stephen Holden "crucified" a helpless indie movie. (Don't directors offer up their work to be seen, unlike the prisoners whom the Roman soldiers forced into showbiz?)
The wave of retirements isn't entirely a bad thing. It's hard to shed tears over the downgrading of Thomas. Even 30 years ago, he was known as "the Will Rogers of film criticism"—he never saw a movie he didn't like. And younger critics such as Scott Foundas of the LA Weekly and Richard Brody of The New Yorker deserve some room to move in.
As always, there are young writers who write exactly like old fogies, showing off limited horizons, hidebound tastes and only a speculative knowledge of how life is lived outside the United States. For instance, Kehr's site includes a quote from Village Voice Media's Luke Y. Thompson, whose weblog pronounced this astonishing judgment on Notorious: "Notorious just feels really long ... I say, dated! ... I'm still waiting to be truly blown away by anything by Hitchcock."
Anne Thompson, however, cites another blogger: "FilmFreakCentral.net's Walter Chaw, who writes with a refreshing candor that you would never find in the print world. In his recent review of X3, for example, Chaw calls director Brett Ratner 'a homophobic, misogynistic, misanthropic moron.'" Often, Chaw likes to go a bit deeper—one of his reviews cited the Freudian menstrual imagery in Blue Crush. Still, one wonders whether the bloody wave of the future will be something like Ann Coulter on film.
Cost-cutting newspapers would love to make way for opinions as glib as the "Street Beef"-type man-in-the-street columns. Vox Populi is a money-saver for papers. And the public like it, because deep in their hearts they believe people who write for free are more dedicated. Thus Thompson champions a string of bloggers who "have day jobs and blog for fun, happy to communicate with like-minded souls. Commerce, promotion and careerism have nothing to do with it."
Thompson's blissful picture complements the popular notion of the nobility of the starving artist. Poor equals pure. Still, any blogger would love to be paid to write. Thompson is making a virtue out of a handicap. A blogger's 40-hours-a-week job—those credentials that prove him a man of the people—is 40 hours he can't work on his writing. It's 40 hours he won't have to read a novel a film is based on. It's 40 hours he doesn't have to compare a remake to an original. It's time he won't have to look over the vast section of the human experience that isn't online yet.
The loathsomeness of the critic—a figure misunderstood by both the Industry and the public—might be balanced by his social worth, as he tries to clean up a realm where hyperbole and hysteria reign. If there's truth to composer Edgar Varese's comment that "the modern-day artist refuses to die," maybe it's true that the artist's symbiotic parasite, the professional critic, won't be checking out soon either.

MOVIE_TITLE_RATING_PLAYING
Send a letter to the editor about this story.