09.23.09
home | metro silicon valley index | the arts | stage | review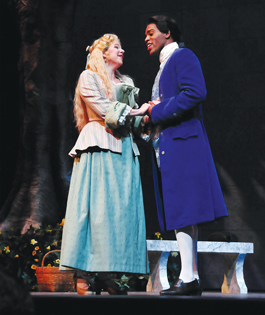 Photograph by Pat Kirk
LOVE MATCH: Manon (Rebecca Schuessler) and her chevalier (Michael Dailey) fall hard.
Sweet Perfume
Opera San José's 'Manon' showcases Massenet's exquisite music
By Scott MacClelland
OPERA SAN JOSÉ staged Massenet's Manon seven years ago (in the Montgomery Theater) and has just opened a brand-new production. Why do Massenet's operas go away more often than they come back? Or more to the point, why do they keep coming back? Short answer: because they must. Unlike Italian opera—the folks who invented it—French opera puts lyricism and sensuality ahead of theatrics and grandiloquent bluster (with some exceptions of course). That will sound odd in the case of Manon, because its story is barely different from any other French or Italian opera in which one party to the crucial love-angle is obsessively dedicated while the other chronically falls or jumps off that wagon: Werther, Carmen, Samson et Dalila, I Pagliacci, Cavalleria Rusticana, Il Tabarro, Evgeny Onegin, La traviata, Manon Lescaut, Thaïs, Les troyens (Dido and Aeneas part), Madama Butterfly—even Bernard Herrmann's superb but only once staged Wuthering Heights. The list goes on forever. Whatever makes Massenet original, he still hews to the French tradition. Where his music is schmaltzy, it comes across scented with exquisite perfume and limned with gorgeous colors. Puccini's Manon Lescaut—same story—by contrast inflates the situation, sometimes to vulgarity, and seeks to manipulate audiences with more calculation. This makes Manon more vulnerable to the vagaries of production and performance. The good news: Manon, last Sunday afternoon, turned soap-opera melodrama into some real operatic thrills. Rebecca Schuessler, in the title role, served up a commanding performance, at turns indomitable when arrogant and fragile when vulnerable. She delivered likewise vocally, filling the California Theatre, or crooning—in the bel canto sense—with a delicate French touch.
Opposite Manon are the two principal men in her life, her cousin Lescaut (baritone Daniel Cilli) and her "true" love, Chevalier des Grieux (tenor Michael Dailey). Memorable for his OSJ appearances as Nemorino (Elixir of Love) and Don José (Carmen), Dailey is still a bit stiff in acting the role but was vocally secure and well cast for Massenet's graceful lyricism. His "Je suis seul" in Act 2—the acts were reconfigured from five to three for this production—was compelling and heartfelt. Cilli, with several more OSJ roles under his belt, showed off a smooth stage sense and role characterization supported by a solid vocal performance.
The aging dandy Guillot de Morfontaine (tenor Michael Mendelsohn) was made clownish in director Dianna Shuster's otherwise insightful tableaux. His gaggle of chirpy girls (Jillian Boye, Cathleen Candia and Betany Coffland) underscored those comedic moments. The chevalier's father, Count des Grieux (bass-baritone Isaiah Musik-Ayala), struck an authoritative vocal counterpoint to Dailey in their two scenes together. Lescaut's fellow soldier, De Brétigny, was the work of baritone Adam Meza.
Conductor Joseph Marcheso, who made his OSJ debut with Lucia di Lammermoor in 2007, led his orchestra in a well-paced reading from start to finish, alternately guiding or deferring to the principal singers onstage. The orchestra itself gave the score a polished, often gleaming performance, featuring excellent violin solos by Cynthia Baehr and, during des Grieux's letter scene (Act 1, Scene 2), a splendid horn solo by Deborah McCracken. For the production, the ballet scene was cut, and Manon's gloating Gavotte was moved into the penultimate gambling scene, with no damage to the story line. In addition to all his other duties, and as an apparent cost-saving move, company general manager Larry Hancock designed the sets, using outsized cinder blocks effectively for the outdoor and seminary scenes, a sensual velvet-draped bedroom scene, erotic-themed paintings for the gambling scene, and high clouds at sunset for the finale. The leafy oak at the start looked lightning-blasted by the finish. Costumes throughout gave Massenet sumptuous attire.
MANON, an Opera San José production, plays Sept. 17, 19, 22 and 25 at 8pm and Sept. 20 and 27 at 3pm at the California Theatre, 345 S. First St., San Jose. Tickers are $61–$91. (408.437.4450)
Send a letter to the editor about this story.