09.23.09
home | metro silicon valley index | features | silicon valley | best of silicon vally 2009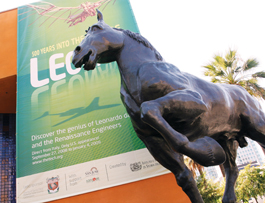 Photograph by Felipe Buitrago
HOOFING IT: The crowds for the Tech's Leonardo show last year were practically a stampede—more evidence for why readers voted it best History/Specialty Museum.
Arts & Culture
Reader's Picks
Best Art Museum
San Jose Museum of Art
110 S. Market St., San Jose; 408.271.6840
Since 1969, when it made creative use of the old Romanesque post office building, until today, with a spacious, well-lighted vaulted two-story addition, the San Jose Museum of Art has hosted many memorable exhibits: the meta-outsider images of Martín Ramírez, the fantastical collages of Jess, the illuminated installations of Jennifer Steinkamp and, most befitting for Silicon Valley, "Robots: Evolution of a Cultural Icon." The museum concentrates on California and West Coast artists and boasts a strong permanent collection that can be seen in rotating shows; its holdings are especially deep in the Bay Area's abstract expressionist painters of the post–World War II era. On Oct. 17, the museum throws itself a 40th birthday party, with cocktails at the facility, followed by dinner and more at the Fairmont (call 408.271.6865 for details).
Cantor Arts Center
328 Lomita Dr., Stanford University; 650.723.4177
San Jose Museum of Quilts & Textiles
520 S. First St., San Jose; 408.971.0323
Best History/Specialty Museum
The Tech Museum of Innovation
201 S. Market St., San Jose; 408.294.8324
With its splashy, mango-colored exterior, the Tech stands out among everything else in downtown San Jose. Millions have visited the place since it opened at the original location in 1990, which was around the corner on San Carlos Street. The Tech's founders envisioned a world-class facility wholly devoted to science and technology—exactly what one would expect from Silicon Valley—and today people from across the globe have descended upon San Jose to check out its educational displays.
Rosicrucian Museum
1664 Park Ave., San Jose; 408.947.3636
Children's Discovery Museum of San Jose
180 Woz Way, San Jose; 408.298.5437
Best Art Gallery
Sonya Paz Fine art Gallery
195 E. Campbell Ave., Campbell; 408.378.5000
Local artist Sonya Paz's work has graced the cover of Metro, most recently for our Valentine's Day issue. That's appropriate, because her work is bright, colorful and imbued with the heady feel-good emotions. Her fame has even earned her an Artist of the Year award from state Sen. Joe Simitian. Paz's Campbell gallery shows off her work in many moods and subjects, including wine country images, pop cubism and some very whimsical animals. Accessible at all price ranges, her work can be seen in originals, prints and even on T-shirts.
San Jose Institute of Contemporary Art
560 S. First St., San Jose; 408.283.8155
MACLA
510 S. First St., San Jose; 408.998.2783
Best Local Festival
Music in the Park
All summer in Plaza de Cesar Chavez Park
For 21 summers now, Music in the Park has flat-out owned Thursday evenings in San Jose. Why? Well, it doesn't hurt to have Third Eye Blind or Smash Mouth or the English Beat playing outdoors for free on any given week. But the truth is, it's not the big names onstage that have made this event an institution. It's a certain vibe that attracts every kind of person, from families to college kids, scenesters to software execs. It's San Jose's social mecca, the place to be nine nights a year. And like band camp, most every longtime local has a story that begins "One time, at Music in the Park ..."
San Jose Jazz Festival
Every August in downtown San Jose
Gilroy Garlic Festival
Every July
Best Art House Movie Theater
Camera 12
201 S. Second St., San Jose; 408.298.3300
Camera 3
288 S. Second St., San Jose; 408.998.3300
Camera 7
1875 S. Bascom Ave., Campbell; 408.559.6900
Los Gatos Cinema
41 N. Santa Cruz Ave., Los Gatos; 408.395.0203
Once again, this independently owned and operated theater chain wins. The reopening of Camera 3 was a small triumph for the theater chain as well as for nostalgists; it's an older theater that's now becoming historic by downtown standards. Nearby Camera 12 qualifies as the heart of San Jose's downtown, with an ever-rotating banquet of the most serious art cinema to the most deliriously trashy midnight fare. As the hub of Cinequest, Camera 12 sees visitors from all over the film-loving world, and its monumental staircases and escalators are a major place to run into friends. Camera 7 in Campbell is a date-movie palace, essential to the walker-friendly ambience of the Pruneyard, and the Los Gatos Theater is one of the six or seven things that make Los Gatos such a desirable little village.
CinéArts Santana Row
3088 Olsen Dr., San Jose; 408.554.7010
Stanford Theatre
221 University Ave., Palo Alto; 650.324.3700
Best Mainstream Movie Theater
AMC Saratoga 14
700 El Paseo de Saratoga, San Jose; 888.AMC.4FUN
Early-morning discounts, a great location with a view of the foothills and clean comfortable theaters are part of the reason for the continued success of this readers' pick. The theater may be "mainstream," but it shows some handmade material, too, such as Ponyo and Taking Woodstock.
AMC Mercado 20
3111 Mission College Blvd., Santa Clara; 888.AMC.4FUN
Century 20 Oakridge
925 Blossom Hill Road, San Jose; 408.225.7340
Best Open-Mic Night
Rooster T. Feathers New Talent Showcase
157 W. El Camino Real, Sunnyvale; 408.736.0921
On Wednesdays at Rooster T. Feathers, audiences can sample some of the best up-and-coming comics in the area. Of course, they can also suffer through some of the worst comics in the area. But that's the charm of Rooster T. Feathers—you get to see them all. And in a few years, when they have their own HBO special you can say you heckled them before they got big at this little spot in Sunnyvale.
Sonoma Chicken Coop, every other Sunday
200 E. Campbell Ave., Campbell; 408.866.2699
South Bay Writers Open-Mic, third Friday of the month
1875 S. Bascom Ave., Campbell; www.southbaywriters.com
Best Local Theater Company
San Jose Repertory Theatre
101 Paseo de San Antonio, San Jose; 408.367.7255
With world-class actors and top-end set design, the San Jose Rep's imaginative, oftentimes challenging performances have been delighting downtown audiences for years. Now with new artistic director Rick Lombardo at the helm, audiences can look forward to a lively balance between the classic and contemporary theatrical offerings in the future. Oh, and make sure to check out their new "pay what you can" nights on the first Tuesday of every show.
City Lights Theater Company of San José
529 S. Second St., San Jose; 408.295.4200
San Jose Stage Company
490 S. First St., San Jose; 408.283.7142
Best Children's Theater Group
Children's Musical Theater San Jose
1401 Parkmoor Ave. #100, San Jose; 408.288.5437; performances at Montgomery Theater, San Jose
Several generations of young thespians, smitten with visions of Broadway, have learned their craft at Children's Musical Theater San Jose. The theater now teaches extensive classes and mounts a variety of productions for all age groups. CMTSJ has gained a reputation for putting on some spectacular musicals that are as entertaining to general audiences as they are educational for the performers. The company's Rising Stars show focuses on performers ages 6 to 14; the Mainstage shows demonstrate the talents of high school and college-age actors.
San Jose Youth Shakespeare
www.youthshakes.org; 408.978.5516
Palo Alto Children's Theatre
1305 Middlefield Road, Palo Alto; 650.463.4930
Best Comedy Venue
Improv
62 S. Second St., San Jose; 408.280.7475
The Improv is a true gem in San Jose's crown. It brings some of the biggest names in comedy to the South Bay. On off-nights, aspiring local standups take to the stage; on the weekends, headliners like Alonzo Bodden, Tom Arnold and Maria Bamford perform. That's a lot more fun than trying to see them on pay per view.
Rooster T. Feathers
157 W. El Camino Real, Sunnyvale; 408.736.0921
ComedySportz
288 S. Second St., San Jose; 408.224.0842
Best Local Winery
J. Lohr Vineyards and Wines
1000 Lenzen Ave., San Jose. 408. 288.5057
J. Lohr wines are distributed far and wide, but it's still very much a local winery that dates back to 1974. In addition to a diverse lineup of easy-to-like wines, part of the winery's appeal is its inviting tasting room near downtown. Added bonus: No tasting fees except for special cuvée wines.
Cinnabar Vineyards & Winery
14612 Big Basin Way, Saratoga; 408.741.5858
Testarossa Winery
300A College Ave., Los Gatos; 408.354.6150
Best Microbrewery
Gordon Biersch
640 Emerson St., Palo Alto, 650.323.7723; 33 E. San Fernando St., San Jose, 408.294.6785
An easy call; this popular favorite has many locations. Dan Gordon and Dean Biersch founded the institution in Palo Alto in 1988; that it has persisted through boom and bust is proof of the age-old appeal of four ingredients and a German purity law. Gordon Biersch deserves props for its elegance—this is a brewpub you can take a date to. It also earns praise for its site-specificity as much as its beer, including the fine retrofitting of the first locale in the old Bijou theater in Palo Alto. The handsome old-world brick patio in San Jose is the ultimate place to have a couple during the end of a hot working day. Now up on the taps: the Octoberfest Fest Bier, a stronger, darker brew to combat the growing crispness of autumn.
Los Gatos Brewing Company
130 N. Santa Cruz Ave., Los Gatos; 408.395.9929
Sonoma Chicken Coop
200 E. Campbell Ave., Campbell; 408.866.2699
Best College/Independent Radio Station
KSJS-FM (90.5)
This hotly contested honor is a tribute to the world-class college radio inundating the valley. Among the reasons why San Jose State University's 46-year-old FM station wins again: the blues benefit it held for Christopher Rodriguez, the Oakland 10-year-old crippled by a flying bullet; its broadcasts of games by the Spartans; the excellent long-running film program Celluloid Dreams on Monday nights; and an eclectic mix of alternative, subrock, urban and other tantalizing music.
KFJC-FM (89.7)
KSCU-FM (103.3)
Best Local Jock
Greg Kihn, KFOX-FM (98.5)
We will testify that Greg Kihn is the Madison Avenue Man of San Jose classic-rock radio. Several jocks have disappeared over the years, but his job is hopefully not in jeopardy, as Greg forever makes sure we don't wind up with an empty glass, forgetting about our past. He's got just what it takes when the tension breaks. If you can't stop hurting yourself, turn on Greg's show and you'll be a happy man.
Dave Moray, KFOG-FM (97.7)
Robert Emmett, KFJC-FM (89.7)
Send a letter to the editor about this story.