09.23.09
home | metro silicon valley index | features | silicon valley | best of silicon vally 2009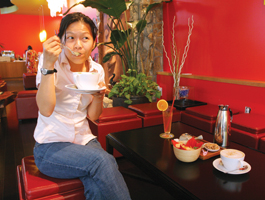 Photograph by Felipe Buitrago
SIPPING PRETTY: Bee Bee Liew of Ku Day Ta Tea Lounge, home of the Best Chai in Silicon Valley.
Food & Drink
Staff Picks
Best Spam Masubi
Big Island BBQ
612 Great Mall Dr., Milpitas; 408.263.4200.
Hawaii consumes more Spam per capita than any other state in the union, and Spam masubi elevates ham in a can to new heights by rolling it into a roll with rice and seaweed. Spam sushi. Big Island BBQ is the place to savor this island-style take on fusion food. (SH)
Best Indian-Fusion Pizza
Konkan Crab, Amber Cafe
650 W. El Camino Real, Mountain View; 650.968.1751
This casual cousin to the venerable Amber India offers a terrific variety of apps (from chile cheese toast to dilli ki paddi chaat, which features a nice tamarind chutney), as well as super-affordable entrees (the lamb kebab is $7.99; tandoori shrimp, $9). Everything on the menu deserves a try, but this crab pizza, with Indian spices and slivered onions, is a don't-miss. (EJ)
Best Wine List on the Peninsula
Lavanda
185 University Ave., Palo Alto; 650.321.3514
Crossing the threshold into Lavanda, one steps into a good-sized, airy bar area, with bar stools so comfy they're hardly stools. Settling in and cracking the wine list, it's clear that Lavanda—recognized as one of the Bay Area's top restaurants—takes the "Wine Bar" part of its name seriously. There are always surprises to be found, and all are served in cool Riedel stemware—another nice touch. (EJ)
Best Place to Meet the Godfather of Sandwiches
American Italian Delicatessen
139 Main St., Los Altos; 650.948.6745
While Willow Glen's La Villa has come to define the Italian deli experience for San Jose proper, North County residents know they don't have to drive so far for the real thing. The American Italian Delicatessen is the real deal, and a terrific bargain. It may be humble and unassuming from the outside, but inside lurks the Godfather Sandwich, a larger-than-life sub packed with prosciutto, salami, coppa, provolone and mortadella that lives up to its name in every way—it's deadly. (SP)
Best Deep-Fried Restaurant in a Gas Station
The Deep Fried Twinkie & Pastrami Shop
4004 Mowry Ave., Fremont; 510.794.7666
Warnings about high-cholesterol foods haven't scared locals who have embraced the Deep Fried Twinkie & Pastrami Shop. This food stand located in a Valero gas station offers a variety of deep fried items, including Twinkies, bananas and cupcakes, but customers rave about the deep-fried Oreos, bacon-wrapped hot dog, and peanut butter and jelly sandwich Those who want to save their arteries can opt for a cold-cut combo or grilled sandwich. (AF)
Best Vegetarian Food in a Carnivorous Setting
Pampas
529 Alma St., Palo Alto; 650.327.1323.
Pampas is a great Brazilian style steakhouse. You know, a place where they come to your table to slice off spit-roasted meat until you cry uncle? But the restaurant also offers a vast selection of vegetarian items for those not into the meat parade. There are green salads, yes, but also roasted eggplant and peppers, grilled peaches and cheese, quinoa salad, hummus, great soups, grilled potatoes, sweet potatoes with coconut and on and on it goes. (SH)
Best New Reason to Visit Campbell
Cyprus Bistro
379 E. Campbell Ave., Campbell; 408.370.3400
This restaurant is one of the newest additions to Campbell's ever-evolving downtown. It opened last month in the spot that was formerly home to Tannin's Wine Bar. While the menu is still developing, the future of this cafe looks promising. Their gourmet Mediterranean sandwiches are interesting and filling and served on excellent bread. The appetizers at Cyprus Bistro are also worth a try, with their tasty pita bread, topped with herbs and olive oil that goes great with the hummus. (LF)
Best Chai
Ku Day Ta
447 Great Mall Dr. #124, Milpitas; 408.935.9083
Finding a cup of chai that's not oversweetened or overspiced isn't easy. But Ku Day Ta Tea Lounge is an oasis of expertly made chai. Or chais—they offer nearly a dozen hand-made brews to suit any taste. (SH)
Best Place for a Lamb Cigar
Zitune
325 Main St., Los Altos; 650.947.0247
"Have a cigar," sang Pink Floyd. "You're gonna go far," but for a delicious lamb cigar, you don't have to go all that far, just to Los Altos' Zitune. Figuratively, however, this warm, stylish spot (and somewhat well-kept secret) will transport you straight to Marrakech with its Moroccan menu. With inventive and distinctively spiced dishes like orange lavender duck breast and star anise sea scallops, it's not your father's Middle-Eastern-with-a-Mediterranean-touch. (SP)
Best Well-Aged Cheese Shop
The Cheese Taster Delicatessen
43367 Mission Blvd., Fremont; 510.656.5480
This local eatery has kept it all in the family for more than three decades. Not only does this quaint shop boast a wide variety of exotic cheeses (it is, after all, named the Cheese Taster Delicatessen), it also doubles as a deli, serving hearty sandwiches made from fresh ingredients and a variety of side salads. Insiders know that the hot pastrami and roast beef sandwiches are to die for. (AF)
Best Contemporary Italian
Quattro Restaurant and Bar
2050 University Ave., East Palo Alto. 650.566.1200.
If you ask me, Italian food in Silicon Valley is all pretty much the same old spaghetti and meatballs, but East Palo Alto's Quattro is the exception. Executive chef Alessandro Cartumini creates a changing menu of inspired, modern Italian fare with dishes like olive oil–poached halibut, black cod and kabocha pumpkin ravioli and rib-eye tagliata. (SH)
Best 1950s Flashback
Clarke's Charcoal Burgers
615 W. El Camino Real, Mountain View; 650.967.0851
We live in a time when Americana is in vogue, and restaurateurs are bringing back the look, feel and menus of a simpler time. We also live in a time when the hamburger is being reimagined by chefs in New York and L.A., who are inventing new ways to fancy up the most American of dishes. Which means Clarke's, at this location since 1957, is pretty trendy right now. They offer 25 varieties of burger, any of which can be spruced up in a dozen ways, and served up on their famous sourdough buns. Steaks, chicken, ribs, dogs, chili fries. Yes, yes, yes, yes, yes. (EJ)
Best Self-Serve Frozen Yogurt
Yogurtland
5395 Prospect Road, San Jose; 408.777.9868
Other locations throughout the valley. At just 30 cents for an ounce, Yogurtland will provide the most fun frozen yogurt experience anywhere ever. There's a variety of interesting flavors including root beer, pumpkin pie, candy cane and tiramisu. Yet Yogurtland also does a great job of sticking to the classic flavors like vanilla and strawberry. It's a good place for indecisive people because they can buy as much or as little of each flavor as they like, and pay by the ounce. (LF)
Best Alternative to Col. Sanders
Savory Chicken
1557 Landess Ave., Milpitas; 408.945.8616
While it may not have 11 herbs and spices like the Colonel's version, I say Savory Chicken's Chinese-Filipino take on fried poultry is far better. The brittle-skinned chicken is tossed in a proprietary blend of herbs and spices and fried in soybean oil. No flour or breadcrumbs are used. The result is an almost translucent skin that is so crisp it shatters upon contact with your teeth. (SH)
Best Homemade German Raisin Bread
Mitra's Bakery
435 Vineyard Town Center, Morgan Hill; 408.778.9000
Hearty breads, buttery rolls and luxurious desserts are the mainstays of Mitra's Bakery, a newly opened baked goods shop located in Morgan Hill's Vineyard Town Center. Mitra's moved into the old Morgan Hill Bakery location a few months ago, where they now produce an array of traditional homemade German breads and confections in huge portions, and offer attentive customer service. Make sure to pick up a loaf of their German raisin bread, a light, not-too-sweet cinnamon-infused loaf that is as great for making french toast as it is for a ham sandwich. (JF)
Best Place to Be Served by a Palace Chef
Liou's House
1245 Jacklin Road, Milpitas; 408.263.9888.
James Liou trained under a master Hunan chef from China. He went on to cook in several top hotel restaurants in Taiwan, becoming the favorite chef of Taiwan's vice president, and catering many government dinners. His cooking skills took him to Costa Rica, where he served as the personal chef for Taiwan's ambassador. From there he cooked at Chef Chu's in Los Altos. Now, Liou has his own place, and for a small fee he'll cook you a meal fit for an emperor. (SH)
Best Omelettes
Country Inn
2008 El Camino Real, Santa Clara; 408.244.6267
These omelettes are fluffy and freaking huge, especially the soufflé omelettes. And they come with a pancake on the side. The ingredients are fresh, the service is usually pretty friendly, and you get enough food to fill you up for two days. (CW)
Best Indian Sweet Shop
Milan Sweet Center
296 Abel St., Milpitas; 408.946.2525.
Barfi probably isn't the most appetizing sounding confection, but the Indian sweet sure is good. And you can get the condensed milk–based treat in array of flavors, as well as innumerable other sweets with hard-to-pronounce names, at Milan Sweet Center. (SH)
Best Pancakes
Stacks
600 Santa Cruz Ave., Menlo Park; 650.838.0066; and other locations
It may take a while for you and a group to get a table, but the food is well worth the wait. Stacks serves a remarkable array of amazing breakfasts, but it's the pancakes that give this place its name. Their lumberjack pancakes—with blueberries, bananas, raisins and walnuts all blended together—are a treat. If that sounds too intense, then stick with their classic raspberry pancakes and enjoy the fruit embedded into each flapjack. (LF)
Best South Indian Vegetarian
Tirupathi Bhimas
1208 S. Abel St., Milpitas; 408.945.1010
Hard to pronounce but easy to love, Tirupathi Bhimas specializes in vegetarian food from South India, particularly that of Andra Pradesh, a spicy and aromatic cuisine that has been influenced by the Middle East ever since the capital city of Hyderabad was a Muslim-ruled enclave. The thali plate offers a little bit of everything that makes this place such a destination. (SH)
Best Specialty Desserts
Satura Cakes
320 University Ave., Palo Alto; 650.326.3393
This place offers a whole new world of desserts, cakes, pastries, and cookies for any occasion. Its slogan, "Never another ordinary bite," fits the bakery perfectly because its cakes are anything but ordinary. While this store specializes in wedding cakes, it also makes desserts for any event—from fine gourmet chocolates to the best creampuff in the valley—the "Swedish profiterole." (TK)
Best Kabobs West of Kabul
De Afghanan Kabob House
37405 Fremont Blvd., Fremont 510.745.9599
If you were to look up "hole in the wall" in the dictionary, you'll find a picture of De Afghanan Kabob House. The restaurant is tiny, but don't let the appearance fool you—the kebabs are simply the best. For about $10, you get your choice of a beef, chicken or lamb kebab, plus white rice, a tangy garbanzo salad, a slice of bread and a scoop of Afghan salad. Phone your order ahead of time to avoid a long wait. Cash only. (AF)
Best Afghan Restaurant
Salang Pass Restaurant
37462 Fremont Blvd, Fremont; 510.795.9200
Located in the heart of "Little Kabul," an unofficial district in central Fremont laced with Afghan restaurants and specialty stores, Salang Pass offers a wide selection of moderately priced Middle Eastern delicacies. Favorites include the bolani, quabili pallow (lamb shank) and kobideh beef. The restaurant also offers a traditional dining experience where patrons can sit on cushions, around low tables. (AF)
Best Local India Pale Ale
El Toro Brewing Company
17605 Monterey Road, Morgan Hill; 408.778.BREW
Hard-core hopheads should rejoice in El Toro Brewing Company's India Pale Ale and Deuce Imperial IPA, two of the most underrated bitter beers out there. This small, Morgan Hill–based brewery opened up a brewpub in 2006, where they pour the two different supremely crafted IPAs. Hops cling to the throat in their deliciously jacked-up double Deuce Imperial, while their traditional IPA is a well-balanced combination of subtle sweet malt with a dominating hop finish. (JF)
Best Place to Get Sprinkles on Top
The Cupcake Shop
17385B Monterey Road, Morgan Hill; 408.778.2023
The concept of haute cupcakes, the melding of nostalgia and exotic ingredients to make trendy individual baked delights, had a huge boom in L.A. last year. So it's no surprise that South County now has the Cupcake Shop, a little downtown bakery serving up morsels of moist sugary goodness in flavors with names as cute as the shop's pink décor. Try the Tropical Carrot, which has a light, fruity cream cheese frosting that melts in the mouth, or the Old School, a yummy cocoa cupcake with a marshmallow cream center, dipped in chocolate ganache. (JF)
Best Campbell Pan-Mexican Cuisine
Aqui Cal-Mex
201 E. Campbell Ave., Campbell; 408.374.2784
At Aqui Cal-Mex, the chefs use various flavors including creations from the Southwest, Asia, California and Latin America that give each dish a bit of zest. For nontraditional Mexican food served California style, this is the place. Entrees at Aqui include the potato and cheese enchiladas, grilled salmon on organic polenta and Thai tofu tortilla roll-ups. The restaurant also prides itself on using organic ingredients and fresh-made soups, where the vegetables are all natural and grown locally. (LF)
Best Tri-Tip on Garlic Bread
Trail Dust BBQ
17240 Monterey St., Morgan Hill; 408.776.9072
In our age of tofu and vegetarian options, sometimes a person just needs to give into their carnivorous instincts and consume some good meat. Trail Dust BBQ, located in the heart of downtown Morgan Hill, is a mecca for the meat eater, offering big slices of tender beef and pork that are all slowly fired to perfection on the grill. One of the house specialties is their mouthwatering tri-tip, which has a crispy, caramelized layer on the outside and is a juicy, medium rare inside. Order it up as a sandwich, and it comes served up on hearty, buttery garlic bread. (JF)
Best Place to Eat Barbecued Oysters
Poppy's Fish and Poultry
30 E. Third St., Morgan Hill; 408.778.3200
People can suck down some of the best barbecued oysters in the world while they sit on the casual patio of Poppy's Fish and Poultry in Morgan Hill. Slathered in a delicious secret sauce and topped with Parmesan cheese, these huge fresh Pacific oysters are shipped in special from Washington State by shop owners Michael and Jana Castelan. The couple really is the soul of this little old-fashioned butcher and seafood shop, offering humor and hospitality along with ice-cold Alaskan brew, wild seafood and an extensive selection of organic meats. (JF)
Best Roti Canai
Penang Garden
278 Barber Court, Milpitas; 408.321.8388
Roti canai is a Malaysian flatbread, but that simple description doesn't do it justice, especially the flaky, buttery version served with a great peanut-coconut milk dipping sauce at Penang Garden. (SH)
Best Parisian Treat in Fremont
Le Moose
5014 Mowry Ave., Fremont; 510.745.7288
This charming cafe serves up some of the most delicious crepes and sandwiches in the valley. Regulars rave about the chicken pesto sandwich, the turkey and avocado crepe and the dessert crepes. Part of the charm of this French cafe comes from the owner, who is always full of smiles and will remember you (and your order) after a few visits. The cafe also serves fresh fruit smoothies (Strawberry Yum is a personal favorite). (AF)
Best Wurst
Dittmer's Gourmet Meats & Wurst-Haus Inc.
400 S. San Antonio Road, Mountain View; 650.941.3800
There's something about a logo of a cartoon man with an apron shaking a butcher knife at a necklace of sausage that tells you that you've come to exactly the right place, the kind of home-style charcuterie that's hardly found anymore in the Bay Area. The parking lot of this Mountain View institution is always full of people taking a turn for the wurst, especially at lunch time. Inside in the bustling counter, are a selection of our own native wursts from Sheboygan to Cajun country. The store carries forms of Eurosausage, fresh, double smoked and chicken; excellent Swedish potato sausage, and links from Alsace to Hungary. And—for the homesick Berliners—curly-wurst sauce. After 31 years at the same location, Dittmer's cornucopia of force-meats could be advertised with the slogan "If we don't have it, you don't need it." (RvB)
Send a letter to the editor about this story.