09.23.09
home | metro silicon valley index | features | silicon valley | best of silicon vally 2009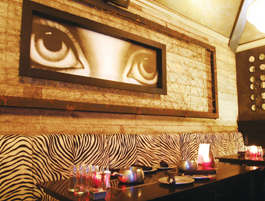 THE EYES HAVE IT: The readers came, looked and lingered—and picked La Fondue as the most romantic restaurant.
Love & Romance
Reader's Picks
Best Romantic Restaurant
La Fondue
14550 Big Basin Way, Saratoga; 408.867.3332
There's something sensual about spearing your food on a sharp skewer and dunking it in molten cheese or a savory simmering broth, especially when you do the dunking with someone special. It's a primal, visceral experience that helps set the mood for love. Dim lighting and alcohol help, too.
71 St. Peter
71 N. San Pedro St., San Jose; 408.971.8523
Manresa
320 Village Lane, Los Gatos; 408.354.4330
Best Boutique Hotel
Hotel Valencia 355 Santana Row, San Jose; 408.551.0010
With faux-mink designer throws, custom-made towels and prominent balconies overlooking the chic European-style promenades of Santana Row, Hotel Valencia appeals to discerning travelers. Ayoma spa features over-the-top treatments; Citrus restaurant offers an open-air courtyard; and both of the nightclubs—V Bar and Cielo—are perfect locales for opulent encounters, business meetings or any luxurious rendezvous.
Hotel Montgomery
211 S. First St., San Jose; 408.282.8801
The Moorpark Hotel
4241 Moorpark Ave., San Jose; 408.864.0300
Palo Alto/Mtn. View
Best Boutique Hotel
Garden Court Hotel
520 Cowper St., Palo Alto; 650.322.9000
Located in the heart of downtown Palo Alto, the Garden Court Hotel is one of Silicon Valley's hidden amenities. For those looking for a romantic getaway, it offers great amenities. Specialty rooms have garden views, fireplaces, private balconies, Jacuzzi tubs and fully stocked bars. The hotel also serves fresh fruit throughout the common areas and provides complimentary pastries in the morning.
Hotel Avante
860 E. El Camino Real, Mountain View; 650.940.1000
StanforD Terrace Inn
531 Stanford Ave., Palo Alto; 650.857.0333
Best Luxury Hotel
Fairmont Hotel
170 S. Market St., San Jose; 408.998.1900
Passing through the glass doors means entering a world of luxury. The Fairmont employs more than 400 staff members who do everything they can to ensure that guests are swaddled in comfort. The 20-story, two-tower building has become an iconic part of the San Jose skyline, and inside, the awesome Lobby Lounge and Fountains Restaurant make the place a downtown destination. With more than 800 guest rooms, this luxury hotel has become a popular destination for tourists, but it can mean a sweet weekend for locals too.
Hotel De Anza
233 W. Santa Clara St., San Jose; 408.286.1000
Hotel Valencia
355 Santana Row, San Jose; 408.551.0010
Palo Alto/Mtn. View
Best Luxury Hotel
Four Seasons Hotel
2050 University Ave., East Palo Alto; 650.566.1200
Four Seasons Hotels are world-renowned for their luxury, and the Palo Alto property can be considered among the best of the best. An oasis off highway 101, the Four Seasons has a lovely outdoor space, ideal for weddings and other romantic celebrations. Guests have access to the hotel's rooftop pool and spa services, perfect for a hot date.
Westin Palo Alto
675 El Camino Real, Palo Alto; 650.321.4422
Stanford Terrace Inn
531 Stanford Ave., Palo Alto; 650.857.0333
Best Jewelry Store
Joe Escobar Diamonds
450 E. Hamilton Ave., Campbell; 408.341.0300
When people decide to shell out a few grand on a piece of compressed carbon, it's no surprise that they want a jewelry store with staff that can cut it. Joe Escobar Diamonds, located in Campbell, has built up a reputation for exceptional customer service. The staff of courteous and certified gemologists will help people pick out the ideal cut and carat of stones to customers' tastes—but without the hard sell.
The Jewel Box
164 S. Bascom Ave. #F, Campbell; 408.377.9898
Deja & Company
14567 Big Basin Way, Saratoga; 408.872.1177
Best Flower Shop
Bunches
14 1/2 N. Santa Cruz Ave., Los Gatos; 408.395.5451
"Freshness is our trademark." It's a simple slogan, but here's how seriously this Los Gatos flower shop takes the idea: Bunches owns its own flower farm and has fresh-cut flowers trucked in from Watsonville every singe day. Once they get the flowers in the building, the arrangers do their magic—their bouquets of irises, chrysanthemums, tulips and hydrangea are spectacular.
Citti's Florist
3100 Stevens Creek Blvd., San Jose; 800.255.0855
Bloomster's
5945 Almaden Expy., San Jose; 800.377.4595
Best Stationery Store
Papyrus
1002 S. Second St., San Jose; 408.971.2155
For paper needs, there is Papyrus—the tony yet much loved stationery store of the South Bay. Paper, pens, stationery, journals; if you want to write on it, stamp it or send it out, they have it. They have so much of it, it's almost scary. (CW)
Paper Source
334 Santana Row #1010, San Jose; 408.241.9000
MaiDo Fine Stationery and Gifts
378 Santana Row #1125, San Jose; 408.213.1985
Best Limousine Service
Le Grande Affair
2590 Lafayette St., Santa Clara; 800.301.LIMO
Satisfied customers from the business sector, the honeymoon sector, the bachelorette party sector and the sports sector agree that Le Grande Affair provides remarkable service. Just read the roster of some of their vamped-out vehicles: 6-, 8-, 10-, 12- and 14-passenger Lincolns; a pink 16-passenger H3 Hummer; plus Jaguars, Mercedes and other exotics. Headquartered in Santa Clara, Le Grande Affair provides the entire Bay Area with rocking service.
Lone Star Transportation
888.565.1583
Cloud 9 Limousine & Transportation
408.999.0999
Send a letter to the editor about this story.