09.23.09
home | metro silicon valley index | features | silicon valley | best of silicon vally 2009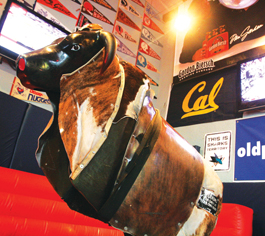 Photograph by Felipe Buitrago
GROWING HORNS: The mechanical bull—and the college students who ride it—make the Old Pro in Palo Alto one of the best.
Music & Nightlife
Staff Picks
Best Mojito Just Like Your Cuban Mother Used to Make
La Bodega del Medio
463 S. California Ave., Palo Alto; 650.326.7762
There are a lot of good mojitos in the South Bay, don't get us wrong. But the best Cuban cocktails, hands down, are at La Bodega del Medio. Crisp, refreshing, flavorful and definitely not weak, it's like they're straight outta Havana. Which makes it easier to take that the cigars, of course, aren't. (SP)
Best Place to Make Someone Sing Karaoke Because They Lost a Bet
Boswell's
1875 S Bascom Ave., Campbell; 408.371.4404
To some, Tuesday nights at Boswell's is a chance to release their inner Idol. To others, it's the best night to collect on ill-advised bets. "Pluto is so still classified as a planet!" "John Denver was so a sniper in Vietnam!" "I am definitely not sleeping with that jackass again." Oh yeah? Wanna bet? 'Cause you will so be rockin' the Tuesday-night regulars to the song of our choosing. And yes, it will be "I Touch Myself." Again. (SP)
Best Live Music Reboot
San Jose Civic
135 W. San Carlos St., San Jose; 408.792.4111
On a tour just last week of the Civic, in which an intrepid rep led Metro through every nook and cranny of the building, we were impressed at the sheer scope of the renovations under way. Nederlander is giving a venue with a lot of potential a much-needed makeover, dragging it into the 21st century. From essentials like better sound, seating and amenities to nice touches like the warmer look and emphasis on the building's Spanish design, this project deserves applause. And with the bookings getting more interesting, this could be the start of another great era for the storied Civic. (SP)
Best Little Club That Could
VooDoo Lounge
14 S. Second St., San Jose; 408.286.8636
There are some clubs that are too gun-shy to aim big, and others that come out both guns blazing. This year the VooDoo has leapt into that second category. It came in as a club that didn't have a reputation for much of anything, then started building a following by giving space to the area's strong underground scenes like rockabilly and metal. Then they had the audacity to tell touring acts like the Rev. Horton Heat, the Supersuckers and David Allan Coe—who are used to playing clubs three or four times the size of VooDoo—that they should give VooDoo a try. And then they topped it off by treating them right and earning themselves a strong rep at the national level. Suddenly they're playing with the big boys. Our hat's off. (SP)
Best Place for Serious Karaoke
Normandy House Lounge
30 Washington St., Santa Clara; 408.244.1937
This dark little dive bar gets packed on Friday nights with local songbirds coming out to croon the night away. And you can hear some pretty impressive singers (and some really bad ones). Songs range from oldies to the newest pop songs. Cheap drinks and pool keep everyone else happy and coming back. (CW)
Best Place to Upgrade to Top-Shelf Margaritas
Mountain Winery
14831 Pierce Road, Saratoga; 408.741.0291
Stand around the bar long enough at Mountain Winery, and you're guaranteed to hear an exchange like this one: "I think I'll get a margarita." "Really? You should get a top-shelf margarita. It's only two dollars more." Whoever invented the two-dollars-more idea is a marketing genius, because we have never seen anybody pass on it. The fact that the total is $14 for a margarita somehow becomes magically irrelevant. It's two. Dollars. More. That's all! We're pretty sure it doesn't hurt that said drink purchasers are usually about to see one of their favorite performers in a setting that vaguely resembles paradise, and standing only a few yards away from the most gorgeous view of any live music venue in the South Bay. (SP)
Best Hookah Lounge
Smoke This Hookah Lounge
2271 The Alameda, Santa Clara; 408.247.6653
Whoooo? Sometimes you want to be a deep and confusing caterpillar that puffs out impressive smoke rings ... and Smoke This Hookah Lounge is the best place to try out your smoking caterpillar impressions. This is the place to learn how to blow perfect smoke rings or just chill and puff away. They have tasty tobacco and comfy benches where you can blow the hours away. (CW)
Best Place to Show Your Sharky Skills
Santa Clara Billiards
4525 Stevens Creek Blvd., Santa Clara; 408.296.3333
Got mad pool skills? Then Santa Clara Billiards is the place to show them off. There is always a table open and they aren't warped and fuzzy. Although gambling is frowned upon, you can still hustle your friends while downing a cold beverage or two. It's a spacious spot, and even though some of the cues are a smidgen on the crooked side, a good game can still be had. (CW)
Absolute Weirdest Place to See a Show
Psycho Donuts
2006 S. Winchester Blvd., Campbell; 408.378.4540
When the Psycho Donuts kingpins told us they'd love to host some live music, we took a look around. Video screen. Check. Padded cell. Check. Sexy nurse. Check. Now that's rock & roll! They've delivered on their word, and we're digging it. It's like AC/DC sang: If you want donuts, you got it. (SP)
Best Behind the Scenes Scenester
Jeff Evans, On The Corner Music
530 E. Campbell Ave., Campbell; 408.871.0305
Talking to Jeff Evans about the South Bay music scene is sort of like talking to Yoda. Except Jeff is far more attractive. And he puts his words in the right order. Other than that, it's pretty much the same. If he mentions something about a great new local band, wait six months; everybody else will have caught on to them by then. Or you can beat the rush and just go to his store and ask him what's good. And buy a freakin' record while you're there, why don't you? That place is awesome. (SP)
Best Neverending Birthday Party
Nickel City Live Shows
1711 Branham Lane, San Jose; 408.448.3323
We don't remember the whole story about how local promoter Eric Fanali got Nickel City to let him put a stage in their "birthday room." But since then, his shows have been rockin.' And they're usually high-energy, jumping-up-and-down kind of fun, too, which helps one to feel like the girl or boy with the most cake, even if it's not technically your birthday. Side note: We were there on Fanali's actual birthday, and wished him Frankenstein on Channel 9. (SP)
Best South Bay Radio Export
"Very Busy People"
The Limousines: once this song got into the water, thanks to radio play on Channel 104.9 and Live 105, you could almost chart the way it seeped into the Bay Area pop-culture consciousness. It was like one of those body-snatcher movies—one day someone wouldn't have heard it, and the next they'd be humming the melody. It also had that unmistakable mark of the catchiest radio tunes—someone would claim never to have heard it, but if you sang it to them, they'd go "Oh, the Donnie Darko DVD song! I love that one!" (SP)
Most Bizarre Game to Get Macho About
Shuffleboard, Old Wagon Saloon
73 N. San Pedro St., San Jose; 408.971.9346
There's testosterone, and then there's testosterone's even stupider chemical cousin, whatever it is, that makes guys care about winning a game usually played by Viagra-crazed old men in atrocious Hawaiian shirts on cruise ships. If you have ever seen a jock pump his fist or yell "booyah!" while playing indoor shuffleboard at the Old Wagon Saloon, you know what we're talking about. Here's a tip, though: when one of them offers to play you for money, take them up on it. They suck. (SP)
Best Place to Simultaneously Watch the Giants Win
and the Dodgers Lose
Old Pro
541 Ramona St., Palo Alto; 650.326.1446
This could easily be God's own sports bar. The room is cavernous and yet cozy, with big wall-sized windows that are often wide open to the warm night. The food is fantastic and affordable—the pulled pork sandwich is a favorite, and the filet mignon on special is $13.95. The bartenders are friendly and efficient. And there are "more TVs that you can count," according to the slogan, which are carefully tuned to every sporting contest underway at any given time. (EJ)
Best Pub Grub on the Peninsula
Stephens Green
223 Castro St., Mountain View; 650.964.9151
Stephens Green offers all of the elements of a classic Irish pub, and expands on the idea in interesting ways. For instance: Every Tuesday there's live Irish music; but Thursday through Saturday nights it's a serious club scene, and two Saturdays a month it's "Peruvian Night." Another example: The menu includes what you'd expect—fish & chips, shepherds pie, sausage and mash and Irish lamb stew, plus the standard Brit-pub curries, many of which can be had for half off (!) during happy hour. In addition, Tuesday night the Green offers its Wine & Dine Combo—steak and one other entrée, plus a bottle of wine for $34.95. (EJ)
Send a letter to the editor about this story.