09.23.09
home | metro silicon valley index | features | silicon valley | best of silicon valley 2009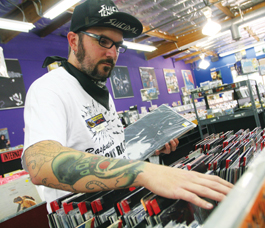 Photograph by Felipe Buitrago
ROUND & ROUND: Mike Glover replenishes the vinyl at Rasputin.
Shopping & Services
Reader's Picks
Best Wine Shop
The Grapevine
1389 Lincoln Ave., San Jose; 408.283,7574
Metro readers love the Grapevine. And for good reason. The Willow Glen wine shop has small-town friendliness to spare coupled with big city wine knowledge. In addition to the eclectic, well-chosen selection of wines, the ongoing lineup of special events and tastings keep things interesting. Nice selection of cheeses and beer, too.
Tessora's Barra di Vino 1875 S. Bascom Ave., Campbell; 408.626.7711
Uncorked 14500 Big Basin Way, Saratoga; 408.741.9000
Best Bicycle Shop
Willow Glen Bicycles
1016 Lincoln Ave., San Jose; 408.293.2606
Do you speak the language of cyclists? What part do I need? Which frame is the right one? The endless questions can be answered only by those that live and breathe by the air pumps that inflate the tires of their bikes, like the guys at Willow Glen Cyclery. From the townie bike that gets you to the drinking hole to the parts that you need for that single speed project to hand-built wheels by master craftsman Tahn Vonrehmer, who has nine years of experience building wheels. Bikespeak is the official language of this local San Jose bike shop but rest assured that they will interpret everything you could possibly need to know.
The Off-Ramp 2369 El Camino Real, Santa Clara, 408.249.2848; 2320 El Camino Real, Mountain View, 650.968.2974
Hyland Family Bicycles (69) 1515 Meridian Ave., San Jose; 408.269.8833
Best Motorcycle Shop
San Jose Harley-Davidson
1551 Parkmoor Ave., San Jose; 408.998.1HOG
Everyone needing to access 280 North from Meridian and Parkmoor has driven by San Jose Harley-Davidson. It's been there forever, and no matter where you are in the South Bay, the freeway eventually gets you to San Jose Harley-Davidson. More than a million dollars of parts and accessories await behind the doors of this place, which is why readers chose it. For custom needs, no one in the area offers more complete service. They'll build your bike and even make your clothes fit.
Cycle Gear Inc. 1325 El Camino Real, Redwood City; 650.365.1100
SlabSides 2100 Winchester Blvd., Campbell; 408.364.0284
Best Vintage Clothing
Crossroads Trading Company
1008 Blossom Hill Road #E, San Jose, 408.269.1000; 1959 W. San Carlos St., San Jose, 408.292.6100
Retailing both vintage finds and last season's fashion castoffs, Crossroads is the best place to go for those who don't mind wearing lightly used designer duds. This is a shop where it is possible to unearth Marc Jacobs styles for $40, Dolce and Gabbana for $30 and even Dior for a mere $25. Like all used clothing shopping, discovering great deals like these at Crossroads will take a little time and effort to weed through the rough, but the payoff in trendsetting bragging rights is amazing.
Moon Zooom 1630 W. San Carlos St., San Jose, 408.287.5876; 813 Pacific Ave., Santa Cruz, 831.423.8500
23 Skidoo 342 E. Campbell Ave., Campbell; 408.370.2334
Best Lingerie
Pleasures From the Heart
1565 Winchester Blvd., Campbell; 408.871.1826
When women are looking for a little something to spice up the bedroom, the last thing they want to do is wander into a grimy, intimidating adult store where they know they'll be the only chicks in the place. Pleasures of the Heart is a local lingerie and adult boutique that has been run by the mother-daughter team of Crystal and Loraine Mangiameli for more than a decade. In a decidedly woman-friendly atmosphere, one can browse their wide selection of cute little lacy things, sexy costumes and bedroom toys.
Cupid's Corner 408 Blossom Hill Road, San Jose; 408.226.5683
Dutchess Intimates Boutique 346 E. Campbell Ave., Campbell; 408.866.8006
Best Art Supply Store
University Art
456 Meridian Ave. San Jose; 408.297.4707
267 Hamilton Ave. Palo Alto; 650.328.3500
This shop's flagship store in Palo Alto is a local landmark for artists and artisans, including first-rate service and tools of the trade for sculpting, painting and custom framing. A longtime favorite of readers.
D&J Hobby 96 N. San Tomas Aquino Road, Campbell; 408.379.1696
San Jose Art 461 S. Bascom Ave., San Jose; 408.298.8422
Best Pet Store
Sam's Downtown Feed & Pet Supply
759 W. San Carlos St., San Jose; 408.287.9090
Since 1986, this family-owned pet business has been the cat's meow. Sam's operates in a turn-of-the-century brick building in downtown San Jose that houses a vast assortment of stuff that pets and pet owners need to be happy. Owners Lisa and Sam Blackford are huge animal lovers and that fact becomes clear to anyone who walks through their doors. They're both critter-savvy and have great tips for how to handle the four-legged family members.
Pet Club 5625 Snell Ave., San Jose, 408.363.6068; 1010 Rengstorff Ave., Mountain View, 650.988.1316
Andy's Pet Shop 1280 The Alameda, San Jose; 408.297.0840
Best Pet Day Care
A Dog's Life
1249 Birchwood Dr., Sunnyvale, 408.747.1111; 901 Ames Ave., Milpitas, 408.946.3647; 1249 Birchwood Dr., Sunnyvale, 408.747.1111; 885 Commercial St., Palo Alto, 650.494.3647
Much like parents, pet owners occasionally need a baby sitter, whether simply for an afternoon to run errands in peace or for a weekend getaway or vacation. Silicon Valley company A Dog's Life takes this concept and runs with it—doggy day-care programs include socialization, exercise, one-on-one care, and yes, even nap time. With locations in Milpitas, Sunnyvale and Palo Alto, pet owners can catch a break knowing their pooches are in good hands.
Downtown Dogs 734 S. First St., San Jose; 408.287.2267
Klub K9 Play Center 174 Commercial St., Sunnyvale; 408.736.7102
Best Place to Buy Records and CDs
Rasputin Music
1820 S. Bascom Ave., Campbell, 800.350.8700; 630 San Antonio Ave., Mountain View, 800..350.8700
Now that we've recovered from the shelf reorg, browsing at Rasputin is fun again. The thing about trolling for records here is the full, ripe state of the used racks. From rap to rock to indie and punk, they're practically falling out of their rows. In fact, we're kind of getting turned on just writing this. That's not right.
Streetlight Records 980 S. Bascom Ave., San Jose, 888.330.7776;939 Pacific Ave., Santa Cruz, 888.648.9201
On the Corner Music 530 E. Campbell Ave., Campbell; 408.871.0305
Best Clothing Boutique
Bombshell Boutique
301 E. Campbell Ave., Campbell; 408.371.7423
Women can bring out their inner Vargas girl at Bombshell Boutique, a tiny garment shop that specializes in retro-inspired garments for the modern day pin-up. This boutique offers racks of hot hit-the-town dresses, adorable lingerie, hard-to-find tattoo apparel and rockabilly wear, great for when those little frilly numbers from Forever 21 and Charlotte Russe start to get old. Owner Brooke Ramirez and her family make sure that every customer feels like she is just shopping with one of the girls, going so far as to personally tissue-wrap every purchase.
Therapy 250 Castro St., Mountain View; 650.691.1186
Bella James 1151 Lincoln Ave., San Jose; 408.292.0000
Best Shoe Store
Footcandy
365 Santana Row #1010, San Jose; 408.557.8787
For designer-shoe junkies, Footcandy on Santana Row is like the a poppy field with pointed toes. Each one of its beautiful pumps and platforms is displayed on lighted windowed pedestals, to be worshiped like idols and tried on like pieces of wearable art. With a wide selection of luxury specialty footwear from the likes of Christian Louboutin, Jimmy Choo, Manolo Blahnik and Valentino, this plush store carries styles that both business women and the party girls can eat up. (JF)
In Her Shoes 644 Emerson St. #1, Palo Alto; 650.326.9644
Footwear, Etc. Multiple locations
Best Running Shoe Store
Running Revolution
511 E. Campbell Ave., Campbell; 408.374.9307
Runners serious about their habit know the importance of a good pair of shoes. Staffed by pros eager to share their passion and knowledge, the Running Revolution is a paradise for both novice runners and marathon vets looking for that perfect pair. Step on the store treadmill for a test run, then watch footage of your stride in slo-mo to determine if the shoe fits.
Runner's Factory 51 University Ave. #C, Los Gatos; 408.395.4311
Athletic Performance 55 W. Main St., Los Gatos; 408.354.7365
Best Toy Store
The Wooden Horse
796 Blossom Hill Road, Los Gatos; 408.356.8821
The Wooden Horse has been a cute, neighborhood toy store for almost three decades and is still going strong. It has adapted to the times with a great website and fun toys that keep the store shoulders above the competition. And of course the friendliest staff in all of the South Bay.
Time Tunnel Vintage Toys 532 S. Bascom Ave., San Jose; 408.298.1709
LEGO Store 2855 Stevens Creek Blvd. #1319, Santa Clara, 408.247.8071; 341 Hillsdale Mall, San Mateo, 650.571.9020
Best Comics Store
Hijinx
2050 Lincoln Ave., San Jose; 408.266.1103
Not that this book store isn't a landmark in Willow Glen, and an essential part of a Saturday-morning stroll on Lincoln Avenue. And not that it doesn't carry the best in comics old and new—but its blog is extremely well written, too. It seems that, webwise, the focus of so many comics fans is "What will the movie adaptation be like?" So it's refreshing to see the store's focus on the graphic artists themselves—Moore, Eisner, Crumb, Peter Bagge—as well as the newer talents such as Adrian Tomine. Even with all the scene reports from San Diego, I hadn't heard elsewhere that Moore's Miracleman has been bought up by Marvel (whom I guess we should refer to as Disney/Marvel): meaning a reprint soon for the all-time best supervillain death scene.
Lee's Comics 1020 N. Rengstorff Ave., Mountain View; 650.965.1800
Legends Comics and Games 10123 N. Wolfe Road, Cupertino; 408.996.7640
Best Manicure
That's So Pedi
2417B Stevens Creek Blvd., San Jose; 408.298.7334
The name alone deserves votes for punning excellence. That's So Pedi provides both the basics of cuticle couture as well as some digital pampering and spiffy color gel polishes. As one might expect, That's So Pedi works on toes as well as fingers.
Lavande Nail Spa 355 Santana Row #1020, San Jose; 408.983.1222
Sakura Nail Bar 169 Jackson St., San Jose; 408.275.1625
Best Pedicure
Lavande Nail Spa
355 Santana Row #1020, San Jose; 408.983.1222
After a day spent teetering around in 4-inch stilettos, there is nothing better than going for a first-rate manicure at Lavande on Santana Row, a luxurious spa that specializes in nail care. There, toes and soles are No. 1. Providing the most relaxing lavender-infused pedicures around, they will massage, exfoliate, buff and polish one's hooves to pretty perfection. Lavande also offers multistep foot pampering rituals with delicious-sounding names like "Sweet Almond Latte" and "Refresh-mint."
That's So Pedi 2417B Stevens Creek Blvd., San Jose; 408.298.7334
Island Girl Pedicure 70 N. Bascom Ave., San Jose; 408.288.9001
Best Hair Salon
Alchemy Hair Studios
1047 Lincoln Ave., San Jose; 408.293.3494
1335 Lincoln Ave.; San Jose; 408.283.9380
It's amazing what a new haircut can do for the self-esteem. There is nothing better after a bad day or bad breakup then getting one's tresses treated, and Alchemy Hair Studios & Spas will have one walking out feeling fresh, unique and sexy. Specializing in everything from alternative styles to the classic Rachel cut, this salon features an open, spacious setup with a relaxed, Zen-like atmosphere emanating from their its Willow Glen locations.
Sailors and Saints 1749 Park Ave., San Jose; 408.292.4343
Limon SALON 3410 Stevens Creek Blvd., San Jose; 408.247.2700
Best Salon
Allure Salon
888 Villa St., Mountain View; 650.938.8777
Long or short, black or blonde, curly or straight, highlighted or dyed, layered or bobbed: the hair artists at Allure Salon in Mountain View can execute any style one could want with ease. In addition to the expert hair treatments, this salon also offers massages, facials, manicures and pedicures. For a special treat, try their Japanese Restoration Therapy, a fast paced, whole-body massage that aims to balance the body's Ki, or energy, by "breaking down injured soft tissue areas to allow them to properly heal."
Rocket Salon 933 Emerson St., Palo Alto; 650.326.4598
SimplyBe Salon and Spa
528 University Ave., Palo Alto; 650.323.1009
Best Beauty Supply
Peninsula Beauty
1875 Bascom Ave., Campbell, 408.265.1454; 1140 Lincoln Ave. #4, San Jose, 408.287.1454; 642 San Antonio Road, Mountain View, 650.321.1454
With all the attention paid to hair these days, some in-the-know consumers have discovered the advantages of shopping where salon owners shop to find specialty hair products.Peninsula Beauty started out as a mom-and-pop beauty supply shop in San Mateo over 50 years ago. Over the years it has grown to a 10 Bay Area location chain, stocking high-end products from Dermalogica, KMS and AminoGenesis, among many others. (JF)
Sally Beauty Supply Multiple locations
Beauty Avenue Multiple locations
Best Teeth Whitening
Los Gatos Family Dentistry
14543 S. Bascom Ave., Los Gatos; 408.273.8200
Dr. Patricia Phan at the Los Gatos Family Dentistry offers quality teeth-whitening services for a reasonable price at this family-oriented dental practice. Patients are given take-home bleaching solutions—Nite White and Day White gels—to whiten their smiles and make their teeth sparkle on their own.
Brite Dental 281 E. Hamilton Ave., Campbell; 408.871.9734
Smile Center of Los Gatos 14503 S. Bascom Ave., Los Gatos; 408.377.6966
Best Skate Shop
Circle-A Skateboards
529 S. Market St., San Jose; 408.995.0677
Throughout all the trials and tribulations of downtown San Jose retail, Circle-A has weathered the storm. If you thought they'd go away, you were it wrong, and they were right. They're still around. Shoes, decks, parts, clothing—it's all here. They have a remarkable selection of shoes for such a seemingly small place on Paseo de San Antonio. Kids flock to the joint, and the fact that Circle-A has outlasted countless other failed retail projects is a testimonial to the vibrancy of skateboarding in San Jose.
Ohana Board Shop 3567 Stevens Creek Blvd., San Jose; 408.244.0700
San Jose Skate 397 Blossom Hill Road, San Jose; 408.226.1155
Best Local Bookstore
Recycle Book Store
1066 The Alameda, San Jose, 408.286.6275; 275 E. Campbell Ave., Campbell, 408.370.3514
A recent itch to find volume one of Philip Josť Farmer's Riverworld trilogy lead to a dead end at the library—but lo and behold, there is was on the groaning, double-stacked sci-fi shelves at Recycle Book Store. It's a rare occasion when this well-stocked bibliographic heaven doesn't have what we're looking for. Their stock seems to be increasing exponentially judging by how many to-be-shelved books wait on trays in the aisles. The selection is so strong in so many categories (the film section is daunting indeed), that it requires multiple visits for even the most focused browser. And there's a Campbell store as well.
Hicklebee's 1378 Lincoln Ave., San Jose; 408.292.8880
Kepler's 1010 El Camino Real, Menlo Park; 650.324.4321
Best Community Bank
Santa Clara County Federal Credit Union
140 E. San Fernando St., San Jose; 408.282.0700
Over the past 15 years, SCCFCU (as it's affectionately known) has built a reputation for customer service. Meanwhile, behind the scenes, it was also building a reputation for integrity and stability. While some of the bigger banks are now struggling due to risky business practices, the fiercely local SCCFCU is still strong.
Technology Credit Union Multiple locations; www.techcu.com
Heritage Bank Multiple locations; www.heritagecommercecorp.com
Best Car Wash
Classic Car Wash Multiple locations
There's a Mississippi riverboat that sits at Bascom and Hamilton. Everyone's seen the thing. It's been there for what seems like a thousand years. There's also a Victorian house next to a barn, right smack at Almaden Expressway and Cherry. Millions of drivers have made U-turns right at that corner throughout the last few decades. However, the first Classic Car Wash was the one right there on Lark Avenue as you enter or exit Highway 17. All in all, readers constantly vote Classic as the best. Don't miss the gift shop!
Lozano's 2690 W. El Camino Real, Mountain View; 650.941.0590
Pacific Hand Car Wash 21 N. Fifth St., San Jose; 408.293.312a8
Best Massage
Burke Williams
355 Santana Row #2010, San Jose; 408.241.0071
True bliss awaits in the form of a massage at Santana Row's Burke Williams Spa. Whether it's a visit to escape workday stresses or a day dedicated to pampering, the European style spa has a treatment or package for every taste. Take time to savor the spa's decadent amenities as well, including the sauna and detoxifying herbal and mud baths.
Preston Wynne Spa 14567 Big Basin Way, Saratoga; 408.741.5525
La Concha Spa 1042 Lincoln Ave., San Jose; 408.286.8612
Best Outdoor Gear
Mel Cotton's
1266 W. San Carlos, St., San Jose; 408.287.5994
While providing enough serious gear to serious outdoor enthusiasts who want to hunt, fish, hike or test their survival skills, Mel Cotton's has the breadth of inventory to attire a weekend poser whose idea of outdoor recreation is bopping one's head in the right sunglasses to house music at a weekend pool party.
Sports Basement 1177 Kern Ave., Sunnyvale; 408.732.0300
Any Mountain 1600 Saratoga Ave., San Jose; 408.871.1001
Best Tattoo Parlor
Marks of Art
3014 Union Ave., San Jose; 408.377.1924
Located in the Cambrian area of San Jose near the corner of Union and Foxworthy, Marks of Art is safe. It is clean. They are pros. And they make sure you know all the particulars of what is involved in getting a tattoo. They've been around for more than 10 years and go out of their way to ensure nothing but the most sterile and comfortable situations. That's a good thing.
Player's Ink 518 W. San Carlos St., San Jose; 408.993.TAT2
Humble Beginnings Tattoo 1421 W. San Carlos St., San Jose; 408.288.6814
Best Place to Get Pierced
Pierced Out
3014 Union Ave., San Jose; 408.559.6039
For any and all of your body modification needs, Pierced Out is the place to go. The shop is clean, and the experts at Pierced Out will answer any and all questions regarding sticking foreign objects into your body. You can go in with confidence and come out with shiny accessories.
Player's Ink 518 W. San Carlos St., San Jose; 408.993.TAT2
Body Exotic 957 W. San Carlos St., San Jose; 408.993.3437
Best Pilates Studio
Jewish Community Center
14855 Oka Road, Los Gatos; 408.358.3636
Though Pilates first gained popularity as a trendy way to stay lean and fit in the '90s, this low-impact fitness technique has gained real staying power for its benefits as a kinder, gentler way to build core strength. The Addison-Penzak Jewish Community Center offers an extensive menu of Pilates activities for all ages and skill levels, from teen oriented body conditioning classes to "Pilates for Skiing and Snowboarding," which aims to build muscles to prepare clients for hitting the slopes.
Los Gatos Ballet and Pilates 16 Lyndon Ave., Los Gatos; 408.399.7577
Pilates Body 2075 Lincoln Ave., San Jose; 408.266.2323
Best Yoga Studio
Willow Glen Yoga
1188 Lincoln Ave., San Jose; 408.289.9642
From first-timers on the mat to experts in the dangerous scorpion pose, Willow Glen Yoga offers knowledgeable instructors with a nonauthoritarian approach to the art of yoga. Clients are transported far away from the hustle and bustle of Silicon Valley through courses in Vinyasa, Hatha Flow and Yin Yoga. They even offer Stiff Guys' Yoga, a class that aims to help both computer jockeys and amateur athletes alleviate stress and the chronically tight areas of the body.
Bikram's Yoga College of India 5289 Prospect Road, San Jose; 408.255.9910
Soula Power Yoga 200 S. First St., San Jose; 408.993.YOGA
Best Health Club
Jewish Community Center
14855 Oka Road, Los Gatos; 408.358.3636
Everything Addison-Penzak does to win the Best Pilates category (see above), it also does for general fitness, which is why it is the preferred place to work up a sweat with our readers.
Club One Fitness 3055 Olin Ave., Santana Row, San Jose, 408.985.5555; 801 Martin Ave., Santa Clara, 408.266.1010
San Jose Athletic Club 196 N. Third St., San Jose; 408.292.1141
Best Fitness Boot Camp
Adventure Boot Camp
3635 Union Ave., San Jose; www.sanjosebootcamp.com
Brett A. Riesenhuber, winner of Best of Prime Physique Fitness Specialists (see below), runs some very popular "boot camps" especially for women to shed some unhealthy extra pounds and gain strength and flexibility. The camps, which last an hour a day for four weeks, also come with nutritional advice.
Community Boot Camp 985 Hellyer Ave., San Jose; 408.460.2609
Rick's Force Fitness Boot Camp 408.694.8303
Best Personal Trainer
Prime Physique Fitness Specialists
3635 Union Ave., San Jose; 408.558.1800
Yo-yo diets and food fads are not the way to a sleeker self. That's where the physiological smarts and motivational skills of a good personal trainer come in handy. And talk about an example—founder Brett A. Riesenhuber went from fat to fit himself, so he knows what it takes to get in shape.
U.S. Fitness Pros 5353 Almaden Expwy., San Jose; 408.265.1600
The Fleming Company www.theflemingcompany.com
Best Dentist
Dr. Stephanie Loller
891 S. Bascom Ave., San Jose; 408.298.0777
Dr. Stephanie Loller, a Bay Area native (and volleyball champion), is a highly skilled dentist, and her dental team of hygienists are spectacular as well. This team is on a mission to prove to humanity that evil dental cavities can be stopped. Patients can even watch a movie while having their teeth worked on, relieving stress that's often associated with the biannual dentist visit.
Willow Glen Dentistry 1245 Lincoln Ave., San Jose; 408.293.9600
Smiles Dental Care 100 El Camino Real #63A, Mountain View; 650.964.2626
Best Plastic Surgeon
Dr. Laurence Berkowitz
3803 S Bascom Ave #100, Campbell; 408.559.7177
For locals looking into getting botox, or those perfect breast implants, Laurence Berkowitz is the man for the job. With more than 30 years of post-medical training, he has become well-known in the Silicon Valley for his care and precision. He is a member of the American Society for Aesthetic Plastic Surgery and has been affiliated with local hospitals in the past, including Good Samaritan Hospital in San Jose and Community Hospital Los Gatos.
Dr. Regina Rosenthal 3803 S. Bascom Ave. #206, Campbell; 408.559.4700
Dr. Craig Creasman 2400 Samaritan Dr. #206, San Jose; 408.369.9300
Best Day Spa
Los Gatos Spa
100 S. Santa Cruz Ave., Los Gatos; 408.354.5901
What could be more luxurious then taking a bath in wine? At Los Gatos Spa, they offer just that in their Chardonnay Bliss body treatment, along with a plethora of other indulgently serene pampering services. 2009 marks this spa's 10th year helping the residents of Los Gatos ease their minds by lavishing attention on their bodies. Customers can reduce the stress of their daily lives through body detox wraps, warm stone massages, vitamin C and papaya enzyme facials. They even offer a gentleman's relaxing facial for the dudes.
Watercourse Way 65 Channing Ave., Palo Alto; 650.462.2000
Serenity Day Spa 1123 Luchessi Dr., San Jose; 408.448.7546
Best Alternative to Home Depot
Orchard Supply
Multiple locations; www.osh.com
As its name would suggest, Orchard Supply originally began in 1931 as a store to supply people who worked in the orchards of San Jose. After a decade or so, the business had grown enough to include hardware, housewares and all the things one sees in a normal hardware store today. The OSH locale on San Carlos Street has been there since 1946 and still remains a one-stop locale with more than 45,000 items and top-notch customer service.
Southern Lumber 1402 S. First St., San Jose; 408.297.WOOD
Willow Glen Hardware 2253 Lincoln Ave., San Jose; 408.267.0223
Best Kitchen/Cooking Store
Sur la Table
378 Santana Row, San Jose; 408.244.4749 23 University Ave., Los Gatos; 408.395.6946
You can spend all day on the couch watching the Food Network, or you could get up and head over to Sur La Table and actually make something to eat. Sur La Table is Metro readers' favorite stop for food gadgetry, culinary equipment and power tools for the home chef. It's a hardware store for cooks that inevitably makes you hungry.
Domus 40 N. Santa Cruz Ave., Los Gatos; 408.354.6630
Keystone Restaurant Supply 491 W. San Carlos St., San Jose; 408.288.4000
Best Garden Store
Yamagami's Nursery
1361 De Anza Blvd, Cupertino; 408.252.3347
For more than a half-century, family-owned Yamagami's Nursery has been helping home gardeners figure out how to fill their eco niches with flourishing flora. The nursery does more than just sell plants, it offers growing tips and landscaping advice based on years of experience. They even host a pre-Halloween giant-pumpkin weigh-off.
Sakamato Plants 15567 Camino Del Cerro, Los Gatos; 408.356.3864
Summer Winds Nursery Multiple Locations; www.summerwinds.com
Best Furniture Store
Russel's Furniture
2645 El Camino Real, Santa Clara; 408.296.7393
Size matters when it comes to furniture, which is why Russell's warehouse comes in so handy when searching for everything from a sofa to a settee. It is also a family-owned business, which seems ever more important in a corporatizing world; the store has been around for more than a century and at its El Camino location for more than 40 years. If you're lucky, they often serve fesh-baked cookies on the weekends.
Design Within Reach/ 3080 Stevens Creek Blvd., San Jose; 408.261.8875
Rosso's Furntiure 6881 Monterey Road, Gilroy, 408.842.5019; 212 Tennant Ave., Morgan Hill, 408.776.8100
Best Gift Store
Domus
40 N. Santa Cruz Ave., Los Gatos; 408.354.6630
June Cleaver would have a coronary out of sheer joy if she walked into Domus. Carrying the latest in fancy kitchen gadgetry, cookware, bath products, stationery and home accoutrements, this self-touted "lifestyle shop" has everything a happy, well-stocked homemaker could want in upscale home accessories. Domus is a small, family-owned business that has been a downtown Los Gatos landmark for more than 30 years. So, if you are looking for a turkey baster that will blow the relatives away, or a martini glass that looks like it came out of Star Trek, look no further.
Papyrus 1002 S. Second St., San Jose; 408.971.2155
San Jose Museum of Art Gift Store 110 S. Market St., San Jose; 408.271.684
Send a letter to the editor about this story.