09.23.09
home | metro silicon valley index | features | silicon valley | best of silicon valley 2009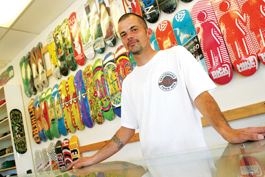 Photograph by Felipe Buitrago
CHAIRMAN OF THE BOARDS: Tony Pimentel runs Caliskatz, the go-to spot for local skateboarders.
Shopping & Services
Staff Picks
Best Place to Not
Do It Yourself
Earthworks
290 Main St., Los Altos; 650.948.5141
We're down with the do-it-yourself movement, but let's be realistic: there are "crafts," like the ashtray we made in eighth grade, and then there are crafts. To enter Earthworks is to see how it's really done. It's a spectacular gallery, sleek and modern and a far cry from the crunchiness that the name implies (it was founded 30 years ago and has evolved significantly). And the jewelry and crafts are one of a kind, from Richard Satava's jellyfish art glass to Jeanine Payer's poetry-engraved metal jewelry. (SP)
Best Place to Buy an Orange Amplifier
The Music Tree
17470 Monterey St., Morgan Hill; 408.779.4312
If you were in a punk rock band in the '70s, Orange was the go-to brand for guitar amps with an audibly gnarly crunch. With their distinctive bright orange amplifier heads, speaker cabinets and iconic psychedelic logo, Orange gear is beloved among vintage gear heads and guitar connoisseurs alike. Along with being a pillar of the Morgan Hill music community, the Music Tree is the only authorized Orange Amps dealer in the South Bay. (JF)
Best Way to Visit Asia Without Leaving Town
Milpitas Square Mall
190 Barber Lane, Milpitas
Who can afford a trip to Beijing or Hong Kong these days? Not me. Well, with the Milpitas Square Mall just a short drive away, you can save on airfare and eat like you're in China. Or Vietnam. Or Taiwan. Milpitas Square offers the greatest density of quality and quantity of Asian food in Silicon Valley. Chinese food in numerous regional variations as well as Japanese, Vietnamese, Thai, Taiwanese and Singaporean food is all served on a daily basis to crowds of appreciative diners. No reservations or airport strip-searches necessary. (SH)
Best Bookshop Cat
Recycle Bookstore West
241 E. Campbell Ave., Campbell; 408.370.3514
When you walk into this bookshop, you'll be greeted by a friendly cat named Isbn, who makes his home between all the overflowing bookshelves. His fluffy presence adds zest to the altogether quaint bookstore. The shop's sister store along The Alameda in San Jose is nice too, but is often more crowded and has less of a personal feel to it than that at Recycle Bookstore West. Bookworms love this store because of the large selection and cheap prices. If you have books you're done with, Recycle Bookstore West will buy books from you or accept trades. (LF)
Best Place to Contemplate Nonduality
East West Books
324 Castro St., Mountain View; 650.988.9800
Buddhism exploded in popularity in America in the 1960s, led by, among others, the Beatnik poet/merchant seaman Gary Snyder, the Zen philosopher Alan Watts and other Californians. Eastern thought has long since infiltrated the nation, but Mountain View's East West Books remains one of the original strongholds. In addition to stacks of tracts on spirituality and growth, this bookstore features an enormous assortment of gifts that can't be found anywhere else. (EJ)
Best Place to Embrace the New Vampire Chic
House of Humor
840 W. El Camino Real, Sunnyvale; 408.616.0016
Lately the storied House of Humor costume shop has had a run on fangs. With the popularity of True Blood and Twilight, vampires are cool again, and this is the place to get your bite on. At its current location for the last decade, House of Humor was in Mountain View for 25 years before that. They've lasted because of the quality of their costumes, wigs, makeup, accessories, etc. They've also got a big magic section, decidedly non-Hallmark cards, and an adult section, in case your favorite part of True Blood is the kinky vampire sex. (SP)
Best Car Wash
Delta Queen
981 E. Hamilton Ave., Campbell; 408.377.2525
This Mississippi Riverboat was the world's first themed car wash. While you're getting your car washed, you can go exploring and watch the ducks swim in the central pond or feed the koi. You can also buy coffee and sandwiches available at the Blendz express station. The people who work at the Delta Queen do a great job cleaning both the exterior and the interior of cars, and you can get good deals on washes with their online coupons. (LF)
Best Alternative to the 99-Cent Store
De Anza Flea Market
21250 Stevens Creek Blvd., Cupertino
Dollar stores are great in theory, but in reality they're full of window cleaner and candy bars with weird names. Bargain junkies need a better place to get their fix, and they can find it the first Saturday of every month at De Anza College. There are plenty of flea markets in this area—but at De Anza, there's cheap, and then there's dirt cheap. There's so much for $5 and under, and it's surprising what you can pick up for just a dollar. Books, DVDs, action figures, knickknacks, even clothes. Wear your game face and look for street parking. (SP)
Best Alternative to the 99-Cent Store for Nerds
De Anza Electronics Flea Market
21250 Stevens Creek Blvd., Cupertino
Since this is Silicon Valley, it's only fair that geeks not be shuffled off to one obscure alley of a regular flea market. Thanks to the Association of Silicon Valley Amateur Radio Organizations, we have our own every second Saturday of the month, March through October. Need an oscillator? Of course you do. Why not pick from a box of 20? Hard drives, flash drives, laser tubes, plasma lamps, air variable caps. If you even know what half this stuff is, you really ought to be getting it here. (SP)
Best Places to Man Up
President Barbershop
490 University Ave., Palo Alto; 650.325.5229
Hemingway Cigars & Tobacco
480 University Ave., Palo Alto; 650. 328.7473
These two establishments have been doing business side by side on University Avenue for a long time, and it shows. Just to look upon them is to step back in time, in a good way. At the President, a man can get a regular haircut and enjoy the kind of barbershop conversation that men have enjoyed forever. At the Hemingway, a man can get a fine cigar, or a cheap cigar, and also choose among a selection of lighters, pocketknives, wallets or other manly items. (EJ)
Best Superhero Store
Heroes
24 E. Campbell Ave., 408.378.3667
This shop is wall-to-wall comic books. Nerds can easily spend a full day reading through the collections and can often find a good deal on rare collectible comics. If you're not into the comic book scene, the shop has other hidden treasures as well: There are stacks and stacks of individual baseball cards for sale. The shop also carries a variety of superhero action figures that date back several decades. (LF)
Best Place to Get a Carbon Bike Frame
Specialized
15130 Concord Circle, Morgan Hill; 408.779.6229
It's no secret that Silicon Valley has some of the best bicycling terrain in the country, but few biking enthusiasts know that one of the United States' biggest manufacturers of frames is also based in the South Bay. Specialized Bicycle Components, located in Morgan Hill, makes some of the coolest, lightest carbon bike frames to be found. Whether riders want to transverse the chaparral in Hollister on a mountain bike or cruise around downtown San Jose on a stylish fat tire, Specialized has them all. (JF)
Best Off-the-Bike-Path Bike Repair Shop
Performance Bicycle Shop
1646 S. Bascom Ave., Campbell; 408.559.0495
This bicycle shop can be somewhat hard to find for those who don't know Campbell well. Right on the corner of Hamilton and Bascom, in the same shopping center with that big Whole Foods shopping center, is a great shop for bike enthusiasts. The people who work at Performance really know their stuff, and can provide a simple upgrade or a complete overhaul on any set of wheels. (LF)
Best Place to Stop and Smell the Oncidium
Brian Davino Florist
149 Main St., Los Altos; 650.949.8520
The South Bay has no shortage of great florists, but there's something special about the extra creative touches at Brian Davino Florist. Maybe it's the exotic quality of their flowers from the Pacific Islands, South America, Asia and Europe. BDF knows how to pronounce "phalaenopsis," and also the best place in Southeast Asia to find this orchid. From azaleas to hydrangeas to tried-and-true roses, their distinctive sensibility is enough to change the way you think about flowers. (SP)
Best Place to Buy Absinthe Accoutrements
Magpie Home and Garden
17505 Monterey Road, Morgan Hill; 408.779.4594
Magpie, a darling French-themed shop in Morgan Hill, looks as if the Palace of Versailles disgorged itself inside. Seriously, every corner of this classy little home-and-garden shop is sparkly, lacy, floral rococo overload, the perfect sort of place to buy a one-of-a-kind gift for the girly-girl in one's life. And if that girl is into a little experimentation, they also stock absinthe accoutrements: Czech-made fountain sets and specialty glasses for sipping a little of the green fairy. (JF)
Best Place to Indulge Your Voyeurism
San Jose Camera and Video
1600 S. Winchester Blvd., 408.374.6781
While other shops offer some specialized services that professionals covet, none can match the pricing and depth of inventory that this Campbell landmark offers. Located at the corner of Hamilton and Winchester, San Jose Camera is now celebrating its 80th anniversary. But don't let the classic modernist exterior style fool you, because this shop stays current with a fast changing industry and restocks its shelves with new equipment regularly. (LF)
Best Place For a Hot Pull
South Bay Sports Cards
566 S. Murphy Ave., Sunnyvale; 408.530.8250
In the parlance of sports-card collecting, a "pull" is a valuable card one finds in any given pack. South Bay Sports Cards is so confident about its cards that it keeps a "Hot Pull" list documenting cards its customers have picked up. They have autographed cards from Michael Jordan, LeBron James, Kobe Bryant and Tim Lincecum. They also carry memorabilia, for those who do their investing in the sports market rather than the stock market. (JF)
Best Fitness Deals
The Right Stuff
1730 W. Campbell Ave., Campbell; 408.866.8855
From chill yoga classes to pumpin' cardio kickboxing classes, this gym offers workouts at a good price. Memberships at the Right Stuff are as low as $12 a month, where you can get unlimited access to their classes throughout the day. Or if you're not ready to make a commitment, the Right Stuff offers free temporary memberships. The trainers and instructors are friendly, relentless and good looking, too. (LF)
Best Place to Paint a Pot
Glazed Creations
17245 Monterey St., Morgan Hill; 408.778.0441
Glazed Creations offers amateur artists a way to indulge in pottery, without the mess. This family-friendly shop lets patrons pick out unfinished pots, plates, cups and figurines, which they then paint to their liking. The pieces are fired on-site, and make original handmade gifts. Warmed by their indoor kiln, Glazed Creations specializes in group events and children's birthdays, and has a big party room in back. (JF)
Best Place to Fix Software Kinks
Javachiro Wellness Center
270 E. Java Dr., Sunnyvale; 408.716.8240
It's not something that ever really gets acknowledged in Silicon Valley's nanoseconds-are-money economy, but programming software means hard wear on the body. After hours upon hours at the keyboard, it's not just code that gets crunched—hands, wrists, shoulders, backs and necks are a wreck too. Many of the engineers who put their bodies on the line turn to Javachiro Wellness Center to keep them in peak operating condition. (SP)
Best South County Spot for an Unusual Piercing
El Toro Body Shop
17400 Monterey Road, Morgan Hill; 408.778.5444
Funky tribal art and jewelry may line the walls of Morgan Hill's El Toro Body Shop, but this is not a stumble-in-drunk-and-get-a-Chinese-character-on-your-shoulder type of parlor. Talented tattoo artist Marty Maaske and piercing expert Melissa Clayton run this shop, where safety, hygiene and privacy are stressed—everything a person could want in a responsible body modification location. (JF)
Best Place to Get That L.A. Look
Karma Boutique
311 Vineyard Town Center, Morgan Hill; 498.778.7900
Looking like an edgy SoCal rock star is not hard at Morgan Hill's Karma Boutique. Shoppers will know this is not their mother's clothing boutique as soon as they cross the leopard-print carpet and take a look at the racks of sultry clubbing minidresses and tight designer jeans by True Religion and Seven Jeans. One of their biggest labels is the trendy Ed Hardy brand of tattoo-print T-shirts and bags. (JF)
Best Place to Buy Used Music
Rasputin Music
1820 S. Bascom Ave., Campbell; 800.350.8700
At Rasputin Music, there's a section where they sell some used CDs for just 50 cents, or you can buy 50 of those CDs for $20. The store also has a great selection of vinyl records, if you prefer your beats in analog. The best part is their wide selection. Rasputin's warehouse is huge, with every genre of music available from all across the decades. And if you're in need of some extra cash, you can sell your old music to the store for money. (LF)
Best Olive Oil Source
The Olive Bar
232 E. Campbell Ave., Campbell; 408.370.1901
The Olive Bar offers free tasting of various olive oils and balsamic vinegars. Co-owners Ed and Chrystie DeSoto call their products "real olive oil" because they sell only 100 percent extra virgin olive oils that aren't chemically processed. Their oils are sourced from all around the world and they specialize in fresh seasonal flavors that are bottled daily. The owners will tell you anything you would like to know about the process of making olive oil or about the best ways to use it. (LF)
Best Eco-Friendly Transportation Company
Kwick Kart
1821 S. Bascom Ave., Campbell; 408.858.2278
If you've ever taken a walk through downtown Campbell or downtown Los Gatos, you may have noticed the bike taxis known as Kwick Karts. These zero-emission vehicles allow downtown shoppers to get from one end of town to the other without polluting the environment—for free. Just remember to be courteous and tip the driver. (LF)
Best Skaters' Skate Shop
Caliskatz
39947 Mission Blvd., Fremont; 510.656.2204
Owned and operated by local skateboarders, Caliskatz carries every skateboard brand known to mankind. Because of its friendly staff and constant stream of new products, Caliskatz has quickly become a go-to skate shop for all types of decks, trucks, wheels, skateboards, threads, shoes and more. Since the owners pride themselves on 100 percent customer satisfaction, they'll bend over backward to answer questions and help you find the right product. (AF)
Best Place to Learn How to Breathe
California Yoga Center
570 Showers Dr., Mountain View, 650.947.9642; 541 Cowper St., Palo Alto, 650.947.9642
Every gym in California offers yoga classes, but few of those classes are taught by instructors with the training and commitment that the California Yoga Center's teachers possess. The center focuses on the Iyengar method, which is all about precision, strength, flow and breath. In addition to daily drop-in classes, California Yoga Center offers structured programs for students at various levels, as well as classes and lectures on a variety of related subjects. (EJ)
Send a letter to the editor about this story.