September 27-October 3, 2006
home | metro silicon valley index | the arts | stage | review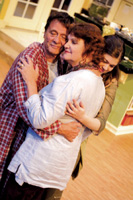 Photograph by Dave Lepori
First Family of Farce: The Stevens family (Robert Ernst at left, Frances Lee McCain and Mia Antonelli) romp through a world of weirdness, from gurus to a spooning train, in 'Lil' Darlin'.
Almost Paradise
A family's world tilts to farce in San Jose Stage's 'Lil' Darlin'
By Marianne Messina
MIDLIFE CRISIS turns Doc Stevens' ordinary home life into a twisted land of goblins in Will Marchetti's play Lil' Darlin'. This San Jose Stage Company world premiere takes off like a comedic Dante's Inferno, except the Dark Wood (or at least unwanted admirers and flaky gurus) has come to Dunsinane—pardon my mixed metaphor. After his wife walks out taking their daughter with her, Doc (Robert Ernst) suddenly finds himself adjusting to an empty nest (an extravagant kitchen/dining room/living room suite amazingly put together on short notice by designer John Harrison York). Doc's world tilts further on its axis when his lifelong buddy Joe Levin (Joe Bellan) suddenly outs that he's gay and becomes the cling-on visitor.
In the second act, the Stevens home grows yet more populous. Doc's wife, Lila (screen actress Frances Lee McCain), returns, along with daughter Nicki (Mia Antonelli), and the plot thickens with paramours (Judith Miller as Doc's midlife fling, Frieda Mayerling Warrin), gurus (William Ontiveros as Ram Bubba) and weapon-wielding mothers-in-law (Cec Levinson as Doris cum tennis racket). This act covers all the notes in the farce scale from fisticuffs and chases to people popping out of closets, plus a guru meditation circle and a spooning train you'll have to see to believe.
Lil' Darlin' is one of those plays in which the guy can do no right, starting with the assumption that a philandering husband pushes our natural sympathies toward the wife. Between comments about her peach cobbler, McCain's June Cleaverish Lila delivers the harshest (and in a warped way funniest) condemnations of Doc in dismissive, cheerful tones. Anyone inclined to give Doc the benefit of the doubt has to wince while laughing. And by the end of the play Doc seems less like Dante and more like Job.
Ernst and McCain give strong performances as the lovable couple. And the supporting roles (except for a somewhat mystifying Bavarian blonde stereotype) charge up the comedy. William Ontiveros adds sharp, visual flourishes to the gleeful guru with the missing memory, such as when he childishly slides down the couch back. Cec Levinson's fun and feisty mother-in-law could use a lot more stage time. She'd be especially handy at contextualizing Lila's pain in a humorous way. The opening-night audience loved Bellan as the "creepy" (as Doc puts it) Joe.
During all the breaks, director Ken Sonkin has old blue eyes himself, Frank Sinatra, singing from the sound system, reminding us of a more romantic era when dirty laundry stayed in the hamper. Except for the fact that Doc and Lila are singing Sinatra together at the play's opening, the idea of suave, big-production romances doesn't jive with a marriage break-up, a gay buddy and an 18-year-old girl who, it is revealed, lost her virginity in an upstairs bedroom. Yet the music starts to call attention to the expectations that we bring to the play: for example, wanting Doc and Lila to get back to "normal" life, wanting to believe, even in the face of the disillusioned realities of a 30-year relationship, in Sinatra's youthful, romantic ideal: "We'll have a happy ending now, taking a chance on love."
Finally, after most of the madness has fallen away, Lil' Darlin' unfolds one of its brightest theatrical moments: a tango between Doc and Lila, both verbal and physical. Not only is the scene bulging with humor, and a picture of timing, but it also explains the moods of tango, its pushes and pulls, its power dynamics, its give and take, the redundant statements seen from different contexts. Everyone—Marchetti and Sonkin, McCain and Ernst—deserves extra praise for this wonderful scene. It's as if, hooking up to the elegant dance era, Doc and Lila might partner their way back to lost feelings—or something like Paradise?
Lil' Darlin', a San Jose Stage Company production, plays Wednesday-Thursday at 7:30pm, Friday-Saturday at 8pm and Sunday at 2pm through Oct. 15 at The Stage, 490 S. First St., San Jose. Tickets are $20-$45. (408.283.7142)
Send a letter to the editor about this story.