10.21.09
home | metro silicon valley index | movies | current reviews | review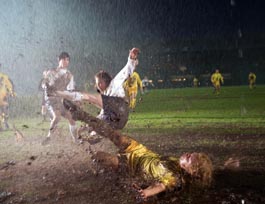 Laurie Sparham © Courtesy of Sony Pictures Classics
MUDDERS: The rain can't slow down 'The Damned United' in a new soccer docudrama.
Leading Leeds
'The Damned United' looks at the short reign of renowned soccer coach Brian Clough
By Gary Singh
THERE'S NO giddy thrill of victory in The Damned United. This is not the typical sports movie where a team begins on the bottom and battles its way to the top. There is no climactic moment on the field toward which our emotions are guided. Instead, the film explores the sheer hubris of legendary soccer coach Brian Clough as he waltzes into and takes over a blatantly dirty Leeds United club for a spell of 44 days in 1974, primarily to enact revenge against his old foe, the team's previous coach, Don Revie. Revie had just departed the league-leading Leeds to manage England's national team, and Clough takes his place. Played decisively by Michael Sheen, Clough comes into the club demanding to revamp its gritty style of play, and it doesn't work. He is met with a hostile group of players still loyal to Revie (Colm Meaney), whom Clough detests. The movie is less a sports flick and more of a straight-up docudrama and personality study, also with constant interplay between Clough and his trusted talent scout, sidekick and much-needed soccer conscience, Peter Taylor (Timothy Spall). Clough is nothing without Taylor, and we get to see their deteriorating partnership juxtaposed against the backdrop of what's going on with the team on the field.
Now the background: Clough later when on to manage Nottingham Forest for almost 20 years, a period that included back-to-back European Cup Championships in 1979–80, a feat not accomplished by any British team since. To this day, he is sometimes considered to be the greatest English coach who never actually managed the English national side. A statue of him still exists outside Nottingham's stadium. The movie concentrates on a small fragment of his career, in which his ego got the best of him, leading to failure. All in all, Sheen does a good job with a mediocre script, and even those not schooled in the subtleties of English football will dig the drama.

THE DAMNED UNITED (R; 97 min.), directed by Tom Hooper, written by Peter Morgan, based on the novel by David Peace, photographed by Ben Smithard and starring Michael Sheen and Colm Meaney, opens Oct. 23 at Camera in San Jose and the Century Cinemas 16 in Mountain View.
Send a letter to the editor about this story.