Movies
Review: 'About Elly'
In 'About Elly' A girl walks off alone in daylight. Or did she?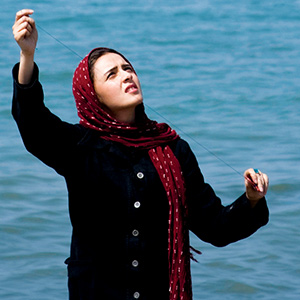 Finally getting a release here, the intriguing 2009 Iranian film About Elly is about what they used to call "a fate worse than death"-concerning a vanished Iranian woman who may be either dead or dishonored. Director Ashgar Farahadi (A Separation) includes the sort of mysterious little details that you can only get by letting incidents breathe, instead of calibrating every moment.
Americans don't expect to see chador-wearing Iranian women shrieking with delight out of the window of a car, as they test the echo in a highway tunnel. A few families are travelling together for a regular holiday get-together at the briny Caspian Sea shore; their destination is about as well kept as a typical low-rent Clear Lake resort, with broken cinderblocks and uninviting water. There's been a misunderstanding over the reservations—the gang needs to split up and take two bungalows. One is derelict, with windows someone has broken—we can guess that it's local kids because there is a scribble of spray-painted graffiti at the local park.
It turns out that the women in the group have a spot of matchmaking in mind for Achmed (the Mark Duplass-like Shahab Hosseini); he's in for a visit from overseas in Germany where he was living. He was married there, for a time. Achmed's wife ended it briskly, saying her farewell with a cheery Teutonic proverb to the extent of "Better a horrible ending than a horror without end".
If the family has its druthers, Achmed will promptly marry Elly (Taraneh Alidoosti), a friend of the family who has come along for one night of the vacation. Elly is a guarded lady, a schoolteacher, whom we don't find out too much about. During the few minutes Elly and Achmed spend alone together, the two singles seem to get along OK. The resort's landlady is led to believe that the families are gathering for a wedding fiesta. And the women of this group have Elly halfway into their ranks within a few hours of meeting her. They're already pelting her with vague compliments. ("She's healthy," one notes.)
The next morning, when the men are off playing volleyball, a young toddler is carried off by the surf. This summer we'll have cataclysm upon cataclysm on screen. It makes About Elly's small scale instructive—the fright of seeing a child in peril is D. W. Griffith stuff, and it still very much works. In the aftermath, Elly—who was supposed to be watching the children—is nowhere to be found. She left behind her purse and her cellphone. Is she drowned, or did she head back to the city by herself?
Amir, the blunt and a little clumsy alpha-male who has taken charge of the gathering, is caught in a fork of trouble. It's not that anything was going on (there's chaperones galore), but the mere appearance of unmarried cohabitation is enough to set off both the cops and Elly's unseen family. Amir's wife Sepideh is played by the loveliest and most poised actress in the Iranian cinema today, Goldshifteh Parahani. She carries the main weight of the tragedy. Elly was her friend, and her responsibility, and Sepideh was the one conniving at matchmaking. And then a new twist is revealed, having to do with the arrival of Elly's "brother" Ali-Reza (Saber Abar ).
Farahadi delineates a chain of ruin, which the characters have to follow like detectives tracing steps that end in the middle of nowhere. The film is perhaps most incisive in a scene of a room full of people, hopelessly guessing at the motives of the missing Elly whom they scarcely knew. They wonder over her "honor" or lack of the same, or whether she took offense over something that was said. Or whetherÉ
You watch and despair. Part of the despair is over the destructive, unkillable and very ancient idea that a person's honor isn't in their own keeping—that some accidental circumstances can ruin a good name forever. Most of the despair, though, is despair of the hope that people will ever really understand each other.
119 MIN; Unrated