Movies
Review: 'Cats'
The film adaptation of this Andrew Lloyd Webber musical is absolutely pawful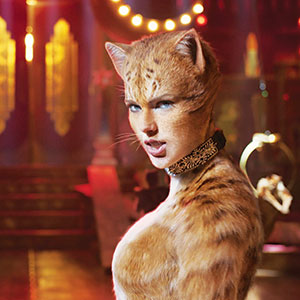 Apparently a musical version of the Island of Dr. Moreau, the screen adaptation of Andrew Lloyd Webber's Cats offers the voluptuous horror of a Tibetan Book of the Dead-style cat-bardo in London. In this Pic-cat-dilly Circus, the marquees blaze with pun advertisements worthy of the two moms who run "Whiskers R We" on SNL. It's an endless night of fur-covered leotards and strangely orgiastic gesticulation. We've got death, we've got sex, we've got furry costumes: This is some Overlook Hotel stuff.
The ballerina Francesca Hayward—stuck in one long look of awestruck fascination—is Victoria, a kitty dropped in a bag into a London alley. It's the night of the Jellicle Ball, an annual So You Think You Have Cat Talent, in which the lucky winner will be allowed to ascend and start a new life. Applicants get trapped by Macavity (Idris Elba), less a cat Moriarity than some feline Lord Yama who keeps tempting the contestants with fleshly appetites. Lust, naturally, gets the spread-eagled, cockroach-eating Jennyanydots (Rebel Wilson). This film is decidedly not her fault. It's great that Wilson brings it on, it's just terrible that she brings this on. Eventually, Macavity tempts a fat cat (James Corden) with dumpsters of spoiled shellfish, recalling similar images of decadent waste in Peter Greenaway's The Cook, The Thief, His Wife and Her Lover.
The soundtrack is true to its cheesy roots (tinny synthesizers and wah-wah pedals) serving the original cast album LP so many times you could see daylight between the grooves. The numbers are endless but the contest is fixed—the judge (Dame Judi Dench, beaming like a Teletubby) is a sucker for sad-sack cases such as Grizabella (Jennifer Hudson), who sings "Memory." This show-stopper, sadly, fails to stop the show. It has some of the pungency of the operatic arias that Webber reverse-engineered when writing it. As performed, it's deluxe bathos, surfing waves of tears and snot. Maybe Hudson's just allergic to cat dander. The number surpasses even the ghastliness of Anne Hathaway's similarly wet "I Dreamed a Dream" in Cats director's Tom Hooper's version of Les Miserables.
Taylor Swift's "Macavity" isn't bad, and she has the advantage of the best lyrics—pure T.S. Elliot, all. Ian McKellen, as Gus the Theatre Cat, drops the name of Herbert Beerbohm Tree in a John Gielgud accent; he emerges with dignity intact. The idea ought to work—see The Three Lives of Thomasina (1963), which is something like Michael Powell's Stairway to Cat Heaven. But the cast is costumed in a twilight zone between human and animal. The film is a triple-decker weirdburger from the twitching ears to the too-long tails that make the ensemble look like lemurs.
Cats
PG, 109 Mins.
Valleywide