Movies
Tex Avery Classics on Blu-ray
A quartet of the famed animator's cartoons are beautifully restored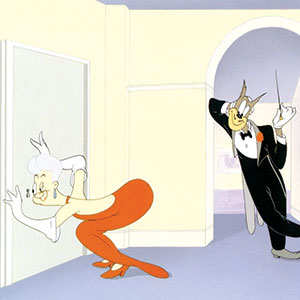 Ever seen what a ton of bricks will do to a cartoon bulldog? It's not a pretty sight. Tex Avery's Screwball Classics Vol. 1—on Blu-ray at last—brings out the riot of color and detail in these scenes, which include a poor pooch squished as flat as an Aztec mural.
It's a cross section of the mayhem-filled and robustly sexualized work of the grandmaster of 1940s cartoons. Like his only rival Chuck Jones, Frederick "Tex" Avery worked at Leon Schlesinger Productions in a splintery bungalow nicknamed "Termite Terrace." The studio was eventually sold to Warner Bros.
Avery's contribution to the fearless Bugs Bunny was essential.
Recalling his youth in Texas, Avery told historian Joe Adamson: "At that time, down there, you called everyone 'Doc.' 'Hey, Doc! Whattya know?' 'What's up, Doc?' ... I don't know how far it spread, maybe it didn't leave Dallas."
After directing the 1940 Bugs-starring A Wild Hare, Avery did a stint of Speaking of Animals shorts—all featuring live-action animals with animated mouths, as per David Lynch's sinful monkey, Fred Cruz.
Finally, at MGM during WWII, Avery did his freest and most manic work, exemplified by this disk's Red Hot Riding Hood (1943). The short features plenty of brass and glowing neon, a horny grandma and a lascivious, tuxedoed wolf whose eyes balloon to yard-wide bulges. He howls for a flame-colored sprite of a nightclub singer. Avery hand-drew Red, the clear forerunner to Jessica Rabbit.
His 1949 clip Bad Luck Blacky ought to be added to UNESCO's World Heritage List. Here is surrealistic maximalism: Avengers-scale disaster, as the skies rain juggernauts on a bad bulldog. Here is also cool minimalism—the title cat, owner and operator of the Black Cat Bad Luck Company doesn't do much, really, except saunter across the dog's path.
This derby-wearing black cat lends his services to a poor abused kitten tormented by a sniggering bulldog. When the black cat crosses its path, the dog is crowned by a falling flower pot, plummeting from some unseen height. A plausible-enough accident. Once the principle has been demonstrated, anything can come out of the sky: a horse, a bus, a ton of bricks.
Bugs Bunny was a prankster. Avery's Screwy Squirrel is an out-and-out bastard. There are four Screwy cartoons here, including the character's outlandishly funny 1944 debut, Screwball Squirrel. The red-nosed Screwy ambushes a Disneyfied cutesy squirrel and hijacks the cartoon, getting on the phone and challenging a meek dog called Meathead, who talks like Jimmy Stewart. Years before Chuck Jones' Duck Amuck, Screwy was aware he was in a cartoon and knew how to make it all work; in this case, even playing the slide-whistle sound effect for the falling object about to hit Meathead's skull.
These cartoons are probably not for those under 7 years old, unless they're unusually bloodthirsty kids. Lonesome Lenny" (1946) wasn't one my mom could mention without spitting. I'd seen it on TV and had a 3-year-old's bawling flipout over the ending; she called the station and gave them an earful. It's the ghastliest Steinbeck adaptation ever: Of Mice and Men starring a dumb, wealthy dog as Lenny, and Screwy Squirrel as the pet he wants to stuff in his pocket and cuddle to death.
Another Avery canine was a slowpoke basset. "Hello, all you happy people," he'd say in his undertaker tones. Droopy was mostly snail-slow, yet faster than The Flash when in pursuit of a convict. These Droopies host Avery's most dazzling chases, in which North America itself was the tiny gameboard between the pursuer and the pursued.
Even the lesser cartoons here shine. Avery's ingenuity could take a nothing premise such as The Elves and the Shoemaker and create a riot of gags in The Peachy Cobbler.
Avery's work never got enough attention here, though he's revered in France. His collaborator Heck Allen considered it tragic that Avery never escaped the animation business and moved into live-action films, as Avery's old colleague Frank Tashlin had done. So the inventiveness of these cartoons are his monument—the man at his boggling best. With luck we'll get a second volume presently.
Tex Avery Screwball Classics Vol. 1
Warner Archive
$21.99, wbshop.com