Movies
She's Leaving Home
In the Iranian feature A Separation, a knockout follows
a spiral of lies in the wake of a split-up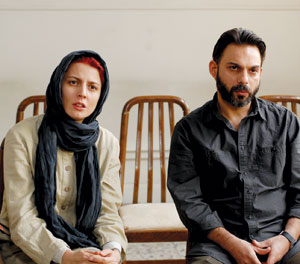 ANOTHER BRILLIANT movie from the land of brilliant movies, Iran's A Separation unfolds in layers, with a secret revealed in the last 20 minutes.
There isn't a lead actor per se; the cast is more of a circle than a hierarchy. But director Asghar Farhadi has cast his daughter, Sarina, in an auspicious debut. This preciously wise and pretty girl plays 10-going-on-11 Termeh: a student with no social life to speak of (her life is all homework and tutoring). However, she receives a shaming ethics lesson at home.
Termeh's parents are on the threshold of divorce. Her mother, Simin (Leila Hatami), has already moved back in with her own parents for the time being.
Simin yearns to take her family out of Iran, perhaps to the West. The film doesn't explain why a Europeanized English teacher who drives a Peugeot would want to leave Iran. The audience can hazard a guess or two.
Simin's husband, Nader (Peyman Moadi), who works at a bank, is granted custody of his daughter. Nader needs to stay in Iran to tend to his Alzheimer's-afflicted father (Ali-Asghar Shahabazi). He hires a caretaker for the father. She's the deeply religious Razieh (Sareh Bayat); she's pregnant, but not visibly so, because of her tentlike black robes.
When Razieh arrives, the troubles begin. This would-be nursemaid is hiding her job from her angry blue-collar husband, Hodjat (Shahab Hosseini). And the senile old man turns incontinent and has to have his pants changed. (Terrified of being exposed to male nudity, Razieh phones an imam to ask for guidance: "Will it count as a sin?")
Razieh is overwhelmed by caring for the old man. When Nader's father is injured as a result of her inexperience, Nader strikes back against Razieh physically. She miscarries. Charges are filed. It's up to the court to decide whether Nader should go to jail for infanticide—or perhaps even to the gallows.
Razieh's outraged husband seems a particularly universal character: the young father with a stunning instinct for making matters worse for himself and his family. Hodjat's own troubles include a ruinous lawsuit and the threat of debtor's prison. And yet you see Hodjat's side of it, too, especially when Nader's story starts to get as fishy as a vat of bouillabaisse.
We have so many, many movies, and so few have a real reason to exist. A Separation was made under pressure and with clear urgency; rich as it is, it has no extraneous details. And despite the simmer to this story, and editing that's so sharp it's almost harsh, A Separation is visually toiled over. Hand-held freshness melds with satisfyingly complex setups, with scenes playing out in rear-view mirrors and in reflections.
A Separation has probably been framed for viewing on TV, but it has some classic elements. It's strange how black chadors isolate actress's faces and put the emphasis on the drama there, as if in a great silent film. (How can swaddled Iranian women act with their bodies, as they do in the West?)
This focus on faces shows how signals cross rooms—with lightning, real-life speed. The significant glances and open-faced lies make the title a play on words. A Separation is about the split between the world of men and the world of women. It's obviously worse in an Islamic republic that works to keep the two as separate as possible.
Despite the subject matters of courtroom suspense, tragic divorce and a dead baby, A Separation is post-melodrama. You couldn't ask for a more eloquent protest against the moral courts, seemingly engineered to complicate already painful situations.
Farhadi argues against these tangled laws with eloquence. Yet he seems to have his eye on a more metaphysical, ancient statute: the hidden laws of bad luck, and how that luck inevitably worsens because of the acts of desperate men and women.
A Separation
PG-13; 123 min.