Movies
Gotham City Ballet
Natalie Portman pays for her art in 'Black Swan,'
a Freudian gloss on the hardships of ballet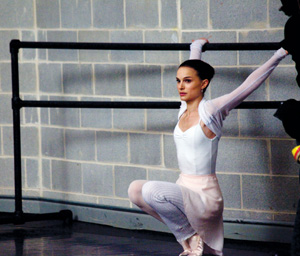 THE WEIGHT of Black Swan's neon-purple romanticism falls on Natalie Portman's thin shoulders. Starved to a skeleton for the role of a prima ballerina, she's aesthetically pleasing: the fine Vulcan eyebrows and the peerless cheekbones are on view in every shot.
Portman plays Nina, a dancer in New York. Nina sleeps in a room surrounded by a busload of stuffed bunnies. Her mother, Erica (Barbara Hershey), who wakes her up and tucks her in at night, brings her a half-grapefruit; they both coo at the fruit's adorable pinkness.
No surprise that the director of the ballet company, Thomas (Vincent Cassel), is exasperated by Nina's overly fussy, virginal approach to the dance. In our first sight of Thomas, looming behind the rows of seats, with arms folded and chest out, he poses like a superhero. Later, after the flamboyant madness and high pitch of Black Swan, we may start to feel we're watching a rehearsal of the Gotham City Ballet.
On tap is the old mortgage-lifter, Swan Lake: "It's been done to death, I know, but not like this!" Thomas declares. With the challenge comes worse news. First, the arrival of a new young dancer from San Francisco, Lily (Mila Kunis). Second, the public jettisoning of the former diva, Beth (Winona Ryder), who is considered too old by Thomas.
Trapped among rival, director and smothering mother, Nina starts to crack. Mirrors go bad, and she hears voices. Thomas' advice wanders out of bounds ("Go home and touch yourself"), and the treacherous Lily begins to look fragrant to the shocked heroine.
Self-mutilation has been a part of director Darren Aronofsky's work ever since Pi. Aronofsky prepares us for the torture from the beginning, when Nina cracks her toes in the morning, and they sound off like gunshots (or like the bar fight scene where a muscle head cracks his knuckles).
Aronofsky shoots the breaking in of new slippers in ghastly close-up: the pretty satin thing disemboweled of its insole, the sides stabbed with a sewing needle, the soles slashed with scissors. Nina herself is a skin picker, brutally paring her nails, or else they're scissored off by mother.
It's Hershey who makes this fantasy's mom-madness plausible. The best joke in Black Swan is the scene of Nina's ever-ringing cell phone; its screen blares the word "MOM" in capital block letters.
In the rehearsal scenes, the camera spins around with the dancers, and we hear the scuffing of feet and the harsh panting of the dancers. It's all hard, anguish-ridden work. When the music commences, Black Swan finally feels like a great movie, simply because the Tchaikovsky would make us believe anything.
It takes a while to get into the mood of cracked Freudianism Aronofsky tries to instill. Some of the awed reception of Black Swan seems to reflect the need for a great movie this time of year—or is it mindfulness of Michael Powell's broken-hearted ghost, grieving at those who couldn't succumb to The Red Shoes? Black Swan is much more like Brian De Palma, anyway—a film of technical virtuosity, shock and voyeurism, but without De Palma's sense of play or wit.
Aronofsky takes this 1940ish plot about a frigid woman going nuts so seriously. I realize that the glut of superhero movies has treated similarly flimsy subjects as opera, but at least those stories are matters of revenge and urban fear. It's harder to get into the skin of a were-swan.
Portman couldn't be more straight-faced, or more plaintive as a woman in peril; occasionally she can't reach what she's aiming at, but who can blame her. Show me an actress who can make a face like a dying swan.
Yet the most effective moments are the less-cooked, trademark Aronofsky ones: a reprise of a situation in Pi, the nasty experience of walking a plywood tunnel around a construction site with blind turns; the sense of a city that's too loud, too fast, or too close; the eyes of a stranger boring into you on an overlit, mostly empty subway car.
R; 107 min.