Movies
The Hobbit: An Unexpected Journey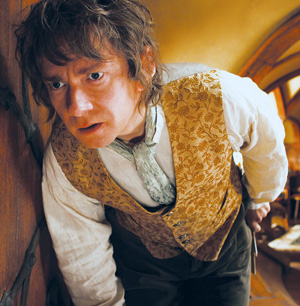 Peter Jackson's Lord of the Rings trilogy was much more than a wow-machine. The tenderer lines can still be rolled over in the mind: Aragorn murmuring, "I have seen the White City, long ago… ." One hoped for similar transcendence in the series' prequel, The Hobbit: An Unexpected Journey, but it's a moshpit of monsters, with simpler, even childish aims, befitting the kid's book it sources. (And yet the battlefield action is too much for young children.)
Richard Armitage, stalwart but dull, plays the landless king Thorin Oakenshield. Under the advice of the wizard Gandalf (Ian McKellen), he is taking along the fussy and hardly battle-hardened Bilbo Baggins (Martin Freeman) on a quest. Thorin and a dozen-plus cartoonish dwarves journey to their ancient mountain kingdom, which is currently occupied by Smaug, a dragon seen only in glimpses.
Except for Cate Blanchett, sauntering in satin as Galadriel, the Lady of Lorien, The Hobbit: An Unexpected Journey is a female-free zone. How one misses the girl-power moments from the original trilogy, such as the instance in which Liv Tyler's Arwen gave the Ringwraiths a much-needed bath. Instead of romance, we get creatures: leprous orcs mounted on wolflike "wargs" and a goblin king with a crown with bones, bibbed with a wobbling goiter the size of a minivan. A trio of gross, ravenous trolls argue over the proper way to prepare hobbit for dinner. Finest of all the illusions: stone giants in a boulder-hurling battle on a stormy mountain peak.
This is a well-stocked menagerie, but is it anything more? The creatures are bad villains or good heroes here, and the most serious personal conflict is confined to one mere character: the oily, murderous Gollum. In the scenes of the finding of the Ring, the digital animation astounds; Gollum (voiced by Andy Sirkis, returning) shows a startling range of emotions and doubts in his rolling, softball-size eyes.
The Hobbit: An Unexpected Journey mentions the evil of a necromancer, a minor character whose worst misdeeds are being saved for the sequel. Yet this movie's biggest achievement is necromancy: burglarizing the tomb of Peter Lorre, the model for Gollum in the uneven teeth, the wateriness of gaze, the ingratiating yet grating hiss.
The Hobbit: An Unexpected Journey
PG-13; 169 min.