Movies
Soho Fellini
Ken Russell's outrageous films captured the essence of the late director's time and place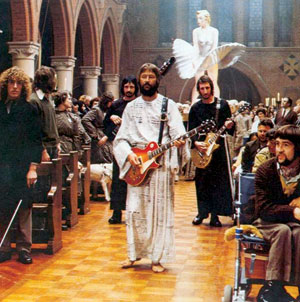 BRITISH DIRECTOR Ken Russell, who passed away last week at age 84, was the point man in a flying squad of Fellini-Goes-to-Soho filmmakers, who often loathed each other's work: Nicolas Roeg, Donald Cammell, Alan Parker, and Peter Greenaway and to a lesser extent Terry Gilliam (and, in far Australia, Baz Luhrmann).
All were the descendants of Michael Powell, greatest of the English fantasy makers—"Powell was the only person who ever gave me any encouragement," Russell once said. But Russell's obsessions with classical music, sex and politics were unique.
About 35 years ago, Russell was at the peak of his success with the Oscar-nominated Women in Love (1969), the '30s-style musical The Boy Friend and the censored witch-burning horror film The Devils (both 1971). The star-studded adaptation of the Who's Tommy (1975) was also a hit.
A book has been written on the phallic qualities of Russell's films—probably in honor of the money shot in Lisztomania (1975), in which Roger Daltrey wields a jumbo plastic wang the size of a telephone pole. The many local slaves of The Rocky Horror Picture Show ought to graduate up to it.
Eighties Russell was a pleasure. He was a Brit ruffian opposing the Brat Pack. The rollicking Lair of the White Worm (1988) was worth seeing twice. Its highlights were what Ms. Alison Goldfrapp could have called "the sweet dirty angel face" of a young actress named Sammi Davis. This pure girl's sister (Catherine Oxenberg) is kidnapped by the priestess of the snake women, Lady Sylvia Marsh (Amanda Donohoe, with fine crescent fangs). All this over-the-top plot is abetted by a ruckusy Celtic band describing the story of the movie we just saw.
It's also hard to describe the pleasure, back in 1991, of seeing Russell's Whore advertised in huge capital letters on a marquee facing one of the busiest streets in San Jose. It's an awful film—ridden with comedy ethnic stereotypes, and Theresa Russell going nutzoid. However, it's full of all the bad news that Johns don't want to hear. Quality aside, it was shrewd counterprogramming to the then- contemporary Pretty Woman.
Speaking of whores, Kathleen Turner's "China Blue" illuminated Russell's wacky 1984 Belle de Jour knockoff Crimes of Passion, with Kathleen Turner. How rich was Anthony Perkins, nutzoid himself, in one of those Rain scenarios of preacher vs. floozy.
Blasphemy! Russell loved it. Consider the seven-eyed goat in Altered States (1980), the nuns getting randy over a crucifixion in The Devils or Jesus getting slithered over by the anaconda-sized white worm in Lair. And Ringo Starr as the pope. This list isn't near complete.
Travestying the lives of the great composers was one of Russell's specialities. But his short film from the anthology Aria (1987) stole the thunder of Cronenberg's Crash; it's a strange symbolist ritual of adornment (to Puccini's "Nessun Dorma") that turns out to be the fantasy of a mortally injured woman (Linzi Drew). It epitomizes Russell's realm: a land beyond good and bad taste.
I'd argue Billion Dollar Brain (1967, available for download on Netflix), is Russell's best movie, even if the director dismissed it as spy rubbish. It was the third film in the series with Harry Palmer—which meant Michael Caine playing Michael Caine as a secret agent. It had as little in common with its predecessors as Alphaville did with the other Lemmy Caution movies.
MI-5 freelancer Palmer is sent to the Baltic States by orders of a computer voice over the telephone. He's infiltrating the realm of a Koch-like Texas billionaire (Ed Begley, Sr.) bankrolling Latvian contras: object, World War III.
A harpsichord and glass harmonica duet twangs and whispers as Caine wanders Helsinki in the thrall of a fur-hatted mystery girl (Francoise Dorl–ac, about to perish in her own car crash). Devoted fans of Casino Royale (1967), might get a charge out of Russell's appropriations of Sergei Eisenstein and the 10,000-mile-wide jump cuts: as baffling now as they were then.
When evaluating the life and art of the masters, Russell might be considered slightly out of his depth. By contrast, digging his way out of a slick spy movie, Russell was at home. He lent his considerable visual flair, exaggeration and inarguable love of women to a rare entertainment.