Movies
The Amazing Spider-Man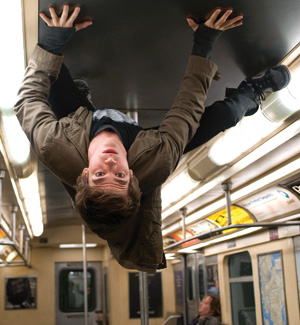 Some of the key fighting in The Amazing Spider-Man occurs in sewers. It's grittier and more nocturnal, and Andrew Garfield's Peter Parker is a blocky, tormented adolescent: sometimes dangerously cocky, sometimes too shy to say a coherent sentence to the girl he loves. The emo and bloody film is about how our hero fights a giant lizard-man. But the narrative is so muddled that it's hard to tell what else The Amazing Spider-Man is about.
The year 2002 was not that long ago; and we can prove that by how much The Amazing Spider-Man tries to emulate Spider-Man (2002), from its substantial beauty as a love story to its fairy-tale motto. The latter has been Twitterfied: "Not choice. Responsibility!" Spider-Man explained moral dilemmas with schoolbook sincerity. This new movie explains everything that way. The Amazing Spider-Man is apparently intended for the preliterate, and the three-person script is a shambles.
So director Marc Webb ((500) Days of Summer) tries to amaze us with technology. Since pixel-herding has improved in a decade, this tactic works about a third of the time. Then there are the other two-thirds, a long and slow replay of the origin story, now with extra coincidences. A plus is a younger, more low-income Aunt May, played by Sally Field. Seeing her nephew's bruises, she exclaims, "Where do you go? Who does this to you?" Moments like that snap the film out of superhero opera into believable drama. Unfortunately, the film snaps back.
Also bungeed into the action is Emma Stone, bright and merry as they come, but only romantic relief compared to how Kirsten Dunst's Mary Jane shaped Spider-Man. Stone's Gwen Stacy is the daughter of the police chief (Denis Leary), who is waiting to put Spider-Man in jail. Meanwhile, Gwen interns at the evil Osborne corporation, where they're trying to implement "A World Without Weakness."
"World's leading herpetologist" Curt Connors (Rhys Ifans) is this year's scientific-disaster victim. Resembling Ray Harryhausen's Ymir from 20 Million Miles to Earth, the transformed Dr. Connors is a realistically animated and distinguished Marvel villain. The monster looks great. What he is isn't quite as clear. We could feel for Norman Osborne's chemical schizophrenia, for Flint Marko's Jean Valjean desperation or for Dr. Octavius and the catastrophe that twisted him. Connors' pain just looks like self-pity—and Peter Parker has enough of that for any movie.
PG-13; 136 min.