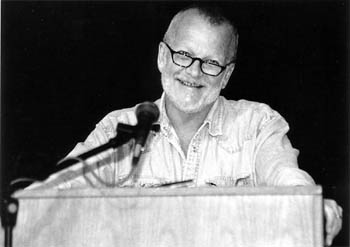 Stop Hamill Time: No poetry at the White House. That's weird--we heard George W. loves to do lines!

Nüz

The American Voice

When Sam Hamill, award-winning poet and founding editor of the prestigious Copper Canyon Press, saw the letter from the White House, he reports being "overcome by a kind of nausea."

Enclosed was an invitation from First Lady Laura Bush to a Feb. 12 White House Symposium on "Poetry and the American Voice."

Hamill, who had just read a report on the president's proposed "Shock and Awe" attack on Iraq (which calls for saturation bombing and which does not rule out nuclear weapons), decided that "the only legitimate response to such a morally bankrupt and unconscionable idea" was "to reconstitute a Poets Against the War movement like the one organized to speak out against the war in Vietnam."

So Hamill emailed his fellow poets "to speak up for the conscience of our country" and make Feb. 12 a day of Poetry Against the War.

Within four days, he'd received 1,800 submissions, about which time the White House decided to "postpone" the symposium.

"Some invited guests wanted to turn what is intended to be a literary event into a political forum," the White House press release stated.

Which proves the pen is more powerful than the sword, says Hamill, who plans to send Laura and George a copy of an anthology of the submissions, which are posted at www.poetsagainstthewar.org.

As it happens, Santa Cruz will kick-start this antiwar poetry renaissance, says local poetry lover Dennis Morton, who "by dumb luck" had already booked Hamill to read at Cabrillo College, Feb. 10.

"Sam is going to use this appearance not just to read his own poems from his latest book, which just so happens to be called Dumb Luck, but as a call to arms to all poets against the war. Poets are the seers of our culture, they sense what's around the corner. If we don't listen to them, we get into trouble. What better community to send out messages about how many of us feel about war plans? But the timing is dumb luck," Morton says. Prior to the reading, poets from the Central Coast will be invited to deposit a poem in a large box labeled "Laura Bush, White House."

Sam Hamill and poet Joeseph Stroud, and possibly Adrienne Rich, will be in Room 508 at Cabrillo College at 7:30pm on Feb. 10; www.poetrysantacruz.org.

The Final Fig Leaf Falls

Last week, the Santa Cruz City Council whacked the Citizen Police Review Board in a 7-0 vote that left local progressives worrying what political direction our town is headed.

"This does not bode well for progressive politics," said ex-Mayor Chris Krohn. "Nowhere that I know of is citizen review going away. Citizens want someone to be there, besides the police, if they have a complaint."

Formed in 1994 to handle allegations of police misconduct, the CPRB agreed in over 90 percent of cases with the findings of the police, which led to its own supporters calling it "a fig leaf" that was "structured to be a rubber stamp."

And while SCPD Chief Steve Belcher claimed that serious discipline is typically not the result of citizen complaint but issues that police supervisors bring up, CPRB chair (now in exile) Mark Halfmoon complained that the city never gave the board any power to seriously address police abuse.

At last week's council meeting, a suited Krohn showed up to read from a letter also signed by Celia Scott, Ben Rice, Bernice Belton, Jeffrey Smedberg, Ann Simonton, Marvin Kaplan, Sandy Brown and John Malkin.

"The current auditor model now before the city council has not been sufficiently assessed by the greater Santa Cruz community. If we are to move to a different model of police review, it must be a community-based model which offers ample opportunities for our residents to interface in that dialogue," Krohn read.

An emotional Halfmoon said he felt insulted and disrespected that the council had not met with CPRB members or returned calls before the cuts--a situation for which the council apologized profusely.

But they did not respond to Halfmoon's suggestion that butchering the CPRB was a racially motivated move (he and vice chair Brent Fouse are both black, which is a first in CPRB history), though Mayor Emily Reilly later clarified that the push to disband the board predated Halfmoon's membership.

"We've been talking since 2000 about changing the board to some other form, and I'm encouraging CPRB members to continue giving me perspectives and information on what would work," said Reilly, adding that the model that will replace the board is still in transition.

"We have rescinded the ordinance about citizen review, which is different from community oversight, but there is definitely a need for the council to remain involved with police policy."

One frequent criticism of the CPRB was that it was inundated with "frivolous complaints," but as a freshly executed Halfmoon told Nüz, "A complaint, by nature, can't be frivolous. You need to hear it out to assess whether it merits more attention."

Ex-CPRB member Dan Alper agrees.

"For the person the situation happened to, the complaint is serious. The person the city has chosen as auditor, Bob Aarenson, is a good guy, but as an MIT grad and Stanford lawyer, is he going to be sensitive to the people of Santa Cruz?"

Reilly hopes the City Council will become the CPRB's new ear.

"That's why we are calling it an independent auditor/City Council model at this point. If people have a complaint, they need to make it formally, but the city can do a better job of encouraging people to give feedback. I call that customer service," she says.

But ex-CPRB chair John Malkin, who was instrumental in creating the board nine years ago, believes "progressives have lost a round in a political battle with people who are armed and command 30 percent of the city's total budget. The police never wanted this board. Now they have succeeded in making it not exist. Had the board been seen as necessity, ways would have been found to fund it."

As for the budget, whacking the CPRB saves $60,000, with $30,000 of expenses retained to pay auditor Aarenson. An estimated $15,000 in police overtime for the CPRB has not yet been formally cut.

And this is just round one of the budget cuts ...

Exit Stage Left, Banging

About 30 UCSC students lost their homes Sunday night when a fire broke out at the Chavez Co-op on Main Street.

Ironically, the students were meeting to discuss creating a noise policy when they heard loud cracks, bangs and popping glass sounds coming from the upper floors of the 1916 Beach Hill Victorian.

Everyone evacuated safely--moments before the ceiling caved in on the living room.

A dense pillar of smoke drifted across downtown as fire fighters battled the flames for three hours. The cause of the blaze is most likely due to faulty wiring, said Matt McCaslin, Santa Cruz Fire Department battalion chief.

The colorful 19-bedroom home is one of two Santa Cruz properties owned by North American Students for Cooperation, and has been inhabited by scores of students in its 10 years of existence.

The university is assisting the students in finding alternative accommodations. And while the fate of the house is still being determined, residents say the fire has made their cooperative spirit burn stronger.

"We're going to stay as a family," said Philips Patton, while Adam Zerlinger promised that "Chavez House will be back."

With a bang, no doubt.
---
Nüz just loves juicy tips: Drop a line to 115 Cooper St, Santa Cruz, 95060, email us at , or call our hotline at 457.9000, ext 214.
---
[ Santa Cruz | Metroactive Central | Archives ]