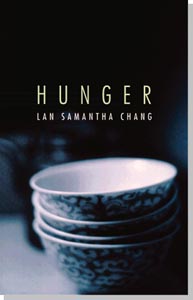 ---
Hunger
By Lan Samantha Chang
W.W. Norton and Co.; 191 pages; $22 cloth
---
Lan Chang explores the fear and confusion that animate desire
By Mary Spicuzza
'EVERYONE HAS THINGS they want to do in their lives. But sometimes there is only one thing that a person must do," Lan Samantha Chang writes. "More than what he is told to do, more than what he is trained to do ... it is what he hungers for."
Many authors would use this moment--a husband's attempt to explain himself to his lonely wife--as a turning point in the couple's relationship. But Chang, the author Hunger, is far too avid a student of human nature for that. Instead she crafts the brief exchange, and her character Tian's refusal to speak about it afterward, to show the fear and confusion that often surround passion.
The family as a window into themes of miscommunication, culture clash and ill-fated love isn't the most original concept for a novel. And long before Like Water for Chocolate, authors have likened hunger to the heart's inexplicable desire. Although Stanford author Lan Samantha Chang may not be wading in unexplored waters, her poetic voice, sensitivity and unpretentious intelligence make Hunger, her first collection, truly remarkable.
Chang breathes life into Hunger, which includes the title-bearing novella and short stories, with a powerful yet meditative command of language. While entrancing readers, she applies an acute understanding of culture shock to fashion very real portraits of the immigration experience. Chang writes of alienation and loneliness, especially as experienced by Chinese immigrant women scalded in America's melting pot. Yet she never loses sight of passion, dreams and the inexplicable desire she calls hunger.
In Hunger, the novella's narrator, Min, is left at home as her husband, Tian, pursues his musical career. Min struggles silently with language barriers and Chinese and American expectations of women, her strength underestimated by all around her. Min may be flawed, often watching helplessly as her husband tries to control their daughters, but she (and all of Chang's characters) are painfully real.
ALTHOUGH Hunger is her first longer work, Chang's sophisticated, poetic prose reveals her experience with short stories. Her fiction has frequently appeared in publications like The Atlantic Monthly, The Best American Short Stories and Story.
Throughout the book, Chang keeps her language short, sharp and accessible. The words, though simple, blossom with fresh intensity, rich with Chang's knowledge of Chinese and American cultures.
In the short story "San," Chang begins, "My father left my mother and me one rainy summer morning, carrying a new umbrella of mine." The young narrator later explains that the Mandarin word for umbrella, san, also means "to fall apart" and tells of the Chinese superstition that if one acquires an umbrella without paying for it, his or her life will soon fall apart. With a simple sentence, she paints a perfect image of a deadbeat dad's fall from grace.
A graduate of Yale University and the University of Iowa's esteemed writing program, Chang has not gone unnoticed. She has received numerous writing awards and a literature grant from the National Endowment for the Arts. Still, like last year's hilarious My Year of Meats by Ruth L. Ozeki, Hunger has not reaped the widespread recognition it deserves. Perhaps this is because both authors are young, female, Asian--and less in-your-face than Erika Lopez and other women of color now garnering a glut of praise. In passing, critics have compared Chang and Ozeki to Amy Tan and Maxine Hong Kingston, but without giving due credit to both young writers' individuality and talent.
Much of Chang's power as a writer is due to her respect for history. In "The Unforgetting," a wife from China hides her family's rice bowls in the basement as she struggles to assimilate. In "Water Names," she tells the tale of a beautiful young girl who, according to folklore, was seduced by a water ghost. Chang's original prose proves that century-old lessons about the Yangtze River can teach important lessons about modern desire.
Though at times her descriptive language and meditations on history seem slightly forced, her prose is for the most part gracefully fluid. Many an author has written about yearning as an irrational hunger. But few, save storytellers recounting ancient legends, have captured just how many flavors season love.
Although Tian refuses to talk about his past, Chang later recreates it through his wife's imagination. She gives us a vivid image of the silent husband as a terrified young man, swimming out in the dark ocean waters to stow away on a ship to America--his true love, his violin, strapped to his back. It is at that moment she goes beyond writing fiction to create her own mythology devoted to passion.
[ Santa Cruz | MetroActive Central | Archives ]