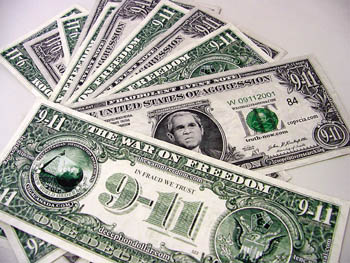 Would You Protest Bush Administration Policy For a Dollar? 'Bush Bucks' like these have been showing up all over town.

Nüz

Embarrass Mint

They're called Bush Bucks, or Deception Dollars, and they look remarkably like the real thing--except they carry Bush's mug shot instead of George Washington's, say "In Fraud We Trust" and list websites that reportedly "reveal tender, public and private truths about 9/11 and the war on freedom."

But do they come from outer space?

A tipster called Eric Sanders (an alias he assumed to protect himself from being investigated as a 9/11 conspiracy theorist, or so we assume) called to say he has distributed 50,000 Bush Bucks in Santa Cruz alone--some of them subtly left on restaurant tables--and put us in touch with Palo Alto resident Carol Brouillet, whom Sanders describes as a "well-researched 9/11 truth teller."

Brouillet told Nüz that after she marched on Sen. Dianne Feinstein's office in January 2002 to demand a congressional investigation of the 9/11 attacks, Canadian artist Blaine Machan, who had already made the front of a Bush Buck, contacted her.

"I told him it would be great if he could make the other side, which he did, just in time for the Oct. 26, 2002, antiwar rally, at which we distributed 10,000 Deception Dollars," says Brouillet, who ordered another 100,000 Bush bucks for the huge Jan. 18 antiwar marches and has since ordered another 50,000, using a four-tone process, which has given the fake bills their most realistic look to date.

"Each time we print, we've improved the art and added websites.

It's been amazing. People have been calling every day," says Brouillet, noting that there are more URLs for 9/11 sites than space to list them on the Bush Bucks.

"But hopefully, the breadth, diversity and widespread nature of the Internet will help to grow an unstoppable movement that will help people to say, 'It's OK to question things.' And people are getting it. Go to the antiwar rallies and read the signs, and you see that people know what this war is about."

Brouillet believes that right now we should be impeaching Bush, not raining bombs on Iraq.

"You could get 95 percent support for a nonviolent way to rein in a rogue dictatorial power that is threatening the world. It's the only logical way, unless you want civil war," says Brouillet, adding that since "people are comparing Bush to Hitler, 9/11 to the Reichstag and the Patriot Act to Hitler's Enabling Act, I think we should get Bush for plagiarism."

More information about Bush Bucks can be found on the web at www.deceptiondollars.com.

Gimme Ketchup With Those Lemmings

UCSC professor Bettina Aptheker isn't sure about impeachment, but she does know there's an election in 2004.

"There's no excuse for anybody to be too cynical to register," Aptheker told the 400-strong crowd at a recent campus teach-in. "It matters who is president."

Aptheker described the war as a "horrible slaughter."

"'Are antiwar protests effective?' is the wrong question," she said. "'How to live with yourself and remain silent' is the right question."

Aptheker was joined by professor Angela Davis, who noted that with Osama bin Laden unaccounted for, guilt has been transferred to Saddam Hussein as a way to legitimize the war on Iraq.

"Both [Osama and Saddam] are demonized by the fundamentalist rhetoric of the Bush administration, which is acting as if the military are liberators, a role that has been legitimized by a compliant media. It's as if his administration is carrying out progressive anti-racist policies," said Davis, adding that there's an interesting convergence between the war and the current challenge to affirmative action at the University of Michigan.

"In reality, there is an unspoken form of affirmative action, which draws people of color into the military, which has become a major alternative to imprisonment in poor communities of color," she said.

UCSC student Martin Smith noted that the day after Congress passed a resolution to "support our troops, the House voted to cut funding for veterans' health care and benefit programs," and professor Alan Richards warned that setting up an occupation with 22 different ministries, each headed by an American, will give Iraq "all the appearance of a neocolonialist enterprise." The U.S., he said, is risking a repeat of the Israeli occupation of Lebanon, "in which they besieged Beirut for 69 days and helped spawn Hezbollah, one of most dangerous militant Islamic groups."

He added, "This is a war by people who know nothing about the Middle East. It's the lemmings going over the cliff."

A Different Kind of Iraqi Action

U.S. Rep. Sam Farr says he had two major reasons for voting against the final Emergency Wartime Supplemental bill.

"First, because it leaves our first responders at home--our 'troops' on the home front--without complete protection. Second, because I do not believe this bill addresses another emergency: repairing U.S. relations with the international community and its representative organizations, such as the United Nations and NATO," said Farr, stressing that this is not a vote against the troops, even as local activists urge him to "bring the troops home."

Meanwhile, the Iraqi Action Network and the Santa Cruz Peacemakers will meet at the county building at noon on Friday, April 11, to launch a "peaceful weapons inspection" of Lockheed Martin at the top of Empire Road.

April Fool

Wondering where the "Reverend" Jason Paschal--the high-profile Pacific Avenue tarot reader who manages to wriggle his way into Nüz every so often--and his cards have gone? To the Santa Cruz County Jail, following Paschal's April Fool's Day arrest. Seems the Santa Cruz Police Department has unearthed a warrant for his arrest in New Hampshire, where he failed to report to a parole officer in 2000, following marijuana-related charges.

'I'm a free bird, but I could do 240 days standing on my head--I stood in the same spot on Pacific for a year," said Paschal, who interprets the fire bombings, which occurred at 2am on April Fool's, as "psychically connected" to his arrest.
---
Nüz just loves juicy tips: Drop a line to 115 Cooper St, Santa Cruz, 95060, email us at , or call our hotline at 457.9000, ext 214.
---
[ Santa Cruz | Metroactive Central | Archives ]