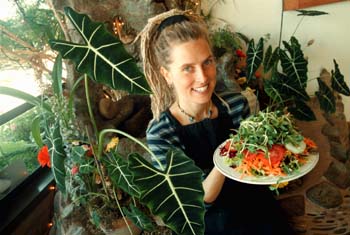 George Sakkestad

Natural Selection: Dharma's Biz Montin displays one of the Capitola restaurant's massive salads.

Along with intrepid student informant Noah, we sample the neo-hippie delights of a quintessentially Santa Cruz landmark

By Christina Waters

EVEN NOAH was impressed by the only-in-Santa Cruz attitude liberally expressed at Dharma's. "This place really is laid back," he gushed between huge gulps of his creme soda. "Did you see the guy at the front counter? He was reclining in his chair."

At Dharma's, you see, the wit and wisdom of hippiedom is alive and well and sprouting with sprouts. One of the few authentic bastions of neo-ashram vegetarian cookery extant, Dharma's exudes politically correct vibes and provides a nonthreatening environment for the young and the meatless to congregate and get full.

Noah, Frank and I entered the natural-food nirvana and staked out a big table next to the bubbling fountain. Plants festooned the ceiling just like they did during the heyday of love and peace. Heading toward the front counter, we began reading the colorful menus. The Brahma burger ($5.75), reasoned Frank, was prominently listed first on the printed menu. "So they obviously believe in it."

He ordered that along with a Wolaver's Organic Pale Ale ($2.75). I decided to get behind (that's an old hippie expression, by the way) an order of the Gardener's Dinner ($4.95), plus a bowl of mushroom barley soup ($2.40), one of the trio of daily special soups. With that I ordered a glass of Bonny Doon Vineyard's Big House Red ($2.75) from Dharma's selection of six nice premium wines. Noah went for the pesto pasta dinner ($7.45), plus an order of fries ($1.75).

Fun and funky, the handwritten menus added a lighthearted tone to the surroundings, which are the ultimate in casual. We ordered, we paid, we waited and then we went up and received a bounty of plates.

"I wonder if I should send half this salad to Albania," I mused, absolutely stymied by the sheer mass of my salad. It was a Vatican-sized shrine to grated carrots and beets, sunflower and pea sprouts, romaine, cucumbers and tomatoes, and I somehow managed to offload about a third of it onto a plate for Frank, thereby creating two salads too large to consume.

Noah dove into his rubbery pasta only to admit after two bites that it was texturally challenged. "The garlic bread is good, though," he offered, and it was. "This is a quantity place," he added, watching Frank attempt to eat his Brahma burger. Moister and tastier than any other "garden" burger we'd ever tasted, it was good--particularly as a mayo and ketchup delivery system. The French fries were another matter; Noah found them lacking in flavor.

The mushroom barley soup was the best thing on the table. Vegetarian cookery does a good job with long-cooking legume-intensive concoctions, and this one had good, solid flavor.

We all were getting a little disturbed by the size of our portions. An ecological mixed message is being sent here. On the one hand, the menu proudly proclaims that "over 3,500,000 rain forest acres" have been saved by the Dharma's meat-free establishment. Yet our table was covered with excess.

"Surely they can't justify all this waste by composting," Frank mused. Unlike some entrees, salad doesn't make for great leftovers.

We finally stopped trying to dispatch the bounty and ordered dessert. A slab of carrot cake ($2.95) with gooey frosting that mimicked taste-free mayonnaise technically was edible, but the brownie ($2.25)--with frosting that cracked at the touch of a fork--wasn't. If you are doing without butter, meat and cheese (available as an extra), why not showcase freshly made baked items, like so many other vegetarian kitchens in town do?

Maybe in a landscape sparse with flavor or presentation, quantity is the substitute.
---
Dharma's
Address: 4250 Capitola Rd, Capitola
Phone: 462-1717
Hours: 8am-9pm daily, breakfast until noon
Prices: Inexpensive
Ambiance: ** Pleasant and spacious no-frills, very clean establishment
Cuisine: * 1/2 Good soup and Brahma burger, embarrassingly large portions of very fresh salads
---
[ Santa Cruz | MetroActive Central | Archives ]