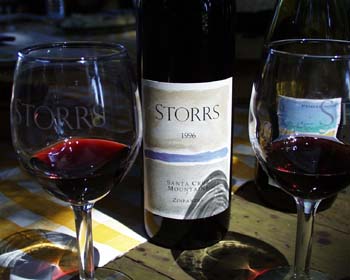 Robert Scheer

One of Storrs' zinfandels.

Italian

This is a town that loves its food and drink. Healthy or hedonistic, Santa Cruz continues to embrace--and launch--trends in the culinary world. The No. 1 culinary trend of the '90s--Italian--continues to cook. Especially in Santa Cruz, where the Mediterranean connection has always been strong and the pipeline to the old country continues to bring talented newcomers to our shores to set us straight on red sauce and scalloppine.

The last five years have produced a delicious renaissance of pasta-, garlic- and prosciutto-laced menus. Star Bene, Bella Napoli, Al Dente, Convivio, Aldo's, Caffe Lido and Zoccoli's all added their star power to the enduring delights of Avanti. From California cuisine dining rooms to the fast-food palace in the mall, every eatery in the area made sure there was at least one pasta dish on the menu. And it seems every bakery added a francese and a foccacia, in response to a craze that shows no signs of letting up. Grazie.
---
Red Wine
Red wine finally broke the stranglehold exerted by chardonnay on American taste buds. And red wines--starting with merlot and now increasingly with great California zinfandels--are beginning to strut their stuff. They're good for the heart, they have flavor that isn't due simply to lounging around for six months in toasted oak barrels, and they go with every food. Except raw oysters, which require champagne.
Without missing a beat, many of our local wineries have embraced this oenologic awakening. Storrs Winery, once a maker of Santa Cruz Mountains chardonnays exclusively, is now among the very best sources of handmade red wines. Storrs' merlot is a textbook example of stylish drinkability. Their zinfandels are even better, standing out in the crowded throng of California zinfandel producers. Kudos to Pam and Steve Storr for anticipating each new ripple in the fickle surf of consumer whims.
---
Red Meat
Now that every menu has its obligatory vegetarian entree, it's nice to see that vegan fascism is on the wane. Red meat--in moderation--is enjoying a resurgence, and without apologies. After all, a quick look at our DNA and dental records makes it abundantly clear that homo sapiens evolved as an omnivore--you name it, we eat it.
It seems that once we all recovered from the craze for world-fusion, multi-cultural, postmodern cooking--every possible spice combination and seasoning style in a single menu--we calmed down. Simpler flavors appealed to our schizophrenic palates. Wan and distracted from protein deficiency, many of those who'd embraced vegetarianism decided that they felt better, looked better and thought better with a little red meat under their belts. Seafoods and chicken continued to hold their own, but real steaks--even meatloaf, ribs and stews--popped up on menus. Grills grew big and strong and joined trattorias as the greatest thing since sliced bread.
---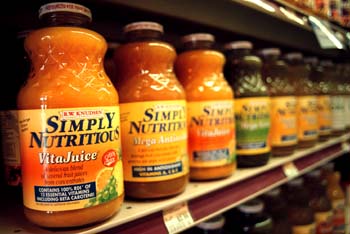 George Sakkestad
A shelf of nutraceutical treats.
Health Food
The New Leaf phenomenon has proved a healthfully rising tide that is floating even the boats of giant mainstream markets. Safeway, Shoppers, Zanotto's, Nob Hill--all have added organics to their produce sections, partially in response to the popularity of the natural foods emporia. New Leaf expanded, installing itself in downtown Santa Cruz as well as 41st Avenue during the past five years--and in the process helped to reshape shopping and cooking habits all over the county. The landmark Staff of Life re-invented itself, complete with a definitive vitamin and supplement section and an awesome seafood and meat counter, thanks to its vigorous competitor.
---
Nutraceutical Drinks
Big and getting bigger, led once upon a time by Odwalla, the craze for drinks loaded with vitamins and energy supplements has bitten us hard. Snapple has gone nutritionally correct as drinks like Squeeze, Jet Stream, Power, Jolt, Kava and others hit the market, promising everything from instant orgasms to increased IQ. For believers, these supplement-intensive concentrates are the thinking person's Gatorade. To others they smack of snake oil, sort of a one-size-improves-all cure for millennial malaises. Maybe it was all a reply to the Starbucks caffeine virus. Health in a bottle--how Faustian. The implication is that your consciousness, or at least your psychic health, will be altered, improved perhaps. With no end in sight.
[ Santa Cruz | MetroActive Central | Archives ]