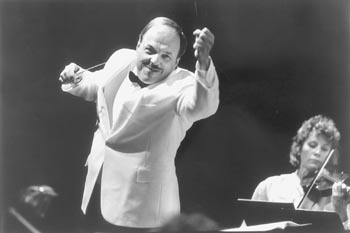 Bruno at the Baton: Carmel Bach Festival music director Bruno Weil opts for brisk, snappy readings of the great composer's works.

Watching His Bach

Bruno Weil guides the Carmel Bach Festival through three weeks of the master and more

By Scott MacClelland

IT IS NO EXAGGERATION that some get their Christianity exclusively through a "priest" known as J.S. Bach. While purists might smell the Devil's brimstone behind such agency, at least a portion of the Carmel Bach Festival's annual audience will take a pinch of religion so long as they get buckets of Bach.

Indeed, Bach festivals everywhere are constrained to pack an entire church year into a couple of weeks. The Carmel Bach Festival , which opens this Saturday, is bigger than most, offering three full weeks of concerts and recitals at Sunset Center and various other venues in and around Carmel.

A closer look, however, reveals that Bach and his religious life constitute a fraction of his festival's programming. He figures prominently in Saturday's opening Easter Jubilation lineup (featuring the cantata Der Himmel lacht! and the Easter Oratorio) but shares space with Bartok's Bach-influenced Divertimento for Strings.

Bach also gets the Sunday afternoon and Wednesday and Friday night programs to himself. The Sunday matinee is dedicated to The St. John Passion, that dramatic setting of the death of Jesus that contains a dialogue between Jesus and Pontius Pilate.

On Wednesday night, choral director Bruce Lamott conducts the traditional Carmel Mission concert, complete with ceremonial processions and gleaming banners, celebrating Bach with a pair of complete cantatas plus selected chorale settings from five of the composer's most popular cantatas. The Friday program contains three cantatas plus other music, including the unfinished 18th contrapunctus from The Art of Fugue.

The performance of July 28 will take place on the day, and at the hour, that Bach died, 250 years ago. In fact, because of this anniversary, Bach is getting considerably more exposure at the festival than has been the preference of music director Bruno Weil in recent years.

During his tenure, Weil has opted for brisk, snappy readings of Bach, partly justified (as he has explained it) by the dry acoustics of Sunset Center, but often at the expense of the texts.

The opening Monday program (July 17, sold out) goes to soprano Rosa Lamoreaux and Hesperus for Spain in the New World. The following two Mondays, called Ardo d'Amore, will be sung by Chanticleer. Weil conducts the Tuesday Classical Evening, consisting of symphonies by Mozart and Haydn, and Beethoven's Mass in C.

Concertmaster Elizabeth Wallfisch takes over on Thursdays for more virtuoso violin works, including concertos and fantasias by J.S. Bach, C.P.E. Bach, Geminiani, Telemann and Locatelli. (The Saturday-Friday schedule described above will be performed three times over three weeks.)

A Mozart chamber music program, organ and harpsichord recitals, and vocal and instrumental programs constitute the recital series, with many of these programs also being repeated in the second and third weeks. Featured among the performers are Lamoreaux, oboist Roger Cole, bassoonist Jesse Read, trumpeter Wolfgang Basch, cellist Doug McNames, organist Andrew Arthur and harpsichordist Michael Beattie.

The Virginia Best Adams vocal master class will display its achievements the afternoon of Aug. 5, and that night's all-resources Best of the Fest will reflect those works voted most popular by festival audiences.
---
The Carmel Bach Festival runs July 15-Aug. 6 at the Sunset Center and other venues in Carmel. Tickets ($12-$53) remain for most performances. (831.624-2046 or check www.bachfestival.org)
---
[ Santa Cruz | MetroActive Central | Archives ]