WHEN WALT DISNEY was a little boy, he used to go to county fairs and be frightened by all the smelly animals and unshaven roughnecks who ran the attractions. That's the reason he created Disneyland, he used to tell reporters.
His Disneyland would be scrupulously clean, with few live animals and a lot of mechanical ones--and uniformed, well-groomed attendants patrolling the grounds. Using this idea of reliable predictability, Disney locked up family entertainment for the next millennium.
Yet county fairs just like the ones that discombobulated the young Walt still manage to survive, even in Bay Area counties, where farm and ranch lands are gobbled up for developments. Fairs, which were once the high point of the year, now must compete with amusement parks, television, Nintendo and WWF wrestling. Attendance is dropping, and the Contra Costa and Santa Clara fairs are even changing their traditional time, from summer to spring, in an effort to lure more visitors.
Santa Cruz's 103-year-old Country Fair is the last local county fair on this year's calendar. Outside from the fact that it's ours, it seems no radically different from the other country fairs in Northern California.
The rides are provided by Johnston's Midway of Fun from Sacramento. The website (yes, county fairs have websites; the address is www.santacruzfair.com) promises that the Midway of Fun will include new rides: "The Tango Twister, the Tornado and the Deluxe Sizzler."
I prefer not to see my food after I've eaten it, so maybe I'll chase out some of the other events. Maybe I'll stop in on music headliner Jimi "Eye of the Tiger" Jamison, front man for Survivor, who composed the theme song that urged Rocky Balboa to clobber Clubber Land (Mr. T) in the immortal Rocky III.
"Would you believe we will also have major acts such as Garth Brooks, Shania Twain and Wynonna Judd?" asks the site with disarming honesty. "Don't be silly, of course we don't, but we do have acts that look and sound just like them!"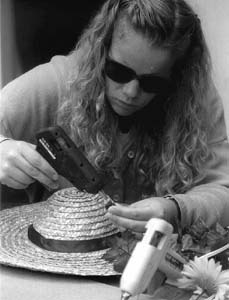 Moon Rocks and License Plate Holders
This year's fair also includes a traveling display of NASA memorabilia. I've seen variations of this exhibit at different state and county fairs. One--sighted at CalExpo a few years ago--included Rusty Schweikart's space underwear; another exhibited an actual moon rock, as will our upcoming fair.
A piece of the moon! Some people are unimpressed by this marvel because they have no sense of history or poetry. "Large charge," they mutter, looking at a nugget of rock the size and shape of a shiny charcoal briquette. Peasants!
The home-franchise pavilions are especially recommended for people-watching and for buying "fairings" (the old word for stuff purchased at fairs as souvenirs). In the booths of the pavilions, the spirit of Samuel Popiel ("Isn't that amazing!") hovers, shining his beneficence on demonstrations of kitchen gadgetry.
Here are fudge peddlers, chiropractors, Encyclopedia Brittanica salesmen and rafflers of accordion lessons. I have several relations who were rooked by such businesses. My stepmom bought into an early pyramid scheme: Glenn Turner's Koscot Cosmetics, rendered from Oil of Mink. (Their motto should have been "You'll never see a wrinkled mink.") So I still have an interest in seeing the endurance of belt-buckle salespeople and hawkers of the goo that protects the shine on your car. How do these salespeople maintain their hope in the face of public apathy?
If I ever quit writing, I'm going into the one sure business: license-plate-holder engraving. Considering the anonymity of today's cars, someone will always be willing to pay top dollar to those who can write a sentence onto the tiny space between the fiberglass bumper and the license plate.
They are roadside haikus: mottoes both commercial ("I'd Rather Be Shopping at Nordstrom"), confessional ("I'm not spoiled! I'm not! I'm not!") or profound (" 'Love is a poodle's chance at the infinite'--Céline.") (Not Dion.)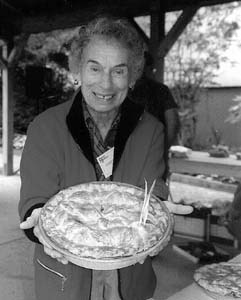 Scraps of Ribbon
According to a history of such events, country fairs hark back to about the 1200s. Once the Dark Ages had calmed down a bit, people were able to see weird things, visit each other, meet members of the opposite sex and sell stuff. So, in 700 years, the focus of a fair has changed only slightly.
Today, the scientific improvement of livestock and animal husbandry are also important parts of the fair. They are also--since Victorian times--the source of the contests that loom so large in fair lore. What sacrifices men will make for a scrap of ribbon, Napoleon once observed.
It's so true. Ever tried to load a steer into a truck? Honoring these competitors (the four-footed and -hoofed ones, anyway) is the most important reason to go to country fairs before they're all replaced by virtual amusement parks.
The animals stand there, munching their cud, in all of their intensive animalness, secret with their own mammalian and avian agendas. They might ignore you. This is as close as most visitors will get to a cow or a goat all year.
Without going into a Wendell Barry rant about the unsettling of America, I think it is easy to feel dislocation and an edge of sadness when you see them; we have lived alongside these creatures for eons, and now we visit them once a year. If then. And we never call or write.
There's the source of your milk--that big stolid beast that stands looking over your shoulder, as if waiting for someone more interesting to come along. And there's the source of your meat--that hulking pink hog, worried by flies and snoring on its side underneath a roaring fan.
Kids seem to be a lot more interested, at first. But when the beasts don't come up to be petted as in a cartoon, the kids decide they would rather go for another ride on the Tango Twister.
If the cows appear stand-offish, there are other critters at the County Fair that may be a little more cordial: Rocket's K-9 Comets, a dog act, for instance. And the fair's website also adds advance warning about the Beasties, people in furry costumes who will be fluffing the crowd: "[The Beasties] have been known to suddenly appear out of nowhere, running aimlessly into any crowd, startling innocent fairgoers, hugging women and children, and luring grandparents into a dancing frenzy."
Don't try to resist. Disney and his gang have really lost something over the course of their years, and that something can easily be found at the Santa Cruz County Fair. It's called "spontaneity."
---
The Santa Cruz County Fair runs through Sept. 19 at the Santa Cruz County Fairgrounds, 2601 E. Lake Ave., Watsonville. Noon-11pm Wednesday-Thursday, noon-11pm Friday, 10am-11:30pm Saturday and 10am-10pm Sunday. Admission is $4.50 general, $2 seniors and children 5-11 in advance; $6 general, $4 seniors and children 5-11 at the gate; parking is $2 per car. Call 831/724-5671.
---
[ Santa Cruz | MetroActive Central | Archives ]