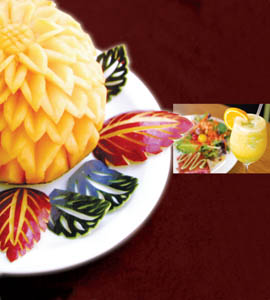 Photographs by Stephen Laufer

Food as Art: (Above) Petcharee Tamawong's fruit carving and (inset) La Vie's lasagna.

Eat It Raw

Yes, rah, rah, raw! Santa Cruz embraces the raw food aesthetic at the overnight sensational Café La Vie.

By Steve Billings

Raw foods have found a home here in Santa Cruz, or better yet, a tropical island-themed oasis built upon the proverbial ashes of a '50s-style diner. Lovers of irony take note; for what was once the provenance of grill tops and deep fryers has been exchanged for food mills and juicers, dehydrators and designer-filtered water, as a diner projecting the nostalgic cool of the gas-guzzling glory years of American autos has been supplanted by recycled material design elements, organic local produce, healthy living and community enrichment as core values and business philosophy.

Pardon me. Breathe. Then there's the food. Café La Vie's executive chef Matt Samuelson and owner Yeyen Gunawan present diners with a menu that is part bistro, part cafe and part juice bar, and is prepared almost entirely raw.

Downtown dwellers looking for new light kicks should be pleased that organic salads, small tapas-style plates, fresh raw juices and innovative desserts all can be had under one roof, none of which foster the dreaded midafternoon food coma that other heavier food choices can commonly bring on.

Yes, You--Put Down the Burrito

In fact, a sense of lightness and increased energy is something that many raw foodists claim as a benefit of adherence to a predominantly raw diet, along with other fringies like better digestion and healthier hair, skin and nails.

Technically speaking, raw foods are crafted from organic plant-based ingredients that have not been heated over 112 degrees Fahrenheit. This magic event horizon is the point at which a food's living enzymes break down, losing their digestion-aiding benefits and forcing the body to produce its own enzymes (and waste energy) to digest cooked food. Enzymes responsible for many vital body functions become depleted digesting this cooked food instead of performing other beneficial work throughout our systems. Raw foodists are suspicious of cooked foods as well for being generally deficient in vitamins, minerals and nourishment--all of which could contribute to one feeling less energized, potentially immuno-deficient and susceptible to debilitating disease or chronic conditions.

To the uninitiated or those skeptical about the raw dining experience, there is real and rather artful "cooking" going on in this kitchen despite the lack of applied heat. Much care and time is spent in the preparation of these dishes. And unless you are a card-carrying carnivore, there is no excuse to forego the fare at La Vie. Palapa-style thatch work behind the bar, artful window treatments and earth-tone walls endow the place with a decidedly island vibe, creating a welcoming atmosphere for a first foray into a new (for many) and rewarding culinary realm.

The menu is varied yet strangely familiar, offering raw food riffs on some classic comfort dishes such as lasagna, pastas and pizzas as well as venturing to the Pacific Rim for inspiration on raw (cucumber wrapped) spring rolls and coconut soup and south of the border for two entrees: the Mexican Wraps and the aptly named South of the Border, which features a raw nacho cheese, sunflower-based refried beans, seasoned root vegetable filling, guacamole, salsa fresca served with fresh crudités and vegetable crisps.

Everything sampled at the restaurant has been flavorful, interesting and well integrated, outside of a Nori Roll entree that comes off rather bland. Of special note is the Salad Sampler Trio--a great starter (or lunch option) which will serve two people amply. Set atop a bed of mixed salad greens are three distinct preparations; a cumin-tinged celery-apple relish; soft, velvety, marinated kale; and an earthy, minerally arame sea vegetable salad that rivals (and beats) any seaweed salad offered at local sushi houses. Chef Samuelson asks his raw spring rolls to shed their rice paper dreams, cloaking the chosen vegetables in thinly sliced cucumber cylinders and serving this visually intriguing garden cross-section with two dipping sauces that enliven the whole affair.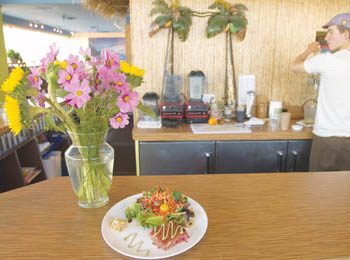 Do Fries Go With That Shake?: A former diner takes on an all-new ambience at Café La Vie.
Entree Vous
As for entrees, La Vie's Vegan Sun-Fired Lasagna, a self-proclaimed signature dish, is an intensely flavored take on a time-worn comfort food as well as a testament to the primacy and brightness of artfully combined raw food flavors. Plated with a simple side salad, it is dominated by a bright, chunky-textured sun-cured tomato purée, separated by layers of thinly sliced zucchini doing the work of traditional noodles. Finely chopped or milled root veggies, as well as a layer of finely chopped marinated spinach, fill out the dish, which is topped with a creamy cheese sauce fashioned from soaked and puréed macadamia nuts. The dish's overall flavoring is assertive and satisfying and notably different from a cooked version whose flavors have had extensive time to mingle, coalesce and evolve in a hot oven. For those harboring notions of raw food as rabbit food, this dish is a good place to start amending those associations.
The cafe offers a selection of teas and cold-pressed coffees as well as raw desserts including a Chocolate Torte with Fresh Fruit, Seasonal Fruit Cobblers and a luscious Coconut Cream Pie. This last little darling delivered amazingly. Made just minutes beforehand (because they had run out), this concoction, a puddinglike swirl of coconut, banana, dates, vanilla and agave nectar set upon a brazil nut crust, was soft, smooth and decadent and drizzled with swirls of chocolate and strawberry sauces.
All of this raw, healthful eating doesn't require that we be teetotalers to boot. Wisely, the folks at La Vie have elevated their game by assembling a small but interesting wine list featuring organic selections from California, Europe and South America as well as organic local beers by newcomer Santa Cruz Mountain Brewing Company. And for those of us who couldn't imagine a meal without a little gin in their fresh juice, you can step up to the light mixology of La Vie's organic sake cocktails. Check it.
Though hunger should be reason enough to return to La Vie, Ms. Gunawan's venue is tweaking the standard restaurant format by providing more than just raw cuisine. Though there are food preparation classes, don't expect just the tried and true gourmet foodie winemaker dinners either. A look at the list of upcoming events on their website reveals a seminar on self-diagnosis of one's health, an artisan vegetable carving class (see "Raw Talent") and a cooking class focusing on raw Indian food preparation. By scheduling events, speakers and seminars that are decidedly health and wellness oriented, the restaurant turns itself from a place where one goes to eat into more of a community or lifestyle center in which one may choose to live.
---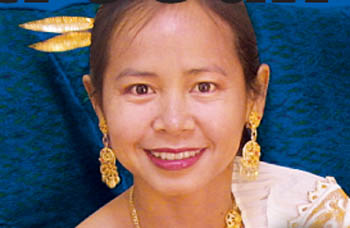 Photograph courtesy of Petcharee Tamawong

Carve Woman: Petcharee Tamawong teaches fruit carving Saturdays at La Vie.

While Café La Vie has a way of making raw food taste good, Petcharee Tamawong has a way of making it beautiful. Tamawong has brought the Thai art of fruit carving, called Kae-Sa-Luk, to the table. She provided instruction to the chefs at La Vie, and also teaches drop-in fruit carving classes for the general public on Saturdays.

Kae-Sa-Luk is performed using only one sharp, pointed knife, which converts ordinary fruits and vegetables into ornamental works of art. The tradition of fruit carving in Thailand dates back to 1364, when, during the royal festival, King Phra Ruang was so impressed with artisan Nang Nopamas' fruit carving display, he decreed that it be taught to Thai women at a special school in the royal palace. Five years ago, Tamawong and a friend decided it would be fun to take a private class with one of the royal palace's graduates.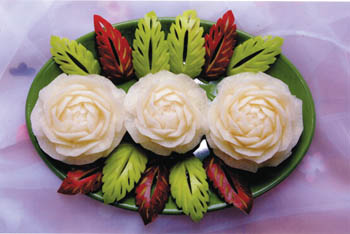 Photograph courtesy of Petcharee Tamawong
Class Act: Tamawong's creations stem from a Thai tradition dating back to the 14th century.
Now a resident of Santa Cruz, Tamawong carves fruit and vegetable centerpieces for catering companies, and performs dances and fruit carving demonstrations dressed in traditional Thai garb.
Her Saturday class at Café La Vie is for beginners, lasting from noon to 3pm. For a schedule of classes and more information, Tamawong can be reached at 831.359.5789, at [email protected] or via her website, www.peaceinmyheart.com. (Mike Connor)
[ Santa Cruz | Metroactive Central | Archives ]