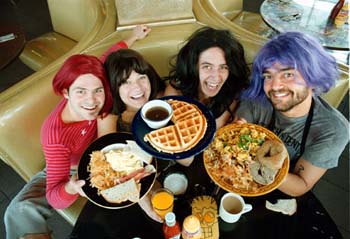 Photograph by George Sakkestand

The Joy of Serving: Saturn Cafe workers Jim Martin, Sara Hyman, Isa Stead and Michael Orick deliver some breakfast goodies in high style.

Space Case

Saturn Café's long-awaited reopening--and re-emergence from the ashes--brings theme cuteness to the vegetarian agenda

By Christina Waters

AFTER MONTHS of self-transformation, gallons of dayglo and the last remaining all-vegetarian diner menu in the free world, Saturn Cafe finally got launched. And we hit one of those candy-apple-red booths for breakfast last week to check out the decorator effects. A far cry from its humble hippie origins on Mission Street, the new Saturn is a visual supernova.

Pop murals blaze from every corner, while interstellar mobiles shimmer from the ceiling. Saturn has chosen an orbit of red booths to ring a central planet of tables and very retro triangular seating modules. Problem: the "outer ring" has been separated from the main planet by a thick, high black wall, so that when seated, patrons are effectively barricaded from much of the bouncy impact of the labor-intensive décor. Why so much great color and attitude if you can't see it?

But first a pit stop at Saturn's new secret weapon--the Neo Print take-your-own-photo booth that spits out 16 tiny stickers of your face framed in any one of myriad animated designs. Dynamite entertainment for $3 while your order arrives. Seated at one of those beloved glass-topped tables, we surveyed the contents while our lattes brewed. Our table contained burned dolls, a charred menu, a melted clock--all artifacts of the fire that destroyed the late, great Saturn. It took a minute but I realized that we were staring at the blackened remnants of my very own review of the Saturn from several years ago. Touched, I admired the superior tattoos on our server--and checked out the menu.

Make no mistake, Saturn is not only full-on meatless, but one of the only places outside your mom's kitchen that you can put together the foods you really want to eat. Politically correct but gastronomically eccentric student food with attitude is the planetary watchword. Miso and brown rice, a single pancake, granola, a banana--you can really put together your own version of breakfast, no matter how weird. You gotta love a place that lets you have chocolate cake and Tang for breakfast, or Poptarts, or chips and salsa--and there's absolutely no one to stop you.

So Jack decided that he'd have a Tang ($1) and gingerbread ($1.75)--he was spiritually revisiting the '60s--while I went for an order of Huevos Rancheros ($5.95). Admiring the gold metal-flake bar stools and the winged Elvis theme lavishly painted over every surface of the girls' room, I sampled Jack's delicious gingerbread and wished that my skimpy huevos had more appeal. For some reason the eggs were placed on a bed of soft tortillas and black beans in a little bowl. Lose the bowl, I say, and let all the ingredients of the dish coexist in harmony. For almost $6 it was (mysteriously) one of the Café's high-ticket items. But the Tang was great.

At lunch a few days later tofu spread and a thick carpet of alfalfa sprouts created a sandwich called, optimistically, The Venus ($5.95). With this came acres of robust french fries which clearly are the house specialty. Jack's Saturn burger was pretty yummy and did its best to have the crunch and heft of a non-veggie burger. Since burgers are primarily a delivery system for ketchup, mustard and mayo, this one fit the bill. It came with its own acreage of fries and a Ginseng ginger drink for just under $6, a very good deal. For dessert, we split a wedge of house-made olallieberry pie ($2), compromised by tough crust.

But the Neo Print photo machine is absolutely irresistible. Out of this world, in fact.
---
Saturn Café
Address: 145 Laurel St., Santa Cruz
Phone: 831.429.8505
Hours: Open 24 hours
Service: ** 1/2 Young, restless and friendly.
Ambiance: *** New Age diner atmosphere.
Cuisine: * 1/2 The old Saturn seemed to have some conceptual clarity the newer planet just misses.
Overall: It's one of those only-in-Santa Cruz landmarks that helps to keep the Sizzler away.
---
[ Santa Cruz | MetroActive Central | Archives ]