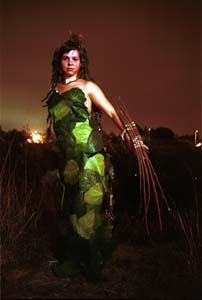 Visual Re-leaf: A dress made of foliage will be among the unusual designs at Seventh Sense.

Photograph by Chad Pilster





Fashion Senses

Runway show 'Seventh Sense' explores the surreal realm where fashion meets identity

By Mary Spicuzza

WHILE supermodels prowling the catwalks of Paris, New York, Milan and Tokyo fight for prime space on the pages of Vogue, Santa Cruz usually gets left out of the debate over the fashion capital of the world. Stereotypical local looks--wool socks under Teva sandals, Birkenstocks and business suits, Ugg Boots with mini-skirts--usually haunt "fashion don'ts' lists, rather than capturing full-length feature praise.

The image of Santa Cruz as trapped in a perpetual fashion emergency probably won't change anytime soon. But once a year, "Seventh Sense: A Fashion Show," this year presented at 8pm Friday and Saturday at the Santa Cruz Dance Gallery, transcends fashion- industry trends. The show's co-producers, So Say We owner David Jackman and the Dance Gallery's Chip, focus on fashion as a form of expression--a key aspect of identity and a universal cultural phenomenon. With the help of 20 local artists, "Seventh Sense" playfully explores these and other heady questions as it toys with both the form and the function of fashion.

"There's no commercial viability to 'Seventh Sense,' " Jackman says. "It's really boundless. It's not about the limitations of the real world, but what the models can wear out there and what the artists can imagine."

Anyone who has attended "Seventh Sense," now in its third year, already knows that local artists are masters of stretching the definition of clothing--and reality. Last year, Darryl Ferucci created a "Construction Collection" featuring models striking dramatic poses and sporting little more than duct tape, orange snow fence and Calvin Klein- inspired stares. Ferucci also mastered the art of twisting yellow caution tape, wrapping models up in it to create stylish coverings.

"He's looking for glow-in-the-dark iridescent goo," Chip says of Ferucci. "I'm not entirely sure what he has up his sleeve this year."

New artists, many of them inspired by previous "Seventh Sense" performances, join the veterans. Marrysh, a local multimedia artist and painter also known as Artwell, says he was thinking of putting together a similar show until he heard of "Seventh Sense." Now he and two Santa Cruz-based dancers present "Have You?," a piece featuring models and multimedia creations.

"I've been a painter and visual artist, but fashion is different. It's a form of expression using the human being as medium," Marrysh says.

Few debuting designers have worked the runways before, but little about the show feels amateurish. Like Marrysh, many have years of visual arts experience. And anyone who last year witnessed Nichola, an artist who created and modeled a dress covered in 500 hand-sewn pink silk roses, knows that lack of experience with high fashion can often translate to breathtakingly beautiful creations pure in their honesty.

In A Notebook on Cities and Clothes: A Film by Wim Wenders with Yohji Yamamoto, Wenders describes initially dreading an assignment to make a film about something as trivial as fashion. But the famous director (Buena Vista Social Club) admits in the end that finding the perfect shirt feels much like a moment of truth. It's that moment and the process of reaching it that Jackman and Chip say they hope to capture during the artsy evening.

IT'S IMPOSSIBLE to resist the temptation of people-watching while sipping mochas and talking clothes in a busy cafe with Jackman and Chip. Chip notices that I'm surveying passing fashions, and he explains that he and his father used to make a game out of it by guessing what people did from what they wore.

"You can't avoid making a statement with your fashion even if your message is 'I'm not making a statement with my fashion,' " Chip says. "Everybody gets dressed in the morning. And if they don't, that's a pretty powerful statement, too."

"Seventh Sense" searches for statement in its purest form, shifting the emphasis from the commerce of clothing to an evening of anthropological play.

"It's a way to communicate with people that have never seen you before and may never talk to you," Jackman says.

And there's no better time than October to explore the role of costume in culture. Halloween approaches quickly, and people are already thinking about choosing a new identity for an evening or two.

"People say, 'What are you going to be for Halloween?' " Chip says. "Not, 'What are you going to wear?' "

Just as masquerade can allow people to explore aspects of identity usually hidden, the surreal "Seventh Sense" uncovers that there's more to Santa Cruz fashion than Birkenstocks and Guatemalan sweaters.

"People will say, 'That's so Santa Cruz.' But what does that mean?" Chip says. "Santa Cruz is such a diverse place in so many ways. The fashion at the university alone is all over the map."

Jackman and Chip ultimately aim to highlight such diversity while tying everything together in a cohesive evening.

"It's an incredibly diverse group of weirdoes," Chip adds.
---
Seventh Sense: A Fashion Show runs at 8pm Friday (Oct. 22) and Saturday (Oct. 23) at the Santa Cruz Dance Gallery, 418 Front St, Santa Cruz. Tickets are $10. (454.9547 or www.the7thsense.com)
---
[ Santa Cruz | MetroActive Central | Archives ]