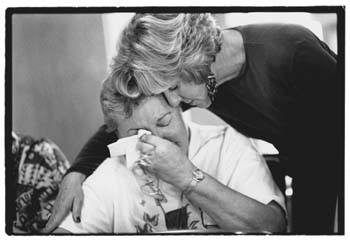 'I find that people I know are keeping more in contact with me since they know I've been at death's door.' --Betty Breadth
---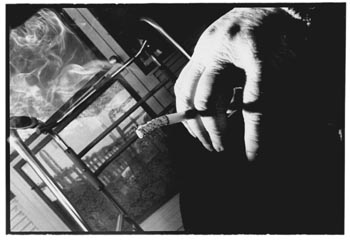 The autumn days are getting chillier, but Betty sits outside her mobile home daily to enjoy her wind chimes, the neighbors and a few more drags on her Salem Lights.
---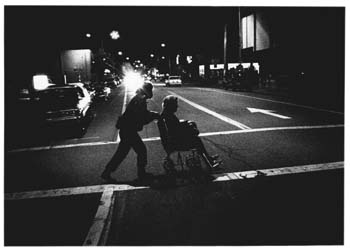 The narcotics used to control pain brought on nausea that can only be controlled with marijuana. With her daughter Aikasha's help, Betty heads to an evening meeting of a support group for users of medical marijuana.
---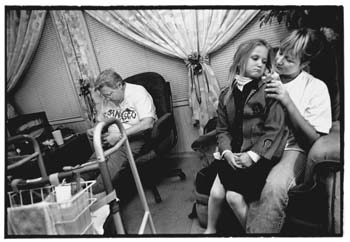 'I've found, since I've been ill, I'm surrounded by all these wonderful people. I always thought they were out there. This is one of the blessings.' --Betty Breadth
---
'The early part of Mom's illness I wasn't here. I wasn't really a caretaker until recently.' --Karena Christman

---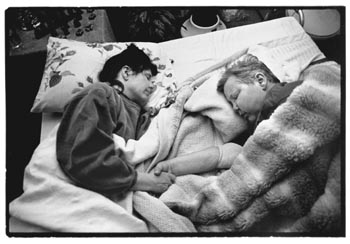 Her daughters never sway from a path of gentleness and tenderness with Betty. Brushing her hair, helping her dress or walk or just going through daily living, kindness rules. Sometimes it's just about holding hands and telling Betty she is loved.
---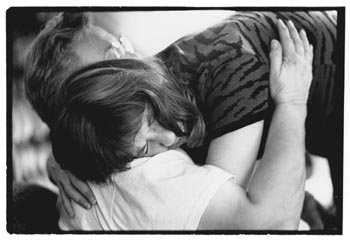 'I'm not afraid of dying, but of pain. I can't handle the pain medications. It's important to see my daughters' tears.' --Betty Breadth
---
[ Santa Cruz | MetroActive Central | Archives ]