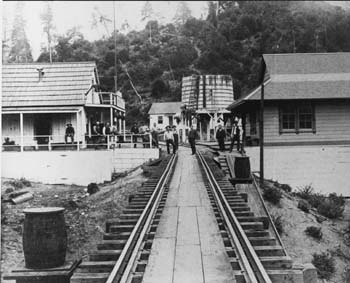 Photo courtesy Lydon/Swift photo collection.

Town of Loma Prieta: This picture was taken circa 1885. Loma Prieta had about 250 citizens and was located up where Nisene Marks State Park is now. The bridge you can see here went across Aptos Creek. The town was owned by Loma Prieta Lumber Company, and that's the tavern on the left and the railroad depot on the right. The town was abandoned around 1900, and I don't know how far it was from the epicenter of the 1989 quake, but they left just in time.

Bruce Bratton

REGULATION ORDINANCES ELSEWHERE. Eileen Fogarty, director of planning and community development, delivered an excellent overview of other city ordinances at the beginning of that City Council meeting at the Civic Auditorium on Oct. 26. Her report detailed more than 22 cities in California and other states that regulate what businesses can operate in their downtowns. Some examples are Healdsburg, which restricts "trademark architecture" (like Taco Bells); Pacific Grove, which doesn't allow formula fast food and where any use over 3,000 square feet requires a use permit. Los Gatos has general-plan language encouraging "small-town character" and is going to rewrite its general plan. Calistoga has an ordinance requiring a use permit for "formula businesses" and prohibits formula fast-food operations. Fogarty found that other methods used to regulate downtowns fall into four categories: (1) Regulation of franchises. (2) Some version of franchise formulas, such as in Solvang, Carmel and Calistoga. (3) Square-footage restrictions to trigger design review, such as in Palo Alto, Santa Monica, San Luis Obispo, San Mateo, Pacific Grove and Monterey. (4) Neighborhood planning. (St. Helena, for example, doesn't allow buildings of more than 10,000 square feet and doesn't anticipate any anchor stores at all!) The point is (as stated on page 5 of the City Council agenda report for Oct. 6, 1999) that "over the past two decades, cities have taken increasingly greater responsibility for directive management of their assets. The health and functioning of their central business districts is regarded as a major asset by most elected officials, and thus most jurisdictions have developed land use plans which address the desired mix of businesses which they consider appropriate for their downtowns." As Councilman Mike Rotkin noted, we're on the cutting edge by using this ordinance, but it's also the way cities are moving all across the country. Our representatives on the City Council need to have all the tools and ordinances necessary if we are going to have any vote in the future of our downtown, especially if we are going to stop Borders now and the next chains that try to sneak in. We should just stop Borders and have some study sessions for a few months. Then once we all agree on the future of our downtown, Borders could reapply--after all, what's the rush to get Borders in anyway? They can't be in any hurry, can they?

EXTRA NOTES. Yes, that was state Assemblyman Fred Keeley who stopped by to jazz it up at Abbi Hartsell's Jazzercise class last week. Trimming the fat off the budget apparently isn't enough. Nutrition specialist Dr. Jean Poulos will talk about calcium and supplements Wednesday (Nov. 10) at 2pm in Room F at the Education Center at the Dominican Hospital Complex, and she knows what she's talking about. The Resource Center for Nonviolence, Oakes College, Barrios Unidos, Sam Farr, Fred Keeley and the Democratic Women's Club are all sponsoring a reception and a presentation by Ron Dellums, former congressman, on Wednesday (Nov. 17). Call 423.1626 for information and tickets. His talk will take place at the First Congregational Church on High Street. Author, bassist and sometime vocalist James D. Houston (see the article about the Hot Damn String Band in this issue) said that if Santa Cruz is now a "Hate-Free Zone," shouldn't we have a "Resume Hating" sign as you leave town?

ABOUT LA BAHIA. The Nov. 16 meeting of the Santa Cruz City Council is going to deal with the La Bahia Project. Want it to be a conference center? Want it rehabilitated, restored or preserved? Want a five-story something there? This meeting will focus on all of above--and no, contrary to unpopular opinion, nothing regarding this valuable property has been declared a done deal.

ART THINGS. Artist David McGuire will be talking about watercolor techniques and plein-air paintings Monday (Nov. 8) at 7pm at the Museum of Art and History. Pavel Machotka and Terry St. John are going to talk about art and the influences on art the next Monday
(Nov. 15) at 7pm, also at the museum. Pavel wrote Style and Psyche and, like St. John, is a fine artist. Be sure to see the current exhibit of plein-air paintings at MAH.

MORE PLAZA NEWS. We're postponing the Nov. 23 meeting of The Downtown Plaza Committee because that's the night the City Council will be deciding who's going to be the next mayor. I certainly hope it will be Vice Mayor Keith Sugar, who will make an excellent mayor. It's not just the tradition or the number of votes that's involved, it's that Keith has shown his ability to bridge factions, he's got a very necessary (at this time) legal background and he's learned fast.

REEL MOVIES AND CABLE TIME. Meryl Streep turns in another superior performance in Music of the Heart, and even though we know it's a tear-jerker, it still lacked something. I couldn't figure out why she was such a great teacher--maybe it was the Suzuki method she used to teach the kiddies. You don't have to see The Best Man even though it did break some opening-weekend records. It's silly, not funny and plotless--and just doesn't hang together. On the other hand, it does have an all African American cast and only a few stereotypes (which it didn't need). Three to Tango isn't worth writing about or seeing. Then again, I have been viewing some absolutely brilliant films on cable. Terence Stamp in the 1998 film Kiss the Sky with Sheryl Lee with music by Leonard Cohen on Showtime was excellent. Subway Stories on HBO, starring Anne Heche, Rosie Perez and Gregory Hines was completely intriguing. A Merry War featuring Helen Bonham Carter, from a story by George Orwell, and Oscar and Lucinda with Ralph Fiennes and Kate Blanchett were great too. So was Federal Hill with Nicholas Turturro, filmed in Providence, R.I. Peter O'Toole in the 1991 film Isabelle Eberhardt was up to his old great acting. Believe me, there is a lot of worthwhile viewing, but it does seem to be all on cable.

FILLING THE GAP? Many folks noted the news that chain store The Gap isn't doing too well nationally. Those folks all had basically the same question. Even if the local Gaps are doing well, if the chain is failing, they'd haul out of here in a flash, like Woolworths, Crown and McWhorters did. That would leave us with no local stores carrying those products, and no chain either. On the other hand, if the national chain was doing beautifully, it could afford to keep any local operation running for years until all local competition was completely dead. Either way, national chains are not fair competition. Borders certainly fits that description.

PLAZA NOTES II. Peter McGettigan and Clay Butler of Community Television and I went to the Making Cities Livable Conference in Carmel this week. We heard and saw a lot about "Why Cities Need Squares." Peter and Clay are assembling the footage into a documentary so we can all learn how essential public squares are to downtowns. The City Council has placed the Plaza discussion on the January agenda.

THE HOT DAMN STRING BAND. Our once-yearly performance this Friday night at Bookshop Santa Cruz's birthday party won't quite be the same. Jim Reynolds (guitar and vocals), the co-founder of the group (along with Hugh Johnston, mandolinist), won't be there because he had a prostate cancer operation Monday. It's the first Bookshop gig he's ever missed, but we got somebody much better (just kidding). This annual party has been held under some mighty unusual circumstances in the past, and it's always one of the most happy engagements we ever play. We'll also be featuring guest performers Matt Michaelis and the Radical Cheerleaders Quartet, which wrote and sang that great anti-Borders ditty heard at the City Council hearing last week. Stop by and pick up the best book bargains of the year whilst tapping your toes and anything else that's handy--and having some cake and ice cream too. We start at 7:30pm; see you there.
---
Bruce critiques films on KUSP 88.9FM every other Thursday at 12:50pm. Reach Bruce at [email protected] or leave messages at 457.9000, #400.
---
[ Santa Cruz | MetroActive Central | Archives ]