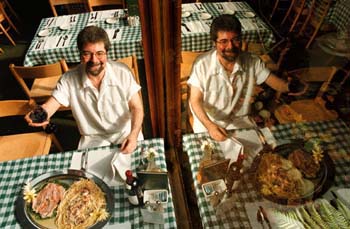 Photograph by George Sakkestand

Double Portions: Bobby Aragona, the owner/chef of Aragona's in Soquel, lays out a generous spread of scampi and chicken saltimbocca.

Old-Fangled Invention

Tucked into its cozy creekside location, Aragona's continues to defy trends with comforting classics and a comfortable setting

By Christina Waters

When a discovery this good is made, it must--like Columbus' accidental tourism--be shared. I refer to the compelling, world-class ravioli recently found in the heart of Soquel. And it makes complete sense that these delicately complex morsels were found not in some designer food-as-theater setting, but exactly where they should be: at Aragona's--a proud sanctuary of old-fashioned Italian-American cooking where the word "pasta" is irrelevant. Here meatballs and spaghetti, lasagna, linguine with clam sauce and manicotti--for heaven's sake--continue to reign. Besides, how can you not adore a place that lets you order a single meatball a la carte?

The bar and dining rooms still wrap around that front courtyard and the waiters still treat you like family. Jack and I sat under a lineup of local artwork that somehow went perfectly with the boisterous aquarium, the traditional green-and-white checkered tablecloths and the mellow tones of Dino crooning "Return to Sorrento" in the background. Unimpressed by pretension, Aragona's respects its patrons. Pink roses and candles adorn each table, and service couldn't have been warmer or more correct the evening of our visit. If something was taking extra time in the kitchen, we were told. When larger stemware was requested for the nice bottle of Chianti we ordered--Frescobaldi Chianti Rufina, Nipozzano Riserva 1996 ($30)--it was happily provided.

Aragona's is devoted to the classic recipes of Italian America. That means scampi, chicken Florentine, cannelloni, seafood linguine and spaghetti with every sauce Bobby Darin ever craved.

It did indeed feel very '60s in the main dining room, and the minute Jack saw the meat ravioli ($13.95) he was smitten, while I decided on chicken arrosto ($14.95).

Each entree came with soup or salad and utterly delicious ciabatta bread. An excellent house vinaigrette and crumbled blue cheese arrived with Jack's modest salad of romaine, grated carrots and tomatoes. My minestrone--the homemade kind in which large, well-cooked vegetables simmer in hearty beef stock--was satisfying.

Frank Sinatra was halfway through "New York, New York" when our entrees arrived. An enormous butterflied chicken breast was presented to me, swimming in a watery red juice--spiked at the last minute with some sort of white wine. There was no sign of roasting, no browning, no crispness and no detectable trace of rosemary. So I ignored it and turned to the excellent side of spaghetti that arrived topped with a textbook marinara.

Jack's huge homemade ravioli were also topped with the wonderful marinara, inflected with a hint of cinnamon--a la Siciliana. These ravioli were the stuff of fantasies.

The filling was unbelievably right. Subtle yet full-flavored, it contained a memorable blend of ground chicken, pork, prosciutto (brilliant touch), a hint of ricotta and Parmesan. The pasta itself was al dente, the filling completely cooked and hot. We saved two ravioli for a splendid lunch the next day.

We began to suspect that the reason the pasta and the sauces are so good is that the menu doesn't change. No trendy tinkering with this marinara, which lived up to its role as the celestial accompaniment to red wine.

For dessert we sampled a serious homemade cheesecake ($4.50); dense and creamy with a classic graham cracker crust, it was dusted with coconut. It was great, but even better was a rare offering--homemade cannoli so authentic that Santa Clara cannoli queen Mary Moroni herself would approve. The thick, creamy, barely sweet ricotta filling oozed out both sides of the crisp rolled pastry. Studded with almonds and chocolate chips, spiked with a bit of Grand Marnier and dusted with powdered sugar, it was the real thing.

Aragona's has a clear sense of its culinary mission. And that's not chopped liver.
---
Aragona's
Address: 2591 Main St., Soquel
Phone: 831.462.5100
Entrees: Inexpensive
Hours: Mon.-Fri. 11:30am-2pm and 5-10pm; Sat.-Sun 11:30am-10pm
Ambiance: ** 1/2 Welcoming and casual in a candid and retro manner.
Service: *** Sensitive and friendly, extremely helpful.
Cuisine: ** Simple foods, simply executed with a flair for fine pasta specialties.
Overall: There's a reason Aragona's continues to welcome customers while others fail. Soquel should revive this love affair with greater ardor.
---
[ Santa Cruz | MetroActive Central | Archives ]