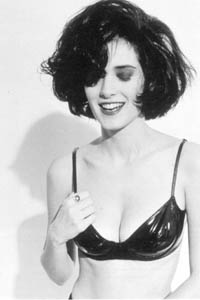 Girl, Indicted

Winona Ryder's guide to a cost-free Christmas

By Michael S. Gant, posing as Winona Ryder


Ladies and gentlemen of the jury ... just kidding. My lawyers wouldn't let me testify at my "overcharging travesty of the century" trial, but they say I'm free to speak to my peers in Metro about the onrushing gift-giving season.

Believe me, I know the stress that the approach of the Thanksgiving shopping weekend can bring. Even if you have all the money in the world, your budget can get stretched farther than J-Lo's draw-string pants. (Mean? Maybe. But some of us know better than to shove pizza in our face when we're on TV with Diane Sawyer.)

Anyway, back to shopping. Before making that foray to Fifth Avenue or Rodeo Drive, be sure to stock up on some essentials. For starters, you'll need a hefty pair of scissors or, better yet, wire cutters--those annoying tags will disappear faster than Leo DiCaprio's career. (Why do they put those things on clothes anyway? They are really unsightly.) Be sure to take along a personal assistant--they can provide valuable cover in case one of those supercilious "authority figures" starts asking questions. Wear comfortable running shoes--you'll need to move quickly if you're going to find something for everybody on your list.

OK, here are some of my top suggestions for this holiday season. They would be great for me or anybody on your list--remember, it's the hunt that counts. And don't bother with discount stores; price is no object when you shop the Winona Way!

Hand-Tooled Leather Shoulder Bag: I saw a really great woven-pearlescent-leather shoulder bag the other day at Bottega Veneta. I could definitely use one of these beauties. The workmanship reeks Old World class, and it will definitely come in handy for stashing my other swag ... er ... purchases. Be sure to get one with sturdy handles and the "quick-close" zipper.

Where to get it: You do shop at Bottega Veneta, don't you? ($667, marked down to about $0)

Worst-Case Scenario Survival Game: This nifty new board game ($30, marked down to $0) is based on the hit book and TV show. How's this for a worst-case scenario: You're out minding your own business in Nieman Marcus when some officious "authority figure" demands to see the contents of your hand-tooled leather shoulder bag (see above), and it turns out that some careless, vindictive clerk forgot to give you your receipt. What do you do then? If you prefer the classics, how about a Monopoly Game: The Simpsons Edition ($34.99, but who's counting?) with real estate from Springfield and extra "Get Out of Jail Free" cards?

Where to get it: Borders and places like that that carry board games, or try amazon.com

A Marc Jacobs Tinted Indigo Bustier: Saks made me give back my Marc Jacobs thermal top (hey, it gets cold on those sets!), but come next summer, I would look so great in this flattering little strapless number with a cute bow. As it says on the website, "All the sexiness of a bustier--but cuter." That is so me. It even comes in prison-denim blue for showing off in the yard.

Where to get it: Marcjacobs.com, $138 (but you'll get a big discount if you shop in person)

DVDs: Even I was embarrassed by Adam "He Ought to Animated" Sandler's remake of Mr. Deeds Goes to Town. I'd much rather settle down with Columbia/Tristar's gorgeous DVD version of Frank Capra's 1936 screwball comedy with the divine Gary Cooper and Jean Arthur in my part. It comes with bonuses like the theatrical trailer, production notes and commentary by Frank Capra Jr. (maybe he'll explain why the family agreed to a remake in the first place). Or how about the Superbit Collection version of Bram Stoker's Dracula? I was adorably waifish as Mina, and the digital transfer looks better than Peter Guber's (that rat!) home theater.

Where to get it: movies.com, $19.95 (which is $0 according to my calculator) for Mr. Deeds Goes to Town, and $28 (give or take $28) for Bram Stoker's Dracula

File in a Cake: I could really use an 8-inch medium mill file from Sears. It's light enough to fit in my hand but strong enough to tackle even the thickest steel bars. Just to be on the safe side, slip it inside a yummy chocolate truffle cake from the nearest bakery. See you on visiting day!

Where to get it: Sears (free if you know what you're doing)

For the Jerks Who Have Everything: Help! Celebrities have taken over Metro Santa Cruz's annual gift guide and they want you to know what they want for Christmas.
Holidaze: 'Jackass' Johnny Knoxville's hit hist for a hell-raising season.
Ben Naughty: J-Lo's wish list for a perfectly scandalous Christmas.
Victoria Beckham's Secret: Posh Spice's guide to kidnapping- and identity-theft-prevention gifts.
Nuttin' But a 'Gift' Thang: What do you get a Dogg who gave up dope? Hella stuff, fool!

[ Santa Cruz | Metroactive Central | Archives ]