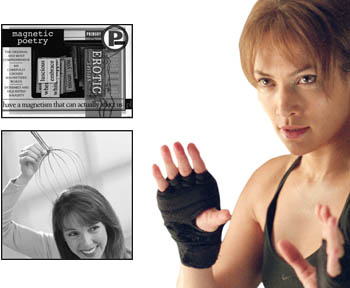 Ben Naughty

J-Lo's wish list for a perfectly scandalous Christmas

By Sarah Phelan, posing as J-Lo

Wearing a tight red dress topped by a Mrs. Santa Claus hat always puts me--and whoever the guy of the moment is--in the "Siempre Tuyo" mood. But honestly, folks, I'm no Liz Taylor wannabe. In fact, I've figured out why all these husbands and boyfriends keep on coming in and out of my life so fast: someone, possibly an ex, has placed a curse on my love life. I mean, really! To make sure Ben and I "live happily ever after," I've come up with a holiday wish list for a perfectly scandalous Christmas that involves a visit to Santa Cruz, which has to have one of the best downtown shopping centers on the West Coast.

Curse Remover: Santa Cruz is known to have a curse hanging over it, right? So, it makes perfect sense that this seaside burg is also home to some stellar curse removers. Birch at the Sacred Grove recommended that I visit in person so he can do some divination (that's what they all say, but, hey, I can handle it). Birch wants to see if there is anything backing my suspicions, then burn some incense and brew some ritually handcrafted love magick. Yum.

Where to get it: The Sacred Grove, 924 Soquel Ave., Santa Cruz; 831.423.1949

Erotic Magnetic Poetry: Sometimes it's hard to stay feeling upbeat and sexy when people call me "J-Ho" and place bets on how long Ben will last. To counter all the negativity, I like to create erotic sentences on our refrigerator door to spice up our midnight snacks, like, "Let's share a private feather, most luscious bottom ecstasy." Or something like that.

Where to get it: Velvet Underground, 1543 Pacific Ave., Santa Cruz; 831.469.9401; $21

The Tingler: Get your minds out of the gutter! The tingler is used on your head, not your nether regions. Described as the "ultimate massager," this copper thingy softly massages your acupressure points and nerve endings, all of which causes a heightened blissful activation of the senses that is divinely relaxing, goose bumpy and erotic. Be-lieve me.

Where to get it: Art Forms, 1547c Pacific Ave., Santa Cruz; 831.425.2787; $25

Ritual Hair and Scalp Treatment: You never can get too much de-stressing, which is why I want a ritual hair and scalp treatment from Leza Leopard. Leza uses this little silver imported pot into which she puts a customized blend of essential oils, which she pours onto your crown chakra, then massages into your scalp and neck, before doing the kind of deep conditioning my locks totally thirst for.

Where to get it: The Glory Box, 527 1/2 Seabright Ave., Santa Cruz; 831.471.LEZA

Sexy Lingerie: A gal hardly wants her fiance to catch her wearing the red lacy thong panties her last flame gave her, now does she? The good news is that you don't need to fly to Italy or France to find truly sexy lingerie now that Galla Cabana has opened in downtown Santa Cruz. True, it's not dirt-cheap, but aren't you worth a little bit more, so close to your skin?

Where to get it: Gallo Cabana, 1364 Pacific Ave., Santa Cruz; 831.423.7575

X-Rated Fortune Cookies: I used to know a guy--no, it wasn't Ojani, Cris or Sean--who would end every fortune cookie by adding two words: "in bed." As in, "You will have much good luck ... in bed." Cute. But while Ben has to be the hottest guy in Hollywood (at least for now), he doesn't know diddly about my passion for X-rated fortune cookies. Which is why I'm sending him a box of these--and every cookie is going to say, "Yes."

Where to get it: Camouflage, 1392 Pacific Ave., Santa Cruz; 831.423.7613, $4.95

For the Jerks Who Have Everything: Help! Celebrities have taken over Metro Santa Cruz's annual gift guide and they want you to know what they want for Christmas.
Girl, Indicted: Winona Ryder's guide to a cost-free Christmas.
Holidaze: 'Jackass' Johnny Knoxville's hit hist for a hell-raising season.
Victoria Beckham's Secret: Posh Spice's guide to kidnapping- and identity-theft-prevention gifts.
Nuttin' But a 'Gift' Thang: What do you get a Dogg who gave up dope? Hella stuff, fool!

[ Santa Cruz | Metroactive Central | Archives ]