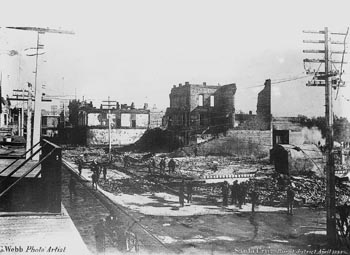 Covello & Covello Historical Collection

The Burnt District: This was Pacific Avenue and Cooper Street in 1894 after the big fire. The fire wiped out most of the buildings on Cooper Street and Front Street, including the Leonard Building (now the home of Metro Santa Cruz), the Santa Cruz County Courthouse and the Santa Cruz City Bank.

Bruce Bratton

CITY COUNCIL VICTORY PARTY. About 200 attended the new Mayor Keith Sugar celebration at India Joze last week. Tim Fitzmaurice emceed the event, which included music, sing-alongs and lots of surprise guests. UCSC Chancellor M.R.C. Greenwood, Maynard Manson, Dick Wilson, John Barisone, John Laird, Supervisor Mardi Wormhoudt, Gary Patton, Katherine Beiers, Christopher Krohn and many more supporters were all there. It was very noticeable--and sad--that Cynthia Mathews, Michael Hernandez and Mike Rotkin were not there.

THE GREY BEARS HOLIDAY PARTY. This Sunday marks the 26th-annual Grey Bears Holiday Dinner at the Santa Cruz Civic Auditorium. Each year, entertainers take part in a three-hour show to entertain the seniors during their free dinner. This year, Sen. Henry Mello will play the piano, the Ballet Repertory Theatre will dance, Sarah Blade's Africuties will perform, Geraldine Saso and Arlene Sutton will play and sing Christmas carols, and Naked Voices, a five-piece a cappella group, will open the show. Karen Schamberg works hard every year to assemble the program, and if you know seniors who want to attend the dinner and show, just tell them to be at the Civic between 11:30 and 1:30pm. I'll meet you there.

PLAZA NEWS. No promises, but Dr. Suzanne H. Crowhurst Lennard and Henry Lennard may be attending the next meeting of the Downtown Plaza Committee at 7:30pm in the Main Library meeting room on Dec. 2. The Lennards wrote the book Livable Cities Observed and Suzanne taught at UC-Berkeley, Oxford and other universities. We'll watch the video from the Carmel conference Making Cities Livable, in which Suzanne talks about the need for plazas in downtowns. I asked her about calling the proposed space either a square or a plaza; she said it's important to give it a name that reflects the cultural heritage of the location. That's why we thought plaza reflected the Hispanic tradition. Maybe there's an Ohlone name for gathering place. It's all open for discussion. Just come to the meeting Thursday night and give us your feedback or ask the Lennards what they have learned about urban space design. Call 479.9172 if you'd like to become part of creating a plaza at the corner of Pacific and Church streets in the heart of our Downtown.

MOVIES WITH REAL PEOPLE IN THEM. Arnold Schwarzenegger is back in End of Days, a film that deals with faith, Satan and God. I believe that if there is a God, Arnold wouldn't be allowed to make any more films. Arnold gets crucified again, but it's not as good as his Conan crucifixion, if you're keeping track. Another waste is the 19th James Bond film, The World Is Not Enough. It lacks the cleverness, the humor and the intelligence of the earliest Bond films, but if you have to see it, don't wait to rent it, because it is better on the big screen. The Messenger: The Story of Joan of Arc is on a par with Mel Gibson's Braveheart; don't bother, save your money and where is this Arc place anyway? Probably near Cognac or on the outskirts of Champagne, just past Bordeaux. Johnny Depp's Sleepy Hollow is good fun, not a great picture and not like the book--and not as good as other Tim Burton films--but fun to watch anyway. Flawless has fine acting by Robert De Niro and Philip Seymour Hoffman, but the story is full of problems--wait and rent it.

MOVIES WITH NO REAL PEOPLE IN THEM. Toy Story 2 was even better than Toy Story, with better use of toys and a more interesting plot. If you haven't seen what computers can do with animation, don't miss it. The Japanese Ghibli studios have created some revolutionary animated films in the last 10 years. The newest one, Princess Mononoke, directed by Hayao Miyazaki, is so far ahead of any animated Disney or Ralph Bakshi films that it deserves its own category, and I guess anime is it. I saw two other films by Miyazaki up in the new UC-Berkeley Pacific Film Archive Theater: Castle in the Sky (Laputa) and Grave of the Fireflies. The style, content, intelligence and art in these films should change animation forever. See them if at all possible.

MILLENNIUM PREDICTIONS. Our blessed county has more psychics per inch than anywhere. We need to hear from as many as possible with some solid predictions about the millennium. How about some genuinely helpful predictions, such as: there'll be a flood on Jan. 3; lightning will hit the Santa Cruz County Building on Jan. 17; or Bill Gates will give the county $8 billion on Jan. 21--something we can see happen. Too often, we get predictors saying "I predicted that" after it happens. So here's a call to any folks with prior knowledge to get in touch quick, so we can run the news here asap. Then when it does happen, everybody will have been warned.

LIVE OAK AND SPRAWL. The folks in Live Oak have it together and are meeting Thursday night (Dec. 2) from 6:30 to 8:30pm at 1605 Capitola Road. They are working against the Whole Foods supermarket planned development at Soquel and 17th. The Live Oak Neighbors Against Sprawl are worried about (A) the 2,500 people per day entering the store; (B) the traffic, including noisy delivery trucks; and (C) the planned 183 parking spaces presently available instead of the 242 that are required for other Whole Foods developments. If you want to get involved, call the Live Oak Neighbors at 423.5403.

THAT SHARK PHOTO, PART 2. I'm still getting feedback on that photo of the group with the shark we ran Oct. 6. Sen. Henry Mello tells me the white guy with long sleeves was Ray Hansen, owner of Krystal Ice Oxygen, and some anonymous caller sez the woman in the photo is Sandy Hansen, also of Krystal Ice. Seems that Susan Therry was bitten in the leg by a shark at Sunset Beach. Krystal offered a $50 bounty for any shark caught. Fifty were caught very quickly, and that $2,500 check was presented. The shark was stashed in Henry Mello's freezer and later given to Hopkins Marine Lab in Monterey.

CHINA AND BEYOND. There is still room available on Sandy Lydon's tour of the Yangzi River in June 2000. If you have any interest in China and especially the Three Gorges Dam being built, you should attend his free slide presentation on Dec. 3 in Room 435 at Cabrilho College at 7pm. Three Gorges will be the largest dam in the world and is the focal point for much controversy between the Chinese government and environmentalists. The trip in June will be the last chance to see the Three Gorges in their natural state. Sandy is also teaching his very last Santa Cruz County history course in the spring. If you've been putting off taking this class, now's the time to plan ahead. If you want more information, call 688.2374 or email [email protected] or check his website at www.sandylydon.com/china2000.

BUMPER STICKER. I'll just have to go to jail, because I can't reveal my source on this one. Several people were present when it was reported to me, and we're all still laughing over it: "SCHMIDT HAPPENS." It's probably some other Schmidt anyway.
---
Bruce critiques films every other Thursday at 12:50pm on KUSP (88.9FM). Reach Bruce at [email protected] or 457.9000, #400.
---
[ Santa Cruz | MetroActive Central | Archives ]