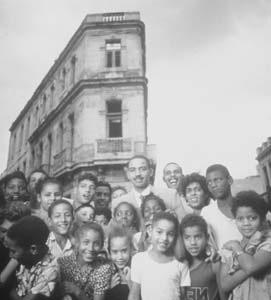 Doctor of the People: Manuel "Manolín" González became a Cuban music sensation--and got banned from TV--by singing about reconciling with the U.S. Cuban immigrant community.





Doing the Rounds

Cuba's biggest and most controversial star group, The Doctor of Salsa, comes to Palookaville for the band's first stateside tour

By Kevin Moore

I DIDN'T KNOW whether to laugh or cry. I had just recklessly maxed out a credit card in mid-November to fly 3,000 miles to see a Cuban band play in Miami. And then a week later, red-eyed, jet-lagged and deeper in debt, I heard that Palookaville's Michael Horne had lined up the group for a Dec. 5 show 10 minutes from my Santa Cruz home.

But there's no way I regretted the trip. It was an unparalleled chance to see a performance of possibly the biggest and most controversial star of the Cuban music scene, "El Medico de la Salsa" ("the Doctor of Salsa"), led by Manuel "Manolín" González. And during my trip to South Beach, the band let me attend a rehearsal and meet with key songwriter Luis Bú for an extended interview and piano lesson.

The good news is that the rumor which prompted my drop-everything-and-run Florida holiday--that the band was about to break up--proved untrue. In fact, the band is planning to move en masse to Miami and to begin touring to support their new album, which is set for a January release in Cuba and, from the preview of their new originals I heard in Florida, which may be the band's best yet.

That Manolín decided to include a Santa Cruz stop on the short list of the band's North American tour dates is really no shocker. With the Clinton Administration easing restrictions on cultural exchange between Cuba and the U.S. during the mid-'90s, Santa Cruz quickly took a place among much larger cities like Miami, New York, San Francisco and Los Angeles where the hottest young bands on the Cuban scene lined up to play.

Thanks to the efforts of people like Eddie Scherer, former manager of the Santa Cruz Civic Auditorium, and Kuumbwa executive director Tim Jackson, Cuban music superstars Irakere and Los Van Van quickly found an enthusiastic local audience, and lately Horne of Palookaville has taken the lead in presenting old-school Cuban stars like Eliades Ochoa and Barbarito Torres as well as young sensations like Bamboleo and Cubanismo.

EL MEDICO comes from the new breed of Cuban music. The band's last two albums broke all sales records in Cuba, and the single "La Bola" from 1997's Para Mi Gente (For My People) stayed at the top of the Havana charts for an astounding 54 weeks--the biggest hit in Cuba's incredible musical history.

Bandleader Manolín was in fact a real M.D. in Cuba before switching professions and becoming first a songwriter for other artists and later the biggest and most controversial star on the Cuban scene. Lyrically, Manolín has embraced reconciliation with the Cuban exile community in the U.S., which got the band barred from Cuban TV--one of the many complex reasons for the band's move to Miami.

My own initiation to El Medico came in Havana earlier this year. After 15 years of playing and recording salsa with Orquesta Gitano and other Bay Area salsa bands, I had finally set off on the obligatory pilgrimage to the holy land of salsa. I was well-versed in the music of the album and movie Buena Vista Social Club and by-then Santa Cruz regulars Los Van Van, Cubanismo and Irakere. I thought I had a pretty good idea what to expect, but I couldn't have been more mistaken. Nothing could have prepared me for the intensity and creativity of the music I was about to experience.

On the first night of my stay in Cuba, I walked a mile through the streets of
Havana to hear El Medico on the recommendation of a local. I had never heard of the band, but when I entered La Cecilia, a large outdoor Caribbean nightclub, I immediately recognized in the audience the second most famous man in Cuba, Juan Formell, leader of Los Van Van. He sat at a table with six others who I later learned were the leaders of NG La Banda, Paulito F.G. and several other top bands. The presence of these demigods raised my expectations, and I worked my way up to the front of the stage and settled in between the piano and bass.

By the end of the first tune, I was in a state of shock. My whole body was buzzing. I had never heard grooves like this. The polyrhythmic piano and bass parts had turned my ears upside down and inside out, and the creativity and depth of the songwriting completely transcended anything I'd heard in the Latin genre. Any harmony was fair game, from rootsy Afro-Cuban to sweet, warm Jobim-esque modulations to the funkiest gospel and R&B.

And the hooks! As Pablo Menéndez of the band Mezcla puts it, "Manolín has a nose for a hit." The arranging was a revelation. Each traditional call-and-response backup vocal was a miniature masterpiece, and the horn lines were equal parts blazing salsa and funky Earth Wind & Fire.

Best of all were the piano and percussion breakdowns, which within half an hour had completely redefined my whole concept of Latin rhythm-section playing. These stunning arrangements were played by a band of conservatory-trained monster musicians, any one of whom could probably blow the socks off of the best Latin musicians in any major U.S. city.

TWO SETS LATER, at 4:30am, my little world had been rocked in a rather permanent way. Returning spellbound to Santa Cruz, I bought the band's three CDs and have spent the last year devouring them, as well as those of the other great bands among the new Cuban phenomenon known as "timba."

And I found that these phenomenal bands started coming to me, dropping into Santa Cruz for warm-up or cool- down shows during their swing through the Bay Area and Los Angeles. Santa Cruz, in fact, has had more Cuban concerts per capita than any city in the nation, and the Cuba-Santa Cruz connection continues to pick up steam. Horne of Palookaville is currently in Cuba, hopefully to hear and book other new acts such as brilliant singer/songwriters Isaac Delgado and Paulito F.G. and jazz-influenced virtuosi ensembles Klimax and NG La Banda. Already booked to follow up Manolín at Palookaville are encore performances from the extraordinary dance band Bamboleo on Jan. 5 and Buena Vista alumnus Barbarito Torres on Dec. 18.
---
Manolín El Médico de la Salsa plays Palookaville Sunday (Dec. 5) beginning at 9pm. $14 adv/$16 door. (454.0600).
---
[ Santa Cruz | MetroActive Central | Archives ]