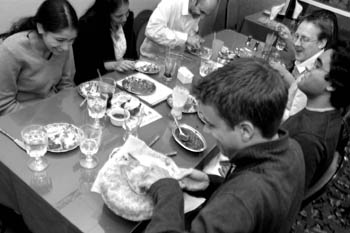 Photograph by Charlie Nucci

Puff Patty: A smorgasbord of bread complements Chaat Paradise's crowd-pleasing vegetarian fare.

Spice Drunk

Chaat Paradise travels the spice road, vegetarian-style

By Aaron Robinson

IT CAN BE difficult to persuade oneself to try new things, especially in dining. Dining, after all, is a very personal thing, and a placid stomach is a prerequisite for any fine meal.

Chaat Paradise, a very un-Americanized vegetarian Indian restaurant burrowed into the corner of a shopping center in Mountain View, proves worth the persuasion. Relics, statues and bamboo-framed portraits sparsely dispersed across white walls compose sort of a living room/banquet hall feel.

Once inside, I quickly realized that all my apprehension was a waste, and after being promptly greeted, I knew from the savory smells and our host's warm smile that we were in for a treat.

The language barrier was the only cause for frustration. Fortunately, our server was patient. Figuring the easiest solution would be to just put the whole meal in his hands, we asked him to bring out his favorite dishes--not what he thought Americans would like, but his personal favorites. He chuckled and blushed, then walked away and plotted his course.

I suppose that in India, too, the beverages come out first: Chaas (buttermilk, $1.50) served in a metal goblet, and Mango Lassi ($2.25), a classic yogurt drink flavored with mango and whipped to the consistency of a milkshake, but not very cold. The Mango Lassi was the tastier of the two at first, simply because of its familiarity, but the buttermilk began to make more sense when the food arrived: it then complemented as well as acted as a cooling agent for the very intense flavors.

Pani Poori ($3.99) was our first spicy nibbler; crispy puffed wafers came on one plate, while another plate bore spiced potatoes, black garbanzo beans, crispy rice noodles and diced red onion. A third plate carried the sauces: sweet chutney and spicy mint water. As the waiter explained, the object was to break a hole in the wafer, and fill it with whatever ingredients you want, sauce it and pop it in. The other appetizer, or "mouthwatering snack," as the menu called it, was a pair of potato and pea Samosas ($2.50), which were some of the best I've had. There is no alcohol on the menu; instead, the diner gets spice-drunk.

A smorgasbord of rare and authentic fare came next, presented very attractively. The house Thali ($6.95) included sample sizes of Masala Bhindi (sautéed okra cooked with onions and tomatoes), Aloo Gobi Mattar (flowerets of cauliflower with potatoes and peas), Raita (yogurt with carrot and cucumber), Rotis (traditional whole-wheat Indian bread), Tadka Daal (yellow lentils), aromatic rice and Pappadum (a lighter-than-air, roasted spiced wafer that literally dissolves on the tongue). Greatly pungent spices like turmeric, cumin, mustard seed and saffron graced practically all the selections, making the whole platter a golden meal.

I kept looking over and admiring a dish that our neighbor table was enjoying--it looked like a couch pillow. Indeed, Chana Bhatura ($4.99) is a huge air-filled bread ball which the diner deflates, tears and dips into a stew of garbanzo beans cooked in a blend of spices and vegetables. Scrumptious.

Our final delight was an order of Aloo Masala (curried potatoes, $5.25) so delicious that we had to eat it all, and soon began resembling puffed bread balls ourselves.

For many uninitiated diners, Indian desserts can be another acquired taste. Among these are Ras Mallai, house-made cheese balls floating in a sweet saffron milk ($2.50), and Kulfi, saffron ice cream ($2.50). Needless to say, days later everyone in our dining party found themselves craving them with a cup of hot masala chai ($1.50).
---
Chaat Paradise Vegetarian Indian Restaurant
Address: 165 El Camino Real, Mountain View
Telephone: 650.965.1111
Hours: 11:30am-9:30pm daily
Cuisine: East Indian, vegetarian
Price Range: Inexpensive
---
---
Send a letter to the editor about this story to letters@metronews.com.
---
[ Silicon Valley | Metroactive Home | Archives ]