All That
Biter
Going Downtown
By Traci Vogel
ALL TOGETHER NOW: Act surprised. Last week, the San Jose Redevelopment Agency announced that it had given up on its troubled negotiations with the Palladium Company--the national development group that was supposed to fire up our dead zone of a downtown with a large-scale project. The Palladium proposal, at dream stage, anticipated hundreds of thousands of square feet of retail space and office space, a 350-room hotel and more than 1,000 downtown homes. All of this would have required at least $1 billion in private investment.
Now that the market, as Palladium's "Western Region Partner" Ken Wong put it, er, "does not support the large, mixed-used project we originally envisioned," it's time for the city to move forward with alternatives. Biter has a few suggestions--a few "visions" of our own, shall we say. And, for our professional consultation, we'll only charge the Redevelopment Agency a quarter of the $375,000 they're paying for Palladium's failure. Biter is nice that way.
Modeled on Oakland Mayor Jerry Brown's "10K Plan," which attempts to bring 10,000 residents to O-Town's city core by the year 2003, San Jose should implement a "1K Plan," which attempts to bring pop star Kylie Minogue to downtown by the year 2010.
The train is great, and voting for BART's expansion was a start, but what the downtown really needs is a truly exciting transportation method; something that will really serve as a source of civic pride. Therefore, the city should fund a fleet of rickshaws powered by Chippendale dancers. Hey, the dancers could use the exercise, and we could use the view.
Study after study has shown that Silicon Valley-ites don't like to walk, but at the same time a downtown needs pedestrians for vitality. The solution? Install a giant water slide along First Street. No doubt laws will follow requiring participants to wear Day-Glo safety- orange bathing suits, but just so long as they also outlaw thongs, that's OK with us.
Forget sharks and street musicians--what the downtown needs artwise is internationally acclaimed artist Dale Chihuly, the guy who did the Chihuly Over Venice installation, to come in and grace our town with chandeliers of fancy glass. And if that doesn't work, we can all just cover our lemon trees with recycled beer bottles.
San Jose has lived too long in the shadow of that terrible tune--you know the one we're talking about. It's time for a new theme song, dammit! Biter's suggestion: "Hell Bent for Leather" by Judas Priest--but we're sure you have your own ideas. Send these brilliant suggestions to: Theme Song, 550 S. First St., San Jose, 95113.
Running with the theme of the giant Monopoly board set to be installed in Discovery Park, the city needs to give each neighborhood a game identity. Capitol and Story, for example, could be "Risk;" Campbell could be "Twister"; Los Gatos could be "Candyland"; and the Rose Garden could be "Mystery Date."
Let's just give in to the bad jokes, already: the city should officially rename the Queztalcoatl statue Pile of Dung.
The city should enlist the help of grammarian William Safire and campaign to make San Jose a verb, as in "I love to San José with my bebé." We forecast huge profits from bumper stickers in the future with this one.
Finally: It's troublesome, it's expensive, it complicates taxes, so perhaps what San Jose should really do is sell downtown to San Francisco. Maybe Willie Brown could use it to store his hat collection.
---
Tonight On TV
5:30pm, Ch. 23:
Martha Stewart's Dying: Tips on tole-painting that cast-off coffin and 101 uses for ashes. (Not available in certain parts of George; check local listings.)
8pm, PBS:
Antiques Roadkill: Our crack appraisers visit Lubbock, Texas, and put a record price on a rare albino armadillo hide from 1910.
8:30pm, FOX
Malcolm X in the Middle: Hilarious new comedy hit
9pm, NBC:
Fear Factor: Tonight's contestants are covered with flesh-eating maggots, exposed to the ebola virus and forced to sit through all six episodes of Watching Ellie.
10pm, FOX:
When Celebrities Attack: Host Russell Crowe punches out Joan Collins and interviews the head of the British &$#%$%!!! Film Academy.
11:30pm, ABC
The New Nightline With Ted Koppel: Ted's guests are Greg the Bunny, Carrot Top, the Rock and--time permitting--Colin Powell.
---
Celebrity Makeover
Paul McCartney
OK, so the eternal mop top can still sell out concert arenas wherever he goes--including San Jose. That doesn't mean he can't get with it at least a little. When you're almost 64, it's time to break out the Grecian Formula, stick your pinky in the Fountain of Youth and lure a new demographic.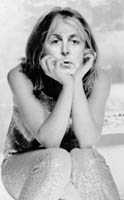 Love Me Hair-Do
To steal a line from Rod Stewart: "Do ya think I'm sexy?" A bared midriff and a come-hither smile turned Britney from squeaky-clean teen to musical porn goddess. A blond dye-job ought to leave a new generation of fans wanting to hold more than just Paul's hand.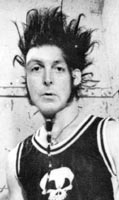 Shock Treatment
"Norwegian Wood" might as well be Horst Jankowski's "Walk in Black Forest" as far as today's audiences are concerned. We suggest Paul take a tip from industrial-metal-disco maven Wayne Static and give his follicles a 220-volt jolt.
MC Cartney
Rap star MC Hammer doesn't need his gold chains anymore, now that he's gone gospel, so why shouldn't Paul get props for turning his classic lyrics into hip-hop rhyme?: "Skanky Rita, meter maid; help me get my pita laid."
---
Orbitron Meets Tidal Wave
Occasionally, we miss the dizzying pace of life around Silicon Valley, circa dotboom. So we hightailed it out to Santa Clara on Friday to be among the first riders on Paramount's Great America's newest thrill, Delirium. Here are the stats:
Kitchen Utensil Most Closely Resembled: Hand-held milkshake blender.
What It Does: The bottom part of the blender spins, while unit swings back and forth on giant hinge.
But Is It Yoga? Riders sit in padded seats and harnesses, facing each other in giant circle, feet dangling.
Fun Factor: 10. With minimal gimmickry, Paramount's Great America has created a ride that resembles an experience with a mind-expanding substance. Head rushes, upside-down sky views and randomly occurring G-forces in ample abundance. Yeah, baby.
Motion Sickness Factor: 5. Do the words "barf in a blender" scare you? They did us, but no one hurled. All we heard, afterward, was that a woman named Kim "don't feel so good."
Was It Worth the WAIT? Yes. This ride is much, much longer in duration than that other feet-dangler, Top Gun.
---
I Saw You
Every day on my way to work I see you, and every day it's the same thing. My answer never differs because my financial situation has not changed, and apparently, yours hasn't either. I'm not even sure why you ask me. I have holes in my shoes, too, and my clothes are worn out, but unlike you, I'm on my way to work. So maybe you need to go for a different street corner, or maybe I need to ask for a raise--but if you ask me one more time, I'll scream at the top of my lungs, "No, I can't spare any change!"
---
SEND us your anonymous rants, love notes, or diatribes about your co-workers, bosses, enemies, secret crushes, or any badly behaving citizen who gets your dander up. Send to: I SAW YOU, Metro, 550 South First, San Jose CA 95113, or .
---
---
Send a letter to the editor about this story .
---
[ Silicon Valley | Metroactive Home | Archives ]