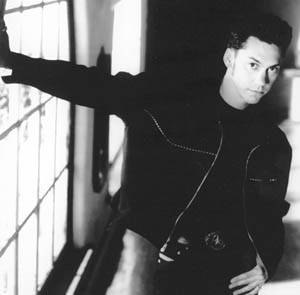 Jesse Dayton plays two nights with the Supersuckers at Slim's.

Hellbent for Feathers

Pink punk gets a rock & roll makeover

By Sarah Quelland

THE MOSTLY MALE CROWD arrived early at the Usual last Thursday (March 28), eager to catch the all-female lineup of the Feathers, the Skirts and Hell's Belles. This was the first chance I'd had to catch the Feathers, a South Bay band that formed about 10 months ago. Given their name, I expected something cute and fluffy, pink and punk. But it turns out, the Feathers really rock. Fun without being too frivolous and garage-y without being too noisy, they crank out hot songs like "Fresh Meat," "Man Enough," "Creep" and "Mr. Distance."

The band features vocalist God Feather (Julie Freitas), guitarist and backup vocalist Tardan Feather (Karyn Schnaible), bassist Feather Tuscadero (Stacy Sutherland) and drummer Feather Faucet (Holly Carthew, who played the whole show in her bare feet). With none of the crass, coarse anger and vulgarity, the Feathers come across as a thinking-woman's L7, a comparison due largely to Freitas' strong, confident voice.

Many know Freitas as the drummer for the Shitkickers, but she's effective behind the mic as well. Cool and casual in jeans and a T-shirt, she kept her hands in her back pockets and nursed a drink between songs. Her nonchalance worked fine, seeming more breezy and relaxed than awkward.

A real highlight of the band's set was "Charlie Sheen," a narrative song that immortalizes a personal encounter Freitas had with the bad-boy actor at a Slash's Snakepit show at the Backbeat: "You shook my hand / and I thought I would die / Could have sworn you looked right in my eyes / Grenades went off just like in Platoon / I would have blown your mind with my tattoos." When she really got into it, the song took on elements of Suicidal Tendencies' "Institutionalized." The Feathers play again on April 20 at Kleidon's Lounge.

ALL THE NEWS: This Sunday (April 7), bands and musicians have organized a special benefit for local sax player Danny Hull (known for his work with the Doobie Brothers and Journey), who was injured in a motorcycle accident in Thailand. Held at the San Jose Police Officers Hall at 1151 N. Fourth St., San Jose, the event features the Garage Band, Touch-N-Go, Clifford Coulter, Margo Leduc, Dolly Rappaport, Bobby Taylor, Chris Cain, Ronnie Beck, Tony Lindsay and Hull himself, plus DJ Hitman Dave. Doors open at 4pm, and tickets are $20, which includes a Mexican buffet. Proceeds will help with medical expenses. Call 408.298.3066 for more info. ... The lineup for the 45th annual Monterey Jazz Festival has been announced. This year's event (held Sept. 20-22 at the Monterey Fairgrounds) includes performances by the Dave Brubeck Quartet, Joshua Redman, Nancy Wilson & Ramsey Lewis, Mingus Big Band, the Heath Brothers, Don Byron, Etta James, Marcia Ball, Paul West, Lavay Smith & Her Red Hot Skillet Lickers and other jazz greats spread across seven stages. Call 925.275.9255 for tickets and visit www.montereyjazzfestival.org for more info. ... The Supersuckers are doing two very different nights at Slim's with Jesse Dayton. April 4 is being touted as a country extravaganza where the Supersuckers will play songs from its new live country album Must've Been Live," while April 5 is being billed as a rock show where the group will focus on its other material. ... A solo Ben Harper participates in the Bring the Noise Benefit for Youth Speaks next Thursday (April 11) at Bimbo's. Tickets are $40. Visit www.youthspeaks.org for more info.

PLAN AHEAD: Cadence Theory, Lavabone, Superchannel and Spun, April 4 at the Usual; Parody, Judhead, Suicide Pigeons and CYNYC, April 4 at the Cactus Club; the Fleshies, 9 Shocks Terror and Unit Breed, April 4 at the Lido; Reaction 31, Tenfold, Shortie, 26 Weeks and Key to Arson, April 6 at the Cactus; EchoBrain, April 6 at Slim's; the Locals, Hidden Pocket, Solemite and the Genues, April 7 at the Cactus; Superchannel, Vital, Cycle and Trip Device, April 7 at the Gaslighter Theater in Campbell; ... And You Will Know Us by the Trail of Dead, April 8 at the Great American Music Hall in San Francisco; Pressure 4-5, Audiovent (formerly Vent), Earshot and Something to Burn, April 9 (early 5pm show) at the Cactus.
---
Send a letter to the editor about this story .
---
[ Silicon Valley | Metroactive Home | Archives ]