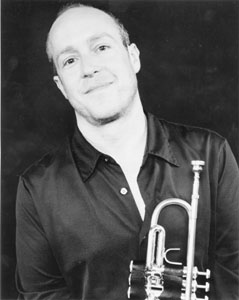 Lip Lock: Dave Douglas gets ready to blow.

Photograph by Mark McKenna





From Rags to Rufus

Dave Douglas gives Wainwright, Blige and Björk the jazz treatment

By Yoshi Kato

DAVID BOWIE once compared the art of sequencing tracks on an album to the initial process a painter undergoes when determining the structure of a work. With the paints as songs, the order in which the music is presented is akin to the basic shapes and colors that compose a painting.

Trumpeter-composer Dave Douglas knows about the agony and rewards of album sequencing. For his latest, The Infinite, the biggest challenge came at the front end.

"I struggled very, very hard," Douglas explains. "My tendency is to start albums with edgy songs. The title track was the obvious one, but it was too obvious. So I decided to start with this lyrical, wonderful Rufus Wainwright song."

Opening with Chris Potter's warmly comforting bass clarinet and Clarence Penn's softly hypnotic drum work, "Poses" becomes instantly recognizable to anyone who knows the Wainwright original as soon as Douglas empathetically picks up the melody. Bassist James Genus provides uncannily unobtrusive support, and Uri Caine lays down buoyant lines on Fender Rhodes that bounce off the stars and float back through the heavens.

A respected composer as well as a fierce instrumentalist, Douglas is as renowned for his short and long-form pieces as he is for his playing. (He's currently in Belgium for the debut of work he's written for the Ictus Ensemble, a chamber-sized group that plays contemporary compositions.) An alumnus of the Berklee School of Music, New England Conservatory and New York University, he's won critics' polls for his recording, playing and writing.

For The Infinite, the focus was on writing tunes and playing with his impressive New Quintet. The same A-level group comes to the Bay Area for three shows--an afternoon performance Sunday at Bach Dancing and Dynamite Society in Half Moon Bay and a pair of shows Monday and Tuesday at Yoshi's in Oakland's.

"It's just such a pleasure to be playing with them. It's a real gift," he says of the group which first played together for a week at New York's Village Vanguard a year ago in February and then returned to the studio in the middle of last December.

Of the half-dozen originals on the new album, Douglas says, "My compositions, they may sound simple, but there's a lot going on in them. And I think this is the record that I had to work hardest on my own playing of any record I've made.

"I really had to put some effort into how I was going to phrase things and shape solos and things like that. And I think that speaks to the Miles Davis influence. Even though the result is not the same, I think that Miles was someone who thought a lot about how he was going to play something."

Songs from Wainwright, Björk ("Unison") and Mary J. Blige ("Crazy Games") round out the album. Traditionally, the idea of borrowing songs has been debated long and hard within the jazz community. One side would argue that the harmonies are too simplistic, while the other would counter that melody and rhythm are equally valid components of a song.

"I feel like there's a new atmosphere where songwriters are dealing with harmonies and beautiful song forms and issues about the song which maybe weren't so interesting in popular music for a number of years," he observes. "It's what I've been listening to for the past six months. I can't tell you why. But I just fell in love with those songs and wanted to play them."

Though not a tribute album to legendary trumpeter/bandleader Miles Davis, the New Quintet's instrumentation on The Infinite mostly echoes that on Davis' Miles in the Sky and Filles de Kilimanjaro albums. And Davis was famous for conscripting popular songs of the day, from "Surrey With the Fringe on Top" to Cyndi Lauper's "Time After Time."

"Every now and then, when we play 'Unison,' the Björk song, it reminds me of 'Human Nature' [Michael Jackson's song, which Davis covered] in this really kind of weird, whacked-out way," he says.

"That's something that's always interested me, coming up with your own way to play a cover like Miles did. Make the song your own--the Billie Holiday paradigm."
---
Dave Douglas New Quintet plays Sunday (April 7) at 4:30pm at Bach Dancing and Dynamite Society, Miramar Beach, Half Moon Bay. For tickets call 650.726.4143 or go online at www.bachddsoc.org.
---
---
Send a letter to the editor about this story .
---
[ Silicon Valley | Metroactive Home | Archives ]