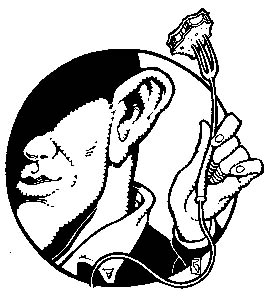 Live Feed

The Return of Uncle Frank's

By Stett Holbrook

IT'S BEEN a long time coming, but UNCLE FRANK'S BARBEQUE is set to open in not one but two new locations. Uncle Frank left his old location in East Palo Alto last year when the neighboring church needed to expand. He was set to open on 2135 Old Middlefield Road, Mountain View, but apparently Mountain View's barbecue regulations are stricter than East Palo Alto's. As a result, his grand new opening was delayed for months while he built a new indoor barbecue pit to comply with city regs. He's hoping to open by the end of month. Meanwhile, the man with the best brisket in Silicon Valley is opening a second store at 167 S. Main St. in Milpitas. He opened for business there April 9. "I'm coming out stronger than I did before this time," says FRANK BELL, a.k.a. Uncle Frank.

DINNER THEATER: Remember in the movie When Harry Met Sally when BRUNO KIRBY said dining out was the new theater? Well, I do. Anyway, the AMERICAN MUSICAL THEATRE OF SAN JOSE (AMTSJ) is combining food and theater with its Gourmetheater fundraiser April 17. The event includes a cocktail reception, an inside look at the theater, live and silent auctions and a surprise dinner lottery sending guests to local restaurants where chefs will prepare lavish multicourse meals.

Some 35 of the valley's top restaurants are donating a chef's table for 10, where the area's best chefs will create feasts for guests while raising money for the community outreach and education programs, accessibility services and artistic initiatives of AMTSJ. Participating restaurants include 840 NORTH FIRST, A.P. STUMP'S, A MATTER OF TASTE, ARCADIA, BELLA MIA, BIRK'S, BRANDON'S, CALIFORNIA CAFE, CRIMSON, EULIPIA, EVVIA, JOHN BENTLEY'S, LAVANDA RESTAURANT AND WINE BAR, LEFT BANK, MCCORMICK AND SCHMICK, PAOLO'S, PARCEL 104, PARK PLACE in the CYPRESS HOTEL, THE PLUMED HORSE, SAVORY AND SWEET, SCOTT'S SEAFOOD OF SAN JOSE, SENT SOVI, SPAGO, SPIEDO RISTORANTE, SPENCER'S, TAPESTRY, THREE DEGREES RESTAURANT in the TOLL HOUSE HOTEL, THE WINE CELLAR and VIVA! PRIMAVERA. A limited number of tickets are available for $150 and can be purchased by contacting KIMBERLY KAY at AMTSJ, 408.453.1542.

REALITY TV CONQUERS THE LAST FRONTIER: You know reality TV is here to stay when public television gets into the act. While most so-called reality shows are mindless drivel, PBS's COOKING UNDER FIRE actually sounds like it's worth watching.

The 12-part series premieres April 27 and is a cross between THE APPRENTICE and IRON CHEF. Chefs and restaurateurs MING TSAI and TODD ENGLISH, author MICHAEL RUHLMAN and a panel of celebrity guest chefs from across the nation will judge a competition between 12 aspiring chefs as they meet challenges faced every day in the fast-paced restaurant world. The documentary-style series will track the contestants—four women and eight men, ranging in age from 23 to 42—as they embark on a coast-to-coast cooking competition in four of the nation's culinary capitals—Los Angeles, Las Vegas, Miami and New York. PBS says the show will give viewers an insider's look at the mental and physical challenges and intense pressures faced in the today's highly competitive restaurant industry and the combination of talent and skills that it takes to succeed as a chef. The one left standing, having proved that he or she has the combination of talent and skill necessary to become a chef, will be awarded with a chef position in one of Todd English's restaurants in New York City.
---
Send a letter to the editor about this story to letters@metronews.com.
---
[ Silicon Valley | Metroactive Home | Archives ]